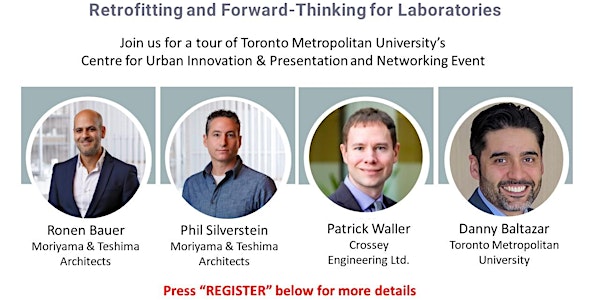 Sustainable Labs Canada - Toronto Chapter - Knowledge & Networking Event
Retro-fitting and Forward-Thinking for Laboratories. Press "REGISTER" for more details.
When and where
Location
The Albany Cub 91 King Street West 416-364-5471 Toronto, ON M5X Canada
About this event
Retro-fitting and Forward-Thinking for Laboratories
This session, co-presented by Moriyama & Teshima Architects, Crossey Engineering and TMU, will explore the unique challenges and constraints associated with the addition of laboratories to existing buildings within an urban setting, while balancing sustainability goals, health, safety, and comfort expectations for occupants and the surrounding buildings.
The challenges and constraints will be exemplified by a case study of The Toronto Metropolitan University's (TMU) Centre for Urban Innovation (CUI). This will include a tour of the CUI and a presentation afterward.
The CUI is uniquely situated on a dense campus setting in downtown Toronto. The development involved retrofitting and adding on to a 130-year-old heritage building to accommodate research laboratories, entrepreneurial spaces, and updated utilities. This facility is a hub for research and innovation in key urban issues focusing on food, water, and energy.
The site invoked unique challenges, both as a result of the heritage designation, and the presence of taller residential structures immediately adjacent to the CUI. The regulatory environment, combined with the development's high level of visibility to neighbours, required early consideration of potential air quality and noise issues which can often be in direct conflict with the desire to reduce energy use.
Presenters:
Ronen Bauer, Moriyama & Teshima Architects
Ronen is a Partner at Moriyama & Teshima Architects. He acted as Lead Architect for the U of T Mississauga Student Meeting Place and for the Toronto Metropolitan University's Centre for Urban Innovation, a complex renovation and addition to a heritage building housing multiple research labs and entrepreneurial spaces.. Ronen's other award-winning works include the Canon Canada Headquarters, the Niagara Falls History Museum, and Waterloo Region Museum.
Phil Silverstein, Moriyama & Teshima Architects
Phil is a Principal at Moriyama & Teshima Architects . Since joining the firm in 2001, he has been integral to delivering multifaceted, complex projects, such as Toronto Metropolitan University's Centre for Urban Innovation, the University of Toronto Mississauga's Innovation Complex, and Victoria University's Goldring Student Centre. Phil brings a drive and passion for designing buildings that are leading edge, low-carbon, and highly sustainable.
Patrick Waller, Crossey Engineering Ltd.
Patrick Waller, a Senior Associate of the firm. He joined Crossey Engineering in 2006 after graduating from Queen's University with a B. Eng. Patrick has been involved with various types of projects. He is a member of the PEO and a LEED®AP.
Danny Baltazar, Toronto Metropolitan University
As a former MTU graduate in Mechanical Engineering, Danny was fortunate to join the university's Project Management Office in 2016 to manage the design and construction of the Centre for Urban Innovation project. With more than a decade of experience working on behalf of owners on large scale renovations and new developments in both the private and public sectors, Danny thrives when working with project stakeholders to deliver mandates of complexity and risk. Danny's passions are rooted in seeing projects come to life, especially when delivering much needed space for the students at MTU. His current projects on campus include the redevelopment of O'Keefe House (a similar heritage renovation and addition) and the development of 202 Jarvis St.
SLCan presentations are eligible as a directed training activity.
If this event has to be cancelled because of a COVID resurgence, your fee will be reimbursed less the Eventbrite processing fee.
Timelines
Building Tour*
3:00 pm to 4:30 pm - Toronto Metropolitan University's Centre for Urban Innovation, 44 Gerrard Street East.
Live & In Person – Speaking Engagement at the Albany Club
5:00 pm to 6:00 pm - Cocktails, Networking & Exhibitor's Tables
6:00 pm to 6:30 pm - Service of the Meal (please email john.alberico@rwdi.com with any dietary restrictions)
6:30 pm to 7:30 pm - Presentation and Service of Dessert
7:30 pm to 9:00 pm - Networking
*You will need to register for the "Live & In Person – Speaking Engagement at the Albany Club" to be able to attend the Site Tour of the Centre for Urban Innovation at the Toronto Metropolitan University. Space for the tour is limited so it will be on a first-come, first-serve basis for all registrants.
The Albany Club is about a 20-minute walk (10-minute car ride) from the CUI.
Cost (no payment at the door)
Attendance:
SLCan Member: $ 80
Non Member:    $100
Exhibitor's table:
SLCan Member: $200 including meal for 1 person
For any questions, you can contact us at: toronto@slcan.ca