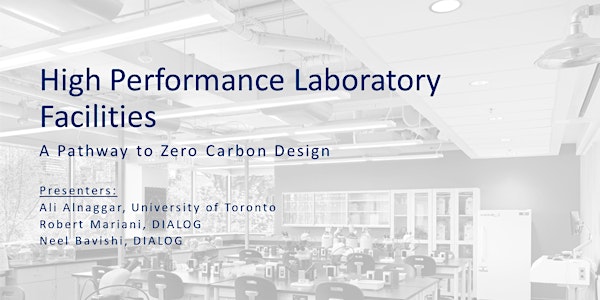 Sustainable Labs Canada - Toronto Chapter - Knowledge & Networking Event
High Performance Laboratory Facilities: A Pathway to Zero Carbon Design Press "REGISTER" for more details.
By Sustainable Labs Canada - Toronto Chapter
When and where
Date and time
Thu, Feb 2, 2023 5:00 PM - 11:00 PM EST
Location
The Albany Club 91 King Street East 416-364-5471 Toronto, ON M5C 1G3 Canada
About this event
High Performance Laboratory Facilities: A Pathway to Zero Carbon Design
Designing and constructing new buildings to zero carbon levels of performance is a critical strategy to contribute to meeting climate action commitments, for Canada and for other nations. In the coming years, laboratory buildings are expected to make up a substantial proportion of new development for the Government of Canada and for other developers of real estate, as demand for the science and technology sector remains high. Achieving zero carbon performance is uniquely challenging for laboratory buildings where plug and process loads are high, outdoor air volumes must satisfy a high number of air changes, and laboratory environmental conditions are critical to maintain.
This session will provide an overview of the importance of laboratory buildings in achieving a zero-carbon future, the unique challenges in achieving this objective, and examples from Canada and worldwide of successful developments that are targeting this level of performance. Insights will be provided which focus on technical solutions as well as innovative process for design and engagement with laboratory users.
The objectives of this presentation include:
Providing a global understanding of the importance of zero carbon and how this target applies to laboratory buildings.
Providing real-world examples of facilities designed to achieve zero carbon and emerging technologies that enable zero carbon (building envelope, HVAC, renewable energy).
Describing an inclusive and engaging design process whereby laboratory users are fulsomely engaged to provide insight and perspective on laboratory equipment and processes.
Providing an understanding of strategies for designing high-performance lab buildings including pre-design and programming stages, optimizing air change rates, modeling process load energy consumption, development of outcome-based specifications and documents.
Providing an engaging and interactive session, which inspires team members to innovate and collaborate on future projects.
Presenters:
Ali Alnaggar, University of Toronto
Ali Alnaggar is an Energy Manager with the University of Toronto's Sustainability Office. He is responsible for managing the implementation of the Tri-Campus Energy Modeling and Utility Performance standard for new construction and renovation projects and collaborating with project teams to ensure compliance. A professional engineer, certified energy manager, and project management professional, Ali's background is in Electrical Engineering, and he holds a Master's in Clean Energy Engineering from the University of British Columbia. Prior to joining U of T, he has worked in various energy management and facilities planning & construction roles in British Columbia, Alberta, and Ontario.
Robert Mariani, DIALOG
Robert is a leader in the DIALOG Toronto studio mechanical engineering group. His passion for healthcare, research, and laboratory projects has led to invaluable advances in the firm's expertise and portfolio in these sectors. He approaches each design challenge to maximize occupant comfort and energy efficiency, balancing simplicity in operation with technological innovation. Robert has designed HVAC, plumbing, fire protection, and building automation systems and led numerous projects to completion. From concept to contract documents, he is proficient in construction, site inspection, and contract administration. As building systems become increasingly complex, Robert believes that systems will perform best over their lifetime if they are uncomplicated and intuitive for their users.
Neel Bavishi, DIALOG
Neel Bavishi is passionate about applying the art and science of building performance simulation and data-driven design to produce positive outcomes for the built environment. A mechanical engineer by training, Neel is well-versed in whole-building energy modelling for both new and existing buildings and lifecycle cost analysis, design optimization, and data visualization. His experience includes developing energy models for green building certification programs, carbon-neutral retrofit studies and district energy strategies, and the development of net-zero energy and emissions policies and standards for municipal, provincial, and federal government bodies.
SLCan presentations are eligible as a directed training activity.
If this event has to be cancelled because of a COVID resurgence, your fee will be reimbursed less the Eventbrite processing fee.
Timelines
Presentation & Networking at the Albany Club
5:00 pm to 6:00 pm - Cocktails, Networking & Exhibitor's Table
6:00 pm to 6:30 pm - Service of the Meal (please email john.alberico@rwdi.com with any dietary restrictions)
6:30 pm to 7:30 pm - Presentation and Service of Dessert
7:30 pm to 9:00 pm - Networking
Cost (no payment at the door)
Attendance:
SLCan Member: $ 80
Non Member:    $120
Exhibitor's table:
SLCan Member: $200 including meal for 1 person
For any questions, you can contact us at: toronto@slcan.ca