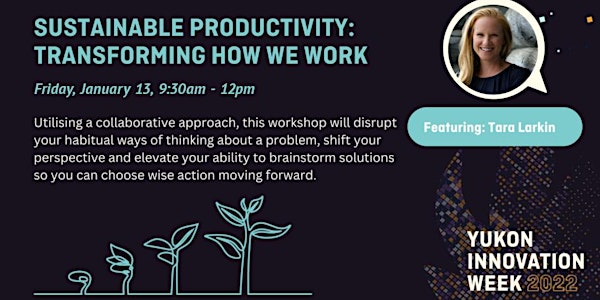 Sustainable Productivity: Transforming How We Work
Need to stop burning the candle at both ends? Utilising a collaborative approach, this workshop will disrupt your habits!
When and where
Location
Yukonstruct Society 2180 2nd Avenue Whitehorse, YT Y1A 5N6 Canada
About this event
Do you wake up, hit the ground running, take on too many commitments and feel the pressure to do it all? It's never our intention to overdo it yet when we find ourselves ruthlessly overscheduled, being pulled in many directions with little energy or patience to spare, do we throw in the towel or power through?
The pressure to strive harder, to accomplish more in less time, and to live up to unreasonable expectations and ideals of what success means is not a badge of honor; it's burdening us all and holding us back from being our best. How sustainable is this pace? At what point do we realize we are sacrificing ourselves, our health, our well-being, our enjoyment, our happiness and our quality of life?
If you want to really feel in control again, be a part of the solution. Join Put Busy to Rest: Invest Your Time Where It Matters Most. Together we'll consider transformational approaches to some of life's greatest challenges.