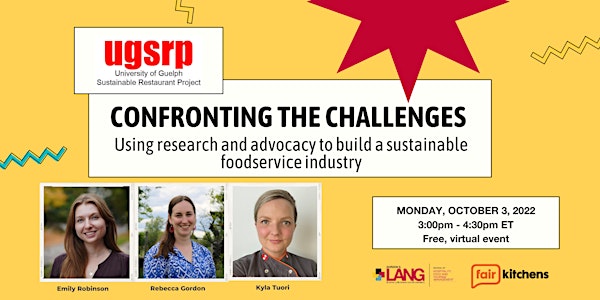 Sustainable Restaurant Symposium
Learn how the foodservice industry can overcome challenges to become more environmentally friendly and develop safe and fair workplaces.
About this event
The University of Guelph Sustainable Restaurant Project is holding its 10th annual symposium on Monday October 3. This year's theme is confronting foodservice industry challenges through research and advocacy.
The symposium will feature presentations by Emily Robinson and Rebecca Gordon of the University of Guelph and Kyla Tuori, the Corporate Chef of Unilever Food Solutions and the Fair Kitchens Ambassador. Emily Robinson and Rebecca Gordon have spent the last 2 years conducting groundbreaking research on restaurant sustainability issues while completing their MSc. degrees and they look forward to sharing their findings with you. Emily Robinson will be speaking about how to overcome barriers to implement environmental sustainability initiatives and Rebecca Gordon will give a presentation on how the foodservice industry can eliminate extreme work conditions to retain restaurant workers. We are also excited to have Kyla Tuori joining us who will be sharing how Fair Kitchens is creating change in the industry through advocacy and education of fair employment practices. Fair Kitchens has been doing some excellent work providing free tools, support and training for foodservice and hospitality professionals to help build positive working environments.
This event is open to anyone who has an interest in making the foodservice industry more sustainable. It is guaranteed that those who attend will gain a better understanding of the challenges the foodservice industry faces, and they will walk away with some practical tips to help propel the foodservice industry forward.
This is a free, virtual live event taking place from 3-4:30pm ET on October 3, 2022. To receive the viewing link, please register.
For more information, please contact anita.foodlab@uoguelph.ca
About the Speakers
Kyla Tuori
Chef Kyla has worked with Unilever Food Solutions for 15 years and currently works as a corporate chef for the Canadian UFS market. In those 15 years she has had the pleasure of working with a variety of influential chefs, gaining operational experience across North America and promoting Unilever's sustainability initiatives for the Hellmann's and Knorr brands. As a certified chef, with a background in marketing, her work with Unilever has enabled her to support a large number of Canadian restaurant operators.
Chef Kyla participates with a variety of culinary associations and local community organizations. More recently she has been given the opportunity to work on the Fair Kitchens movement of chefs supporting chefs, looking to inspire a new kitchen culture, creating a more sustainable environment for the current – and next – generation of chefs and cooks.
Emily Robinson
Emily grew up with a passion for food and hospitality, and followed these interests by pursuing a Bachelor of Commerce in hotel and food. Through her undergraduate degree and industry experience, Emily grew concerned for the sustainability of the foodservice industry from an environmental, social, and economic perspective. She chose to continue her education and pursue a Master of Science degree to conduct her own research in foodservice sustainability. Over the past seven years, Emily has expanded her knowledge of the foodservice industry through multiple jobs in the foodservice sector including a year-long coop placement at the Four Seasons Resorts and Residences in Whistler, BC, and working for Relais and Chateau property Langdon Hall. She has also furthered her understanding of environmental stewardship through a 2-year presidency of the environmental educational outreach program, my world, my choice!, and the organization of a multi-school food system sustainability conference. In her Masters degree, Emily has worked on multiple papers in various stages of publication exploring the impact of COVID-19 on foodservice sustainability initiatives, food waste in long-term care homes, and the difference between intention and application of sustainability initiatives in foodservice. Her thesis research explored the reduction of single-use plastics in the back-of-house of Canadian restaurants. She has also taken on teaching assistantships and a sessional lecturer position prior to her current position as food education manager.
Rebecca Gordon
Rebecca Gordon is the Anita Stewart Memorial Food Lab manager at the University of Guelph. In May she completed her Master of Science in Tourism and Hospitality Management at the University of Guelph. Her thesis explored how long work hours and high intensity can impact the motivation of restaurant managers. Through this work she became heavily involved with the Canadian Restaurant Workers Coalition. She has spoken to politicians across the country, presented to the Senate of Canada and she has been a prominent spokesperson in the media addressing the need for better work conditions and health protections for restaurant workers. Rebecca has also assisted with research projects exploring a wide range of topics within the restaurant industry from sustainability certifications to the impact of food delivery apps. Prior to completing her MSc, Rebecca spent several years managing restaurants. She has travelled to New York to cook at the prestigious James Beard House and represented Slow Food Canada in Italy.
About UGSRP
The University of Guelph Sustainable Restaurant Project (UGSRP) is driven by a group of students, faculty and community partners that are committed to working towards a more sustainable future for the restaurant industry. UGSRP was started in May 2011 with the goal of pushing the foodservice industry to become more sustainable through education and impactful research. UGSRP has developed sustainability curriculum for hospitality students, worked to move the University of Guelph student run restaurant PJ's towards a more environmentally sustainable model and worked on countless research projects with students and foodservice operators. Every year, UGSRP holds a symposium which brings prominent speakers to the University of Guelph to discuss issues in the foodservice industry. We are excited that this will be the 10th symposium held by UGSRP.
More details about UGSRP and past symposiums can be found here: https://ugsrp.com/category/annual-symposium-events/