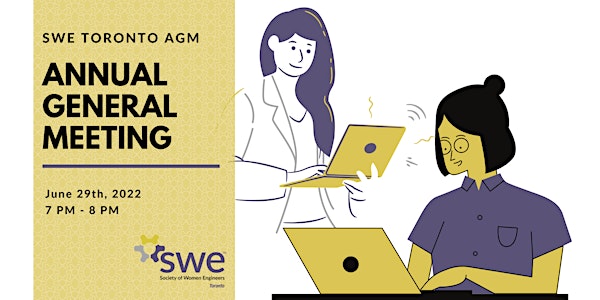 SWE Toronto Annual General Meeting 2022
SWE Toronto is hosting our Annual General Meeting (AGM) this month. The AGM is open to all SWE Toronto members.
About this event
The SWE Toronto Annual General Meeting is a meeting of the general membership of our affiliate in order to introduce the newly elected board of directors to the membership. It is a time to make important decisions regarding the organization, and inform the membership of previous and future activities.
At the AGM, SWE Toronto's President will give an overall status of our affiliate with summary of updates on activities of each committee. All SWE Toronto Members are welcome, which includes volunteers and anyone who come to SWE Toronto events. Please note that the general public i.e. SWE attendee, committee volunteer, would only need to attend the first portion of the AGM. The second portion of the meeting is only reserved for the board members.
All Engineers, EITs, P.Geo's, professionals in engineering-related fields (yes, that includes you technicians, software folks, GIS gurus, etc!) and new grads are welcome. We welcome people of all genders and supporters of women in engineering fields.
This is a virtual event hosted on Zoom. A link and instructions on how to join will be sent to the email address you use to register.