Location
Science World at TELUS World of Science
1455 Quebec St
Vancouver, BC V6A 3Z7
Canada
Description
**This event is for teens aged 13-18!**
Our next SWEET (Science World Extravagant Evening for Teens) is coming up this Friday, November 9th!


Come play your favourite old school video games and explore the technological innovations that went into creating them at our feature exhibition: Game Changers!
Come on out for a fun, FREE evening and discover how video games play your mind!
Explore immersive VR worlds, see what motivates our decision making and trust in games, find your gaming personality and so much more! Our Feature Exhibition: The Science Behind Pixar will be OPEN to explore!
$1 Popcorn at Science World's SnackLab on the second floor!
$8 Birdly VR Flight Experience on the first floor! Limited flights available!
Earn raffles for a chance to win amazing prizes! Grand prize: TWO passes to visit Science World!


Feature Recorded Presentation:
The Psychology of Video Games & Why The Mind Keeps Playing Even When The Game is Turned Off
Immerse yourself in the psychology of video games to discover the evocative and interactive nature of video game playing. Video games engage us mentally, emotionally, sensorially and physically not only while playing but also after playing. Learn how video games engage us emotionally, why in-game experiences can be unforgettable, what happens when we embody game characters, why playing can be extremely gratifying, but at the same time very frustrating, what benefits and challenges video games can pose, how the video game can be pervasive to the degree of hearing or seeing game content when not playing.
Feature Presentation starts at 7:30pm in The Science Theatre!
Dr. Angelica B. ORtiz de Gortari, PhD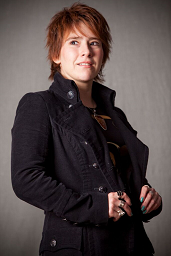 Dr Angelica B. Ortiz de Gortari is a Marie Curie COFUND Postdoctoral Research fellow in Cyberpsychology at the Psychology and Neuroscience of Cognition Research Unit at the University of Liège in Belgium and visiting research fellow at the Centre for the Science of Learning & Technology (SLATE) at the University of Bergen in Norway. Game Transfer Phenomena (GTP) (i.e., residual thoughts, sensory perceptions, and automatic behaviours with game content) is her area of research expertise. Dr Ortiz de Gortari's research has been featured in media worldwide including BBC World Service, New Scientist, Discovery News, the Boston Globe, the Washington Post. Her research on GTP has have impact beyond academia and has inspired an episode of the TV series CSI: Cyber and a sci-fi book about video games. The goal of her research is maximising the psychological and social benefits of interactive virtual technologies while reducing the potential risks it can present to some individuals.
Schedule:
6:00PM SWEET Doors Open
6:30PM Welcome Show
7:00PM Snacklab, activities and galleries open
7:30PM Feature Presentation in the Science Theatre
8:30PM Closing Show (prizes!!)
9:00PM Event Ends
The Science Behind Pixar was developed by the Museum of Science, Boston in collaboration with Pixar Animation Studios. © Disney/Pixar. All Rights Reserved. Used Under Authorization.
Game Changers is a travelling exhibition developed and produced by the Canada Science and Technology Museum and tour managed by Science North in partnership with the Social Sciences and Humanities Research Council and Electronic Arts.