Swinging 101 will cover important topics for newbie swingers and experienced individuals and couples who want a refresher, too!
About this Event
It is my absolute pleasure to be hosting a new webinar series, Swinging 101!
Each one-hour Swinging 101 webinar will cover important topics for swingers and open-minded individuals and couples, whether you're a newbie to the lifestyle or an experienced swinger looking for a refresher!
Upcoming Dates & Topics:
February 27th, 2021 @ 8 PM EST: Virtual Dating Dos & Don'ts
March 20th, 2021 @ 8 PM EST: How to Attract a Unicorn
April 17th, 2021 @ 8 PM EST: How to Have a Threesome
May 15, 2021 @ 8 PM EST: Swingers Clubs & Parties Etiquette
Previous webinars:
January 30th, 2021 @ 8 PM EST: Newbies Tips & Tricks
These webinars include Q&A Sessions, so you can ask me ANYTHING you want.
I'll be the only one on camera, but you can chat with me and other guests during the show.
If you purchase a ticket and are unable to attend, the video will be recorded and the video link will be available to watch for 30 days after the webinar date. (This is included in your ticket price.)
Note: if you have any special accessibility needs, please let me know and I will do my very best to accommodate you.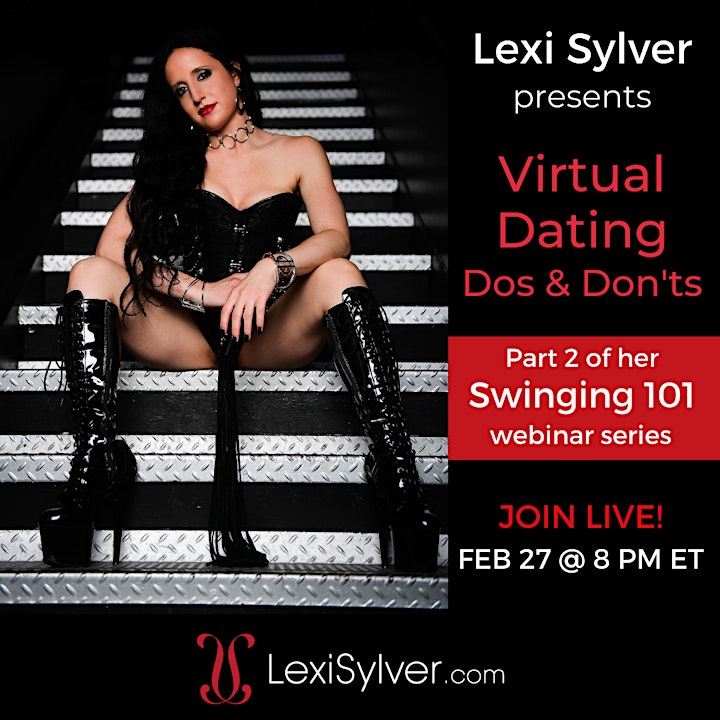 Private Coaching with Lexi Sylver
Follow up your webinar learnings with a private coaching session tailored to your questions and needs!
When you choose a 30-minute or 60-minute Private Coaching add-on here at checkout, you'll save 20% on my usual coaching prices.
Private coaching is available for individuals as well as couples.
Once your Eventbrite purchase / transaction is complete, you will be redirected to a confirmation page, which will include a link to my scheduler. Click the link to select the best time and date for our follow-up session.
*Please note that if you cancel or reschedule your coaching session without giving me 24 hours prior notice, my coaching fee will be non-refundable. No-shows are also non-refundable.