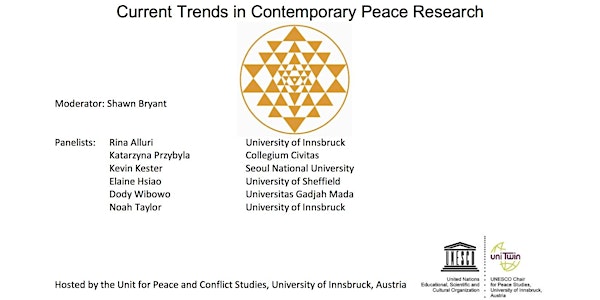 Symposium: Current Trends in Contemporary Peace Research
Six peace researchers will share their experiences on current trends in peace research and challenges in the field.
About this event
In collaboration with the Unit for Peace and Conflict Studies of the University of Innsbruck, Austria, we are convening a panel of six diverse researchers in the field of peace and conflict studies. Each panelist will give a 10-minute presentation on their experiences and directions of future interest for the field. There will be time for questions. The event will last 2 hours.
Upon registration, you will receive a confirmation email from Eventbrite. A link to access the event will be sent to the registered email address just prior to the event. We will be using "bigbluebutton," which operates within a regular web browser.
About the presenters:
Rina M. Alluri is Assistant Professor at the University of Innsbruck, Peace and Conflict Studies Unit. She carried out her PhD at the University of Basel, Switzerland and her post-doc at the University of Zurich, Switzerland. Her research interests include: diasporic politics, decolonization of knowledge, gender, critical peace studies and transrational peace philosophy. She has experience working in/on different conflict-affected contexts in Asia and Sub-Saharan Africa. She is a Canadian national of Indian and Filipino descent.
Katarzyna A. Przybyła created International Peace and Conflict Studies at Collegium Civitas, Warsaw, Poland, and is currently supervising the program. She also serves as the Director of Analysis and the Senior Editor in the analytical center Polityka Insight. Katarzyna was a Fulbright Scholar in the Kroc Institute for International Peace Studies (University of Notre Dame, US) in the academic year 2014-2015. In 2018 – GMF's Marshall Memorial Fellow. For more than 7 years she worked in the National Security Bureau's Strategic Analysis Department, focusing on the former Soviet Union, NATO-Russia relations, international peace and security organizations, and arms control. She also served as Program Development Adviser in the Peace and Stabilization Program in the Casimir Pulaski Foundation, and worked as a journalist in the Polish newspaper "Dziennik Gazeta Prawna". In 2015 she conducted her field research and cooperated with human rights organizations in Israel/Palestine. She graduated from Lazarski University, Warsaw (BA and MA in International Relations), and University of Notre Dame, IN, USA (MA in Peace Studies).
Kevin Kester is an educational sociologist. He researches and teaches educational responses to conflict, peace and development in local and global contexts, and directs the Education, Conflict and Peace Lab in the Department of Education at Seoul National University. His most recent book is The United Nations and Higher Education: Peacebuilding, Social Justice and Global Cooperation for the 21st Century.
Elaine Hsiao is an interdisciplinary scholar specializing in environmental peacebuilding, transboundary conservation, and indigenous/community conservation and development. She is the Global Challenges Fellow at the Sheffield Institute for International Development, an Honorary Research Fellow at the University of Rwanda Center of Excellence in Biodiversity and Natural Resource Management, and Affiliate of the Biodiversity and Security research project. She bridges academia and practice in her leadership of the IUCN CEESP Theme on Environment and Peace, its Task Force on Migration, Environmental Change and Conflict, and as an Honorary Member of the ICCA Consortium. Elaine holds a PhD in Resource Management & Environmental Studies from the University of British Columbia and has founded various initiatives, co-produced a documentary film, and works with non-profit organizations worldwide.
Dody Wibowo comes from Indonesia and holds a Doctoral Degree in Peace and Conflict Studies from the University of Otago, New Zealand and Master's Degree in Peace Education from the University for Peace, Costa Rica. He has worked in several institutions, including Peace Brigades International, Save the Children, Ananda Marga Universal Relief Team, and Universitas Gadjah Mada. He has completed work for UNICEF in Indonesia and the Centre for Peace and Conflict Studies in Cambodia. His doctoral research explores factors contributing to school teachers' capacity in delivering peace education.
Noah Taylor is a practitioner, researcher, and teacher of Peace and Conflict Studies. He holds a PhD in Peace, Conflict and Development Studies from Jaume I University in Castellón, Spain. He focuses on a wide range of research areas including Elicitive Conflict Transformation, Transrational Peace Philosophy, Emerging Technologies, and Existential Risk. He is currently a lecturer in Peace and Conflict Studies at the University of Innsbruck Austria.
About the moderator:
Shawn Bryant is a lecturer in the MA program for Peace, Development, Security, and International Conflict Transformation at the University of Innsbruck, Austria. Residing in Canada, he has recently been an on-board facilitator on the Ship for World Youth (SWY32) sponsored by the Cabinet Office of Japan (2020), and was an Assistant Professor in Korea (2018-2020). His current research focuses on pedagogy, educational philosophy, the many peaces, and psycho-emotional approaches to peace.