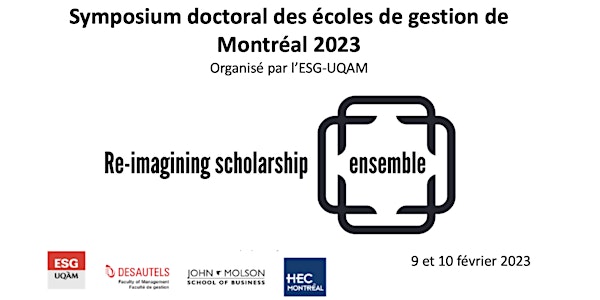 Symposium doctoral - Doctoral symposium Montréal 2023
2nd edition of the Montréal Business Schools' Ph.D. Symposium - 2e édition Symposium doctoral des écoles de gestion de Montréal par ESG UQAM
Date and time
Thu, Feb 9, 2023 12:00 PM - Fri, Feb 10, 2023 5:00 PM EST
Location
UQAM Pavillon Sherbrooke 200 Rue Sherbrooke Ouest Montréal, QC H2X 1X5 Canada
Refund Policy
Contact the organizer to request a refund.
Eventbrite's fee is nonrefundable.
About this event
*** Nous offrirons un service d'interprètes tout au long de l'évènement. Merci de nous aviser pour quelles activités vous aimeriez que ce service soit accessible afin de nous aider à mieux planifier le tout / an interpretation service will be available for this event. Please write to us to tell us for which activity(and track) you would like this service to be available.
___
This symposium is an opportunity to bring together doctoral students from all specializations of the joint Ph.D. program in (Business) Administration (HEC Montréal, ESG-UQAM, Concordia University, and McGill University) to shine a spotlight on the research and contributions of graduate students in a spirit of collaboration, interdisciplinarity, knowledge transmission, and popularization.
The theme of this edition of the Ph.D. Symposium, "Re-imagining scholarship, ensemble", underscores the committee's desire to encourage Ph.D. students to engage in academic life and to foster collaboration and collegiality within our community. The Symposium is an opportunity to promote different trajectories of scholarship, stimulate curiosity, and create a safe space for cooperation and learning. We aim also to create spaces of reflections and dialogue on the future of scholarship, the challgenges that we are facing and the alternatives paths that we could undertake.
___
Dans un esprit d'interdisciplinarité et de transmission des connaissances, le symposium se veut une occasion unique de réunir les doctorant.e.s de toutes les spécialisations du programme conjoint de doctorat en administration des affaires (HEC Montréal, ESG-UQAM, Université Concordia et Université McGill) pour mettre en lumière leurs recherches dans un environnement inclusif, collaboratif et dynamique.
Le thème de cette édition du Symposium, « Re-imagining scholarship, ensemble », reflète la volonté du comité organisateur d'encourager les doctorant.e.s à créer et imaginer une vie académique empreinte de collaboration et collégialité. Le Symposium est l'occasion de valoriser les différentes trajectoires académiques possibles, stimuler la curiosité et créer un espace favorisant la coopération et l'apprentissage par l'expérience. Nous souhaitons aussi créer des espaces de réflexion et discussion sur le travail académique, les défis que nous faisons face, et ainsi que les voies alternatives que nous pouvons prendre.