SYMPOSIUM: GEORGE BAIRD — A QUESTION OF INFLUENCE - Saturday session

Saturday, March 10, 2012 from 10:00 AM to 5:30 PM (EST)
Event Details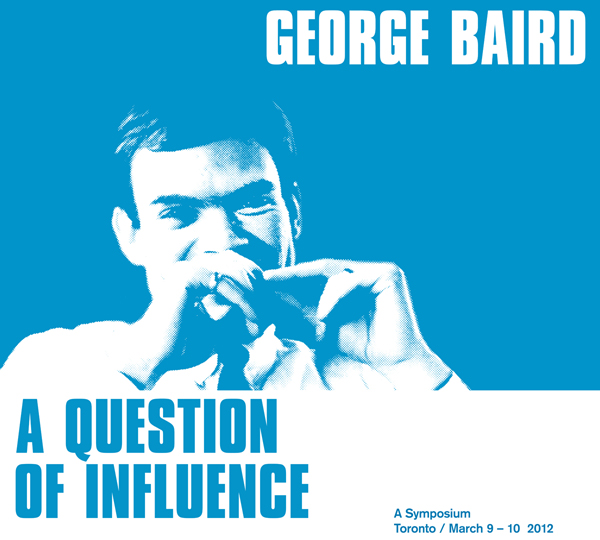 GEORGE BAIRD — A QUESTION OF INFLUENCE - Saturday Session
Prof. Emeritus George Baird retired in 2010 from the University of Toronto, following a term as Dean of the John H. Daniels Faculty of Architecture, Landscape, and Design and crowning a remarkable career as an educator that began in London in 1965. In 1993 he was named the George Travelstead Professor at the Graduate School of Design at Harvard University where he taught until 2003. 
George's continuing contribution to the field has inspired us to organize a two-day symposium to celebrate his ideas and projects over the past five decades, including the questions they raise in three arenas: theory, the city, and design practice.
The keynote event "Questions of Influence" will feature a discussion between George Baird and Kenneth Frampton, moderated by K. Michael Hays, concentrating on George Baird's career, contribution, and influence. The discussion, which is scheduled for Friday, March 9, will focus on what lies ahead, as well as reflect on the first fifty years of his career.
The conference is convened by Dean Richard Sommer, Professor of Architecture and Urbanism, at the John H. Daniels Faculty of Architecture, Landscape, and Design; Francesco Garofalo, professor and curator in Rome; and Bruce Kuwabara founding partner of KPMB Architects.
If you have any questions or require further information please do not hesitate to contact Kim Ryan at kim.ryan@daniels.utoronto.ca
TO REGISTER FOR THE FRIDAY SESSION, INCLUDING THE KEYNOTE EVENT, "A QUESTION OF INFLUENCE," PLEASE VISIT: http://georgebaird.eventbrite.com/
*****Seating is limited for this portion of the symposium and will be available on a first come first served basis. Please arrive early to secure a seat. A simulcast will be set up in room 106 to accommodate all attendees.*****
SATURDAY, MARCH 10
John H. Daniels Faculty, 230 College Street 
Session 2: 10:00 a.m.-12:00 Noon 
"Agent in the  City:  Toronto in Theory  and  Practice"
Moderator - Brigitte Shim, Daniels Faculty
Ken Greenberg, Greenberg Consultants
Barry Sampson, Daniels Faculty
John van Nostrand, planningAlliance
Respondent - Robert Levit, Daniels Faculty
Lunch: 12:30 p.m.
Session 3: 1:30-3:30 p.m. 
"The  Challenge  of  Research  in  the Realm  of  Practice" 
Moderator - Mason White, Daniels Faculty
Jamie Fobert, Jamie Fobert Architects
Yoshiharu Tsukamoto, Atelier Bow-Wow
Preston Scott Cohen, Harvard Graduate School of Design
Respondent - Mirko Zardini, Canadian Centre for Architecture 
Session 4: 4:00-5:30 p.m. 
George Baird Roundtable
Moderator - Richard Sommer, Daniels Faculty
Kenneth Frampton, Columbia University
Francesco Garofalo, Pescara Faculty of Architecture
Bruce Kuwabara, KPMB Architects
K. Michael Hays, Harvard Graduate School of Design
Phyllis Lambert, Canadian Centre for Architecture
When & Where

John H. Daniels Faculty of Architecture, Landscape, and Design
230 College Street
Toronto, Ontario M5T 1R2
Canada

Saturday, March 10, 2012 from 10:00 AM to 5:30 PM (EST)
Add to my calendar