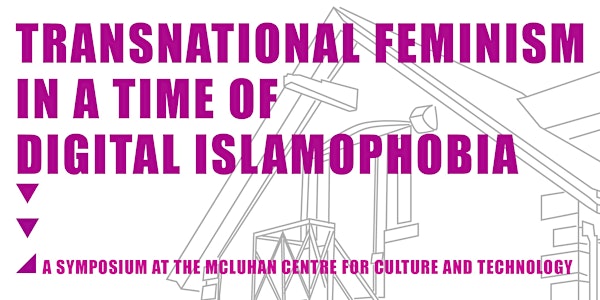 Symposium: Transnational Feminism in a Time of Digital Islamophobia 
When and where
Location
McLuhan Centre for Culture and Technology 39A Queen's Park Crescent East Toronto, ON M5S 2C3 Canada
Description
Transnational Feminism in a Time of Digital Islamophobia
This symposiusm is organized and planned by Zeinab Farokhi (WGSI PhD Student) and Victoria Tahmasebi-Birgani (conveners of a McLuhan Centre for Culture and Technology working group on Transnational Digital Feminism).
CONTEXT: In the decade following the events of 9/11, Western mainstream media has become obsessed with Islam, often sensationalizing Muslims as inherently violent, barbaric, and as the undesirable other. In the current technological era, the number of users who have taken to digital media, such as Social Networking Sites (SNS), to express their anger, hatred, and even to make death threats towards Muslims has been increasing dramatically.
QUESTIONS: In this interdisciplinary symposium, we aim to make a conceptual bridge between transnational feminist politics and digital Islamophobia and engage with the following questions: How might technology and social media change, influence, and shape transnational feminist politics and praxis? How might transnational feminist politics engage with digital Islamophobia? How might transnational feminist activism traverse the age of digital Islamophobia? And does transnational feminist activism have the potential to transform discourses around digital Islamophobia?
This event will include presentations supplemented with open dialogue and conversation with audience and speakers.
Confirmed speakers: Nadia Caidi, Zeinab Farokhi, Banu Gokariksel, Hazal Halavut, Faiza Hirji, Yasmin Jiwani, Barbara Perry, Kumi Silva, Victoria Tahmasebi-Birgani, Jasmin Zine
Full schedule and talk titles are below.
Panel I: Friday (10:00 – 11:15 AM)
* Digital (De)Colonization?: The Promise and Perils of Women's Online Campaigns
Victoria Tahmasebi-Birgani (University of Toronto)
*Transnationalism and Gender in the Global Islamophobia Industry
Jasmin Zine (Wilfrid Laurier University)
* Curating the Muslim Self(ie): Representation or Resistance?
Nadia Caidi (University of Toronto)
Break: 11:15 – 11:30AM
Panel II: Friday (11:30 – 12:30 PM)
* The Neighbor that Might Kill You: Encounter, Religious Difference, and Islamophobia
Banu Gokariksel (University of North Carolina, Chapel Hill)
* The Resurgence of the Right: Targeting Islam
Barbara Perry (University of Ontario Institute of Technology)
Lunch: 12:30 – 1:30 PM
Panel III: Friday (1:30 –2:45 PM)
* I Don't Knit, Am I Still a Good Feminist?: (un)Comfortable Solidarities in the Midst of Chaos
Kumi Silva (University of North Carolina, Chapel Hill)
* Gendered Islamophobia: Colluding Hegemonies and Circulating Orientalisms
Yasmin Jiwani (Concordia University)
*Raising Our Voices: Challenging Perceptions and Silencing of Muslim Women
Faiza Hirji (McMaster University)
Break: 2:45 – 3:00 PM
Panel IV: Friday (3:00 – 4:00 PM)
* Islamophobization of a Nation: Nexus of Old and New Media Technologies in India
Zeinab Farokhi (University of Toronto)
* Digital Feminism in Turbulent Turkey
Hazal Halavut (University of Toronto)
Break: 4:00 – 4:15 PM
Round Table: Friday (4:15– 5:00 PM)
Conversations and Meditations on Digital Islamophobia
Reception: 5:00 – 7:00 PM
---
This event will not be live-streamed.
We are running multiple sign-up/registration lists for this event and you may be contacted after registering to confirm affililation. Priority registration will be given to University of Toronto graduate students and faculty in the event of a waitlist.