System of a Run - An evidence based framework to manage injured runners
Description
Featuring Chris Johnson PT, MCMT, ITCA - A 2 day course
with Erson Religioso III, The Manual Therapist
Saturday, September 26 9am-5pm
Sunday,

September 27

9am-5pm
This course will provide you with a clear, succinct, evidence based answer to the most pressing question an injured runner will have for you, "When can I run?" Participants will learn a systematic, comprehensive framework to manage injured runners and help them return to their pre-injury status and beyond through a graded exposure approach.
Review of the performance demands of running

Discussion of risk factors for running injures and regions most likely to be injured

How to conduct a head to toe running gait analysis

Instruction on various balance and motor control drills

Instruction on open and closed chain exercises for runners

Instruction on running specific compound movements and plyometric drills to improve running economy and neuromuscular control

Novel, hands on, manual techniques that you can use to aid injured runners

Self mobilizations to prescribe as home exercises

Implications of strike pattern and footwear

How to design a graded exposure return to running program
Event sponsors Kintec, will be graciously providing complimentary coffee, fruit, and light breakfast at the start of each day as well as mid morning and mid afternoon snacks. (

http://www.kintec.net)

Super Early bird registration - before June 26, 2015 $425
Early bird registration - before July 26, 2015 $475
General admission - after July 27, 2015 $525
Continuing Education Credits (CECs): 13 PE/A2 for Registered Massage Therapists (RMT) in B.C.
Registrants who cancel anytime up to and including September 12
(two weeks before) will be charged a $50 administration fee. Those who cancel between September 13 and September 19 will receive a 50% refund. No refunds will be given after September 20.
Organizer of System of a Run - An evidence based framework to manage injured runners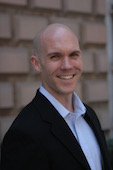 Chris completed his undergraduate studies at the University of Delaware, where he earned a bachelor of science with distinction while completing a senior thesis in the physical therapy department under Dr. Lynn Snyder-Mackler. Chris was a member of the varsity men's tennis team, scholar athlete, captain in 2000, and recipient of the Lee J Hyncik award for excellence in athletics and academics. He remained at the University of Delaware to earn a degree in physical therapy while completing an orthopedic/sports graduate fellowship under Dr. Michael J. Axe of First State Orthopedics. Following graduation, he relocated to New York City to work at the Nicholas Institute of Sports Medicine and Athletic Trauma of Lenox Hill Hospital as a physical therapist and researcher. He remained there for the ensuing eight years until 2010 when he opened his own physical therapy and performance facility, Chris Johnson PT PLLC, in the Flatiron District of Manhattan.
Recently, Chris relocated to Seattle to further pursue his professional work while taking advantage of a more active, outdoor lifestyle in the Pacific Northwest. In 2014 he opened another physical therapy and performance facility, Zeren PT LLC. In addition to being a physical therapist, Chris is a certified triathlon coach (ITCA). Outside of his professional work, Chris races triathlon at the amateur elite level. He is a three-time USAT All American, two-time Kona Qualifier, and is currently ranked 16th (AG) in the country in long course racing. Chris is also extensively published in the medical literature and has a monthly column on Ironman.com in addition to running his own video blog. To learn more about Chris, please visit his website zerenpt.com

Dr. Erson Religioso III, DPT, MS, MTC, CertMDT, CFC, CSCS, FMS, FMT, FAAOMPT, graduated from D'Youville College in 1998 with a dual Bachelor's of Science and Master's of Science in Physical Therapy. His interests in Orthopaedics and Manual Therapy lead him to pursue a Doctor of Physical Therapy degree from the University of St. Augustine. Studying under StanleyParis, Ph.D, PT, internationally known for his manual skills and knowledge of the spine as well as his distinguished faculty, Dr.Religioso earned his DPT and Manual Therapy Certification in 2000.