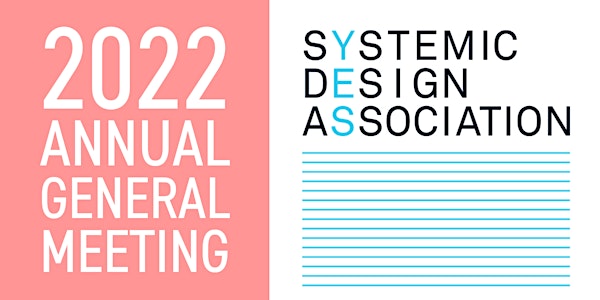 Systemic Design Association General Assembly 2022
The SDA general assembly is open to all. Supporting members are entitled to vote on business items.
About this event
All welcome. This one-hour meeting is an update on SDA activities from November 2021 to October 2022. Supporting members are encouraged to vote on the proposed change to the statutes and elections for board members.
The meeting will be held online (via Zoom). RSD11 registration is not required to join the SDA General Assembly online.
Those attending the RSD11pre-symposium in person are invited to join the SDA GA at the RSD11 social, which will be held at Brighton Electric.
About SDA
The Systemic Design Association is committed to the co-evolution of systemic design, adapting each field's preferred core disciplinary methods and mobilizing knowledge across practitioners and scholars. The SDA supports the efforts of advanced design practice to lead programs of strategic scale and higher complexity (e.g., social policy, healthcare, education, urbanization), adapt systems thinking methods, and creatively push the boundaries beyond the popular modes of systems dynamics and soft systems.
TIP: log in to your account to check whether you are a voting member
About RSD11
Relating Systems Thinking & Design Symposium is the systemic design event of the year. This year there are 129 papers, 47 workshops, 6 keynotes and more. One ticket gets you #RSDX OCT 3-9 and #RSD11 OCT 13-16. Pre-symposium day features systemic design tours of Brighton, in-person workshops, and a social at Brighton Electric.