Systems and Strategies to Support Committee Meetings and Operations
Event Information
Refund policy
Contact the organizer to request a refund.
Eventbrite's fee is nonrefundable.
Systems and Strategies to Support Committee Meetings and Operations ... and help manage your workload!
About this event
Systems and Strategies to Support Committee Meetings and Operations, with Shelagh Donnelly
- 75 minutes; templates provided with recording
When it comes to meetings, a good assistant shares commonalities with an effective air traffic controller. You scan the horizon, and have your eye on multiple moving parts. Others are flying the planes/leading the meetings, yet your role is also important. When you're skilled, informed, attentive and a good communicator, that impacts the effectiveness with which meetings are coordinated - and the timely distribution of agenda packages. You can also have a positive impact on peoples' use of an important resource, time.
Join Shelagh, who has decades of experience, for strategies and skills to help you succeed. While meetings represent just one element of an assistant's responsibilities, it's a key element. Your capacity to produce accurate, effective agendas, agenda packages and minutes in a timely manner impacts perceptions and your professional reputation.
When you support more than a couple of bodies, the challenges are multiplied. You likely face competing priorities. You collaborate with Chairs as well as people who provide deliverables for agenda packages, and each of these individuals has their own style and competing priorities.
Shelagh spent a decade supporting a board and, ultimately, five committees. To keep her head above water and maintain credibility, she developed and introduced systems and practices that helped her stay on top of her workload. These systems can have positive impacts for stakeholders who participate in meetings, for those responsible for producing deliverables for your agenda packages ... and you.
We'll review concepts and templates you may want to consider raising with your Chairs, and strategies for influencing readiness to change practices. Whether you record meetings for one body or a handful of them, these are practices you can adopt or modify to help you become increasingly efficient and effective.
Key learning objectives
1. Efficiencies: systems and templates to help you schedule and produce deliverables in a timely manner
2. Stakeholder communications: Communicating and collaborating effectively with multiple chairs and stakeholders
3. How to assert and prioritise your needs in order to get the job done
Templates for you to download
Shelagh has developed templates - annual calendars and work plans, briefing notes for agenda submissions, and more - for you to download and adapt to your environment.
What participants have said about Shelagh's webinars
"It gave me both confidence and ideas to implement, in advance of starting my new role!"
"very informative – just the right level"
"Her sense of humor and creative slide images add value to the presentation."
"Many things made me feel like I was on the right track and others made me glad I had taken this webinar!"
"Shelagh was exceptional ... Well prepared, impeccable knowledge."
"Your advice was both practical and inspirational"
Included with your registration
90-day access to recording of our session
PDF companion workbook, to download and use during our live session or as you watch the recording
certificate for your professional development portfolio
templates to download and adapt for your use
About your trainer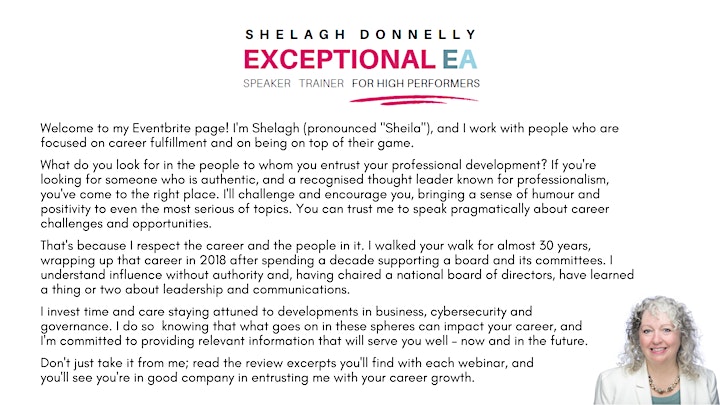 Invest in your career with someone who's walked the walk and presents on current best practices
Shelagh is trusted and respected by assistants and employers around the globe. She has been publishing her Exceptional EA website since 2013, and writes for other publications. An in-demand trainer, Shelagh works with conference organisers, professional associations, government bodies, higher education and businesses, including corporations such as the NBA.
For Shelagh's bio and a sampling of clients and references, please click here.
Registration fee
The fee for this webinar is $75 US. Depending on currency fluctuation rates, that's approximately £60, or €67.
Canadian residents registering for this webinar will see that GST of $5.12 CAD is included in the cost.
What's included in this registration fee?
This is a live, 75-minute webinar that Shelagh will present via Zoom. Within a day of your registration for this course, Shelagh will send you a connection link from her ExceptionalEAs@gmail.com email account.
After the webinar, Shelagh will email you a certificate of attendance that will come in handy for tracking and showcasing your professional development.
You'll also have access to a recording of the webinar for 90 days post-event. This can come in handy if you'd like to review a concept, and if time zones or people throw your schedule for a loop the day of a webinar.
As well, Shelagh has prepared a companion workbook and templates for you . Shelagh publishes these along with the session recording, and they're available for you to download up to 90 days post-event.
Speaking of time zones ..
Check out the time in your time zone. Shelagh will present this live at 10:00 a.m. PDT/GMT-7 hours; click here to access a time zone converter. If this represents the wee hours of the night in your time zone, you'll be in good company by registering and relying on access to the recording and PDF companion workbook.
Date and time
Location
Refund policy
Contact the organizer to request a refund.
Eventbrite's fee is nonrefundable.