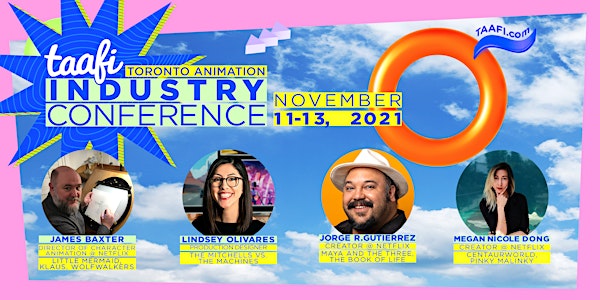 TAAFI Industry Conference 2021
TAAFI INDUSTRY 2021 is three days of pretty cool industry talks by a selection of the finest folks who create the art we love.
About this event
This is an INTERNATIONAL ONLINE EVENT offering exclusive talks from top animation artists and creators from Toronto and around the world.
Your pass gives you access to all talks and events. Catch it all live, or come back and watch what you missed later.
Check out the full Schedule
Find out more at www.taafi.com
---
Developed with a mandate to celebrate the many forms of animation from around the world, TAAFI has evolved into a series of three "can't miss experiences" in the international animation landscape with distinct events and audiences held throughout the year. We aim to showcase and invigorate the passion in animation. At this time of COVID-19, TAAFI is more determined to service the industry in providing quality content that will inspire our audience and their creativity.