Table ronde du BT sur l'industrie / TB Industry Roundtable
Event Information
Location
Palais des congrès de Gatineau
50, boulevard Maisonneuve Boulevard
Salle Chapleau / Chapleau Room
Gatineau, QC J8X 4H4
Canada
Description
English text follows
La table ronde du Bureau de la traduction sur l'industrie est une occasion pour le Bureau de communiquer avec nos intervenants et nos partenaires afin de fournir un aperçu stratégique de nos progrès au cours de la dernière année et de collaborer avec eux pour offrir des services linguistiques professionnels de haute qualité au gouvernement du Canada.
La table ronde est composée d'une séance plénière le matin (de 9 h à 12 h) suivie par des groupes de travail professionnels en après-midi (de 13 h à 15 h). Les participants doivent s'inscrire à la séance plénière du matin en plus de leur séance d'intérêt de l'après-midi. Notez que les séances ont des places limitées et seront attribuées selon le principe du premier arrivé, premier servi.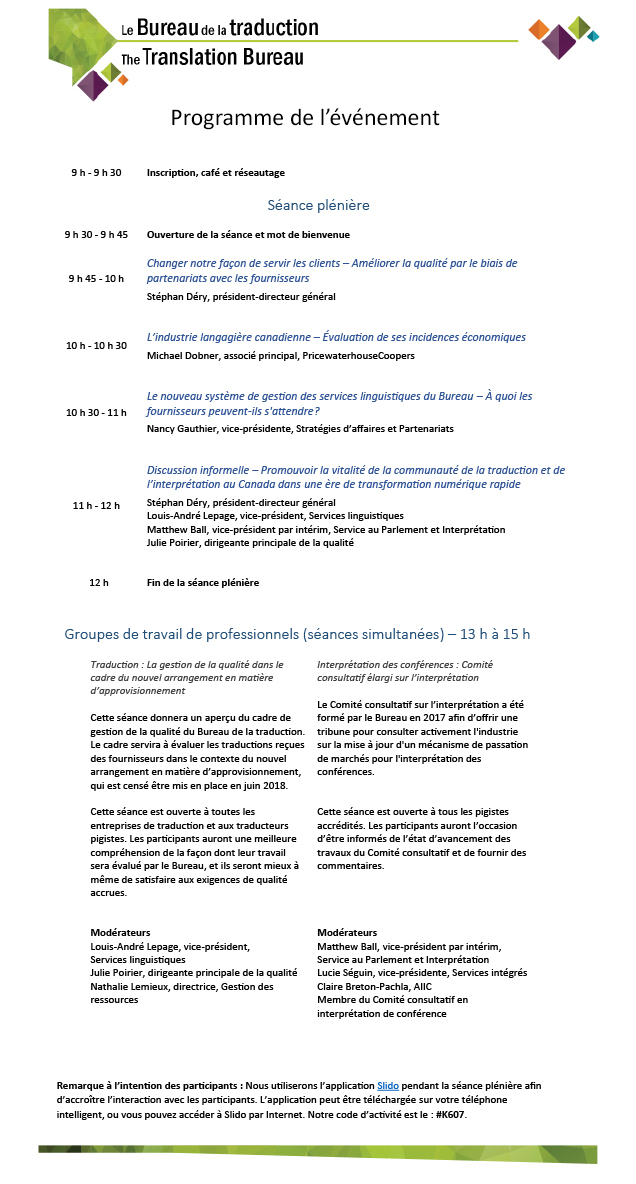 The Translation Bureau Industry Roundtable is an opportunity for the Bureau to reach out to our stakeholders and partners, in order to provide a strategic overview of our progress over the past year, and to engage with them on collaborating towards delivery of quality professional language services to the Government of Canada.
The roundtable is comprised of a morning plenary session (9:00 to 12:00) followed by professional working groups in the afternoon (1:00 to 3:00). Participants should register for the morning plenary in addition to their afternoon session of interest. Note that sessions have limited seats and will be assigned on a first come first served basis.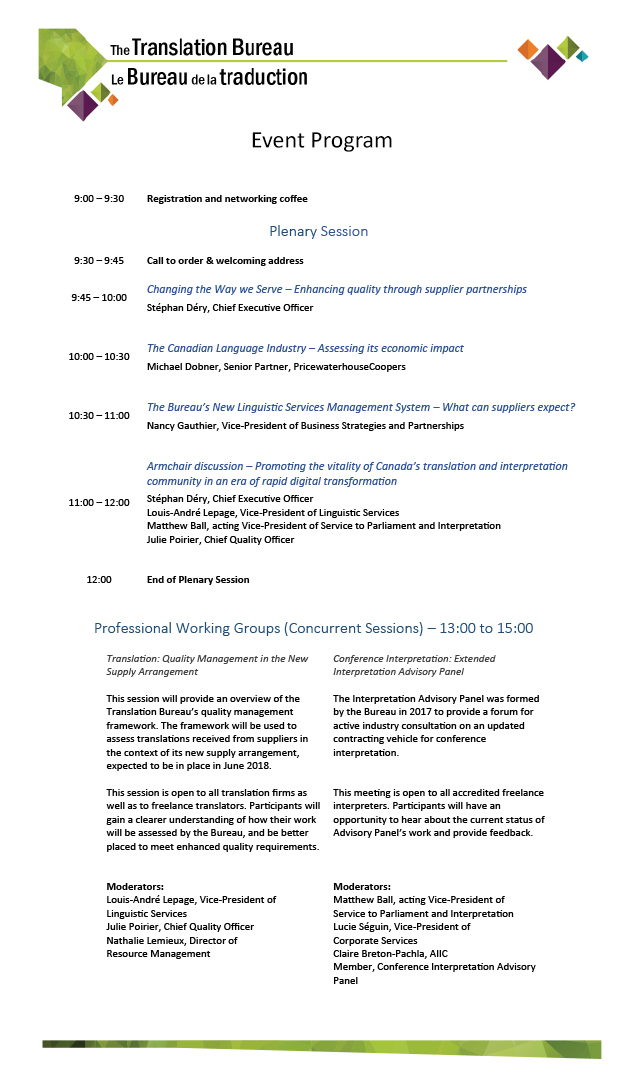 Date and Time
Location
Palais des congrès de Gatineau
50, boulevard Maisonneuve Boulevard
Salle Chapleau / Chapleau Room
Gatineau, QC J8X 4H4
Canada