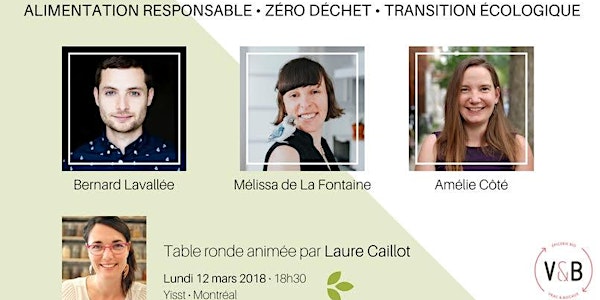 Table ronde : Zéro Déchet • Alimentation responsable • Transition écologique
When and where
Location
Yïsst 901 Rue Saint-Zotique Est Montréal, QC H2S 1M9 Canada
Refund Policy
Contact the organizer to request a refund.
Description
Alimentation locale et sans gaspillage, perspectives de développement du mode de vie Zéro Déchet, obsolescence des objets et des appareils électroniques, enjeux d'actualités en environnement : ce ne sont pas les sujets qui manquent lorsque l'on s'intéresse à la transition écologique !
Vrac & Bocaux est fier de proposer cette table ronde réunissant quatre expert(e)s québécois(es) pour aborder en profondeur les enjeux entourant l'action citoyenne et la consommation responsable.
L'objectif : réfléchir aux pistes d'actions individuelles et collectives afin de tendre vers une transition écologique viable.
Le panel, animé par Laure Caillot (auteure du blogue Lauraki, maman Zéro Déchet), sera composé de :
Bernard Lavallée, expert de l'alimentation responsable, auteur du livre ''Sauver la planète, une bouchée à la fois'' et du blogue

Le nutritionniste urbain.
Mélissa de La Fontaine, une des figures de proue du mouvement Zéro Déchet au Québec, adepte de ce mode de vie depuis plus de cinq ans et fondatrice duMini-vert.
Amélie Côté, spécialiste en gestion des matières résiduelles et auteure du blogue

Bric à bacs.
Une période d'échange avec le public suivra la table ronde. N'hésitez pas à nous transmettre vos questions à l'avance!
[ Saviez-vous que depuis le 18 janvier, le Yïsst a cessé d'offrir des pailles à sa clientèle et adhère au mouvement international anti-pailles? Parce que chaque geste compte, joignez-vous au mouvement #StrawsSuck ]