Discover Tabono Dance with Abena Beloved Green at the Tett Centre!
About this Event
This December we invite you to move and discover Tabono Dance! The word "tabono" refers to an oar or paddle according to the Adinkra symbols of West Africa. This symbol represents "unity of purpose", strength, and confidence. The dance style named after the symbol, Tabono is created by Abena Beloved Green used drum-based music and seeks to weave traditional movement, perspectives, and stories into the modern-day context. Dance moves are based on traditional dances such as sorsonet, bamaya, gahu, and Kpanlogo.
No experience required. Registration required.
When: Wednesday, December 9th at 6:00 PM
Class Length: 50 mins
Where: Rehearsal Hall, 2nd Floor, Tett Centre
Instructor: Abena Beloved Green - Writer, Poet, Dancer, Facilitator
Author of The Way We Hold On
"The Way We Hold On is Abena Beloved Green's debut book of poetry. Her poems address cultural, social, and environmental issues, relationships, and reflect on everyday life as a small-town raised, semi-nomadic, first-generation Canadian. Here are poems about holding on and letting go—of ideas, opinions, beliefs, people, places, and things." https://www.chapters.indigo.ca/en-ca/books/contributor/author/abena-beloved-green/
Please note: Class size is limited to accommodate physical distancing measures. Students will be required to complete a self-assessment form prior to the class. Masks must be worn within the building at all times. Please wash and sanitize hands regularly, and maintain physical distancing. We are monitoring and following Health Canada and Kingston Frontenac Lennox and Addington (KFL&A) Health Unit recommendations. We look forward to your safe and creative visit!
www.tettcentre.org/events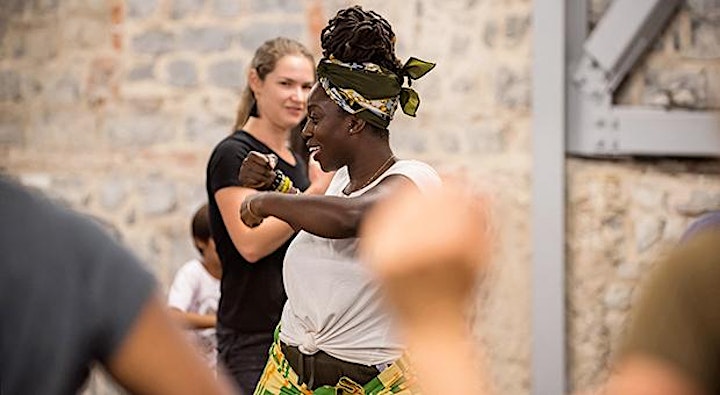 Abena Beloved Green teaches Afrisa dance at the Tett Centre.
Garrett Elliott Photography, image courtesy of the Kingston Arts Council