TAIWANfest Vancouver - Music for Taiwan Concert

Sunday, 31 August 2014 from 8:00 PM to 10:00 PM (PDT)
Event Details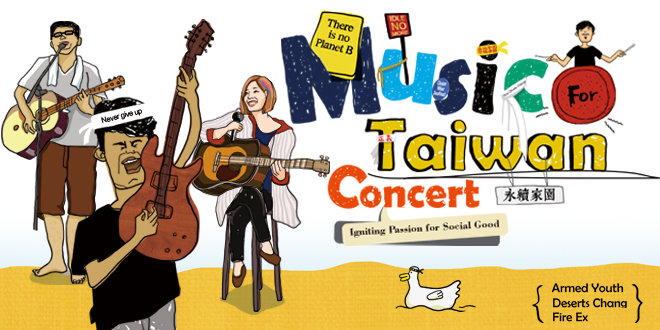 Music for Taiwan Concert - Igniting Passion for Social Good
Armed Youth, Fire Ex, Deserts Chang (Zhang Xuan)
Music has always played a role in witnessing important changes throughout human history.   The Beatles helped end the racial segregations in the US; they were not just a rock band, they were a culture.  As one of the most progressive societies for the Chinese-speaking world, Taiwanese people have continued to embrace the value of democracy and freedom of speech.  Over the past twenty years, there are more social movements in Taiwan with people expressing their ideals and protesting against various sorts of injustice.  Music has been an important part of the social movements in Taiwan.  At TAIWANfest this year, we would like to honour the significant role that music has played in the history of social changes in Taiwan to call out to the community to learn and support some of the great social movements in Canada.   
Fire Ex, a 14-year-old rock band, has been a staple in many protest rallies or social movement concerts; its Taiwanese / Mandarin lyrics often touch the hearts of many.  Recently nominated for Golden Melody Award for Best Band, Fire Ex is making its Canadian debut at TAIWANfest.
Together with Fire Ex, The Village Armed Youth Band is another rock group that has been voicing their support of agricultural land preservations and sustainable land uses in Taiwan.  As an advocate for farmers, their music is about stories of the farmers' struggles and messages on calls to rethink the development of farm lands.  The three-person band will also be making its first visit in Canada.
In addition, Deserts Chang, who started composing when she was 13 and performed on stage when she was 16, will bring her guitar and perform her coffeehouse music to TAIWANfest as a special guest.  Her stage name Deserts represents something mysterious and suggests something hanging in limbo, a representation of her personality.  Deserts is also known to be very vocal for her support for various social movements in Taiwan as well as China and Malaysia.
用音樂改變台灣 - 點燃對社會公益的熱誠
搖滾解放了戰爭,帶來了和平,音樂見證了人類歷史上重要的變化;旋律可能溫和平靜,亦可能震撼猛烈,多元不受限就是音樂的本質。樂曲中的每個音符代表一個文字,述說每個音樂創作者想要傳達的議題,Beatles、Bob Dylan、U2、Radiohead,多少歌曲在大時代中應運而生,進而開啟下一個新時代。
台灣原創音樂產業發達,引領華語市場,作品強調自我主張,展現人生態度,標榜個人風格,傳達所有小人物的心聲與情感。台灣環境自由開放,尊重多元文化,音樂工作者可以毫無束縛的寫作,真實表達理念,創造一首首深具文化涵養的樂曲,傳達對各種人、事、物的批評和讚美。
身為華語世界原創音樂的首要之地,台灣音樂的多樣化與差異性是自由民主的象徵,亦是爭取社會進步的重要方式。和世界各國相同,台灣音樂人與民間團體也時常藉由音樂表達自己的意見,關懷台灣社會、土地與文化,進而影響人民,改變社會。
音樂一直是台灣社會運動的重要推手,今年台灣文化節我們將光榮的介紹音樂在台灣社會變遷上佔據的重要地位,邀請滅火器、農村武裝青年和張懸用音樂與社會運動之緊密關聯,和加拿大當地連結,分享彼此用音樂改變世界的真實體驗。
When & Where

Westside Church
777 Homer St
Vancouver, BC V6B 2W1
Canada

Sunday, 31 August 2014 from 8:00 PM to 10:00 PM (PDT)
Add to my calendar
Organizer
Asian Canadian Special Events Association is a BC-based non-profit organization specialized in arts and cultural events for Asian Canadians.