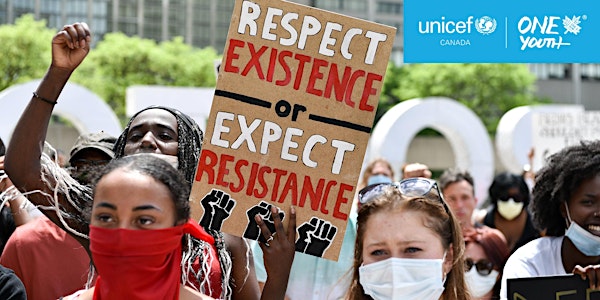 Take Back The Future: Youth Activism Summit
Join UNICEF Canada's Youth Activism Summit, a virtual showcase hosted by youth leaders and activists on National Child Day, November 20.
About this event

UNICEF Canada is partnering with the Assembly of Seven Generations, Boys and Girls Clubs of Canada, Equitas, First Nations Child and Family Caring Society, International Institute for Child Rights and Development, and The Students Commission of Canada to bring you a virtual Youth Activism Summit on National Child Day, November 20 2020.
VIRTUAL SHOWCASE
FRIDAY, NOVEMBER 20 12:00-1:30 PM EST
Open to anyone who wants to join! Youth and adults!
Join UNICEF Canada, youth leaders, partner organizations, and decision-makers on National Child Day to hear from young activists on education, mental health, Indigenous sovereignty, climate change, democracy and systemic racism and discuss how we can reimagine a better Canada together.
Last year we brought 100 young activists together to celebrate National Child Day. This year, due to COVID-19, we're asking them to #StayInToSpeakOut. Throughout the fall, young people, partners and UNICEF Canada hosted six virtual Stay In to Speak Out sessions with young people from across Canada.
On November 20, youth leaders from across Canada will host a virtual showcase to speak out about their experiences and recommendations to reimagine the future and recover from the pandemic. Their presentations will be followed by discussions with decision-makers and leaders to reflect on what they've heard and share how they can contribute to a collaborative action plan. The outcome of the showcase will be a Reimagine Playbook co-created by young people and adults.
French and American sign language interpretation will be available, thanks to Multi-Languages Corporation and Pro Bono ASL.
Register by selecting a General Admission ticket.
This event will be recorded.

UNICEF Canada s'est associé à l'organisme Clubs Garçons et Filles du Canada, à Equitas, à la Société de soutien à l'enfance et à la famille des Premières Nations, à l'Institut international pour les droits et le développement des enfants et à la Commission des étudiants du Canada pour vous offrir une série de sessions virtuelles Restez à la maison et exprimez votre opinion préalables à la tenue d'une vitrine virtuelle lors de la Journée nationale de l'enfant, le 20 novembre 2020.`
VITRINE VIRTUELLE
VENDREDI 20 NOVEMBRE, de 12 h à 13 h 30 HNE
Ouverte à toutes et à tous! Jeunes et adultes!
Joignez-vous à UNICEF Canada, à des représentants de la jeunesse, à nos organismes partenaires et aux décideurs, afin d'entendre les jeunes lors de la Journée nationale de l'enfant pour écouter ce que de jeunes activistes ont à dire sur l'éducation, la santé mentale, la souveraineté autochtone, le changement climatique, la démocratie et le racisme systémique. Ces sessions prévoient des discussions sur la façon de ré-imaginer ensemble un Canada ou il fait bon vivre.
Le 20 Novembre, des représentants de la jeunesse de partout au Canada animeront une vitrine virtuelle pour parler de leur expérience personnelle et leurs recommandations pour pouvoir ensemble ré-imaginer l'avenir et se remettre de la pandémie. Ces présentations seront suivies par la tenue d'un panel de décideurs et de leaders qui examineront les propos entendus et mettront en commun leurs idées sur la façon dont ils peuvent contribuer à un plan d'action. La vitrine donnera lieu à la création par les jeunes et les adultes d'un modèle de développement pour ré-imaginer l'avenir.
Grâce a Multi-Languages Corporation et Pro Bono ASL, l'interprétation en français et en langage gestuel sera disponible.
Inscrivez-vous par sélectionner un billet Admission Générale.
Cet événement sera enregistré.