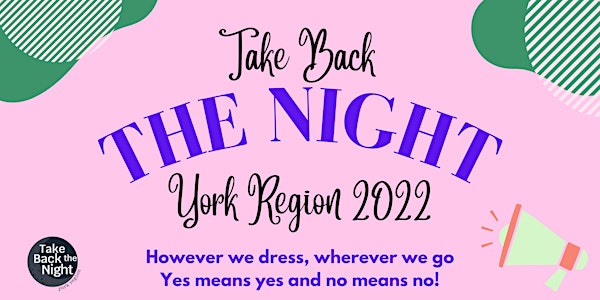 Take Back The Night York Region 2022 Virtual Event
Join us for York Region's annual Take Back The Night event in support of eradicating sexual and gender-based violence in our communities!
About this event
Take Back the Night is a global movement dating back to at least 1975 that protests gender-based violence and more specifically, sexual violence, intimate partner violence, and human trafficking. Everyone has the right to safety, wherever they may be — whether at home, at work, on the street, or anywhere else.
Sexual violence is horrifically common in our communities and we must take a stand. We know that in Canada, at least 1 in 3 women and 1 in 6 men will experience sexual violence in their lifetimes. We also know that members of the 2SLBGTQIA+ community are at least three times as likely to experience sexual violence. Disabled people and members of racialized and indigenous communities are at least twice as likely to experience sexual violence.
Due to the ongoing impacts of the COVID-19 pandemic, the 2022 Take Back The Night York Region event will be hosted virtually. Despite us not being able to share space in person, we firmly believe this is still a crucial and powerful event to host that can still bolster community awareness, connection and support the movement to end gender-based violence. Join us at the 2022 Take Back The Night York Region event for a virtual march, rally and vigil and to hear from survivors themselves, as well as watch performers! Register now to be kept up-to-date with any new information regarding the event.
Take Back The Night has been happening annually in York Region since 1998. We cannot genuinely honour the earlier years of TBTN without addressing the appropriation of this event that has occurred along the way. The early years of TBTN happened on Georgina Island. As the event grew and different leadership was at the helm, TBTN moved into Newmarket for convenience and accessibility for more folks to attend. Like far too much of the second-wave feminist movement at this time, "inclusivity" served to bring more white feminists to this event and ostracized our Indigenous sisters on Georgina Island from being able to attend – alienating our sisters from their own work. It is very important that attention is drawn to this as the Take Back the Night Planning Committee hopes to work very hard in the coming years to right this wrong. We aspire to have a TBTN that honours the warriors that established this movement, redefine inclusivity to incorporate to realities, barriers and limitations of everyone who has been impacted by gender-based violence, especially those most marginalized, and leverage the work and voices of all communities – rather than those who benefit.