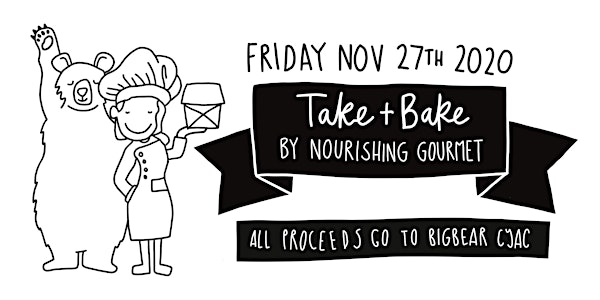 Take + Bake
Big Bear CYAC "Take + Bake" with Nourishing Gourmet
When and where
Location
101-388 1 Ave 101-388 1 Avenue Kamloops, BC V2C 6W3 Canada
About this event
In partnership with Kamloops RCMP, Ministry for
Children & Family Development, Secwépemc Child &
Family Services, Interior Health, City of Kamloops, Lii
Michif Otipemisiwak Family and Community Services
and Thompson Rivers University (Canada Research Chair
in Culture and Communities: Children and the Law), Big
Bear Child & Youth Advocacy Centre (CYAC) announced
that we launched Phase 1 in March/20 - this brought the
team together to collaborate on investigations of child
abuse and we have been going strong ever since!
Now we are proud to announce that we are in Phase 2;
working on a 2-3 year plan to build a Big Bear Centre of
Excellence in Kamloops so the team can work together
more effectively under one roof. There is an urgent need
for a temporary location in the meantime. We are very
excited that Big Bear has secured a temporary central
location to offer children and youth services in a timely
manner and we anticipate a move in date early in the
New Year. This means that children, youth and their
families will be able to go to the one child-friendly and
culturally safe location that will make support the top
priority.
BIG BEAR AWARENESS/FUNDRAISING WEEK aims to
spread awareness about this wonderful development
and gain funding that will help towards renovations and
operations in Big Bear's new space! On Nov 27th, the City of Kamloops
and Kamloops Firefighter Union will be helping us again
to light up St. Andrew's on the Square with hundreds
of white lights and a bright star will go on top of the
large tree. These lights are for our children and youth
and demonstrate a community working together.
Unfortunately, due to our current pandemic situation,
this will not be a gathering event, but these BRIGHT
LIGHTS FOR OUR CHILDREN & YOUTH will shine for the
entire winter season.
Please join us in creating awareness about Big Bear
CYAC.
Support us through your orders with Nourishing
Gourmet.
Thank you….A Community Working Together for a Better Outcome for Everyone.
Dinner for 2: $40
Dinner for 4: $75
Dinner for 6: $115
Contains:
1/2 Rack of Applewood Smoked Ribs per person
1 Large Slice of Butternut Squash & Ricotta Lasagna per person
1 Piece of Garlic Bread per Person
Take and Bakes will be ready for pickup from our centrally located office on Nov 27th 2020 #101-388 1st Avenue, Kamloops BC.
On Friday Nov 27, when you arrive at your chosen time, please wait inside your car. Someone from BigBear CYAC will come to your vehicle window :)
BigBear CYAC will be following COVID-19 Guidelines.
After your pick up, be sure to twinkle by St Andrew's on the Square to see our display of lights!! (hundreds of white lights and a bright star will go on top of a large tree)