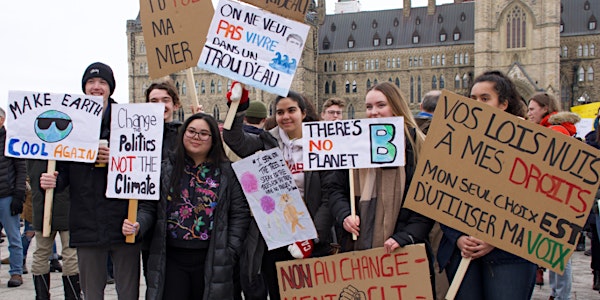 Take Over the Future: Youth Activism Summit
When and where
Location
Toronto Reference Library 789 Yonge St. Toronto, ON Canada
Description
Take Over the Future: Youth Activism Summit
Today, more than ever before, children and youth are leading change in the world. They aren't waiting for adults to make change. Marches, petitions, protests, campaigns, in the streets, on social media and at the United Nations. Children and youth are taking over to create the future they want to see.
JOIN US AT UNICEF CANADA'S FIRST EVER YOUTH ACTIVISM SUMMIT!
On November 20, the 30th anniversary of the Convention on the Rights of the Child, young people will come together at the very first Youth Activism Summit (YAS!) to build on their advocacy skills and take over the future. They don't have another 30 years to wait for their rights to be fulfilled.
WHAT? UNICEF Canada is convening Canadian youth activists and everyday young advocates to share their skills, experiences, and priorities; learn about child and youth rights; and build on their advocacy skills.
WHEN? Wednesday, November 20, 2019
WHERE? Toronto Reference Library, 789 Yonge St. Toronto, Ontario
WHO?
YOUTH ACTIVISTS: who are ready to inspire other youth with their skills and experiences

YOUTH AGES 12-24 (youth ages 12-18 will be given priority): who are passionate about making change in their communities, across Canada and around the world

ADULT ALLIES: who can offer skills and perspectives on child and youth rights, advocacy and change-making.

SIGN UP to reserve your spot at this exciting event!
---
* L'anglais sera la langue de travail lors du Sommet.
Sommet sur l'activisme des jeunes : Take Over the Future
Aujourd'hui plus que jamais, les enfants et les jeunes agissent pour changer le monde. Ils n'attendent pas que les adultes le fassent. Marches, pétitions, manifestations, campagnes dans les rues, sur les médias sociaux et aux Nations Unies : les enfants et les jeunes prennent la relève pour bâtir l'avenir qu'ils souhaitent avoir.
JOIGNEZ-VOUS À NOUS LORS DU PREMIER SOMMET SUR L'ACTIVISME DES JEUNES!
Le 20 novembre, jour du 30e anniversaire de la Convention relative aux droits de l'enfant des Nations Unies, des jeunes se réuniront lors du premier Sommet sur l'activisme des jeunes afin de mettre à profit leurs compétences en matière de défense des droits et de prendre l'avenir en main. Ils ne veulent pas attendre un autre 30 ans pour que leurs droits soient respectés.
QUOI? UNICEF Canada invite les jeunes activistes et les jeunes défenseurs des droits canadiens à faire part de leurs compétences, de leurs expériences et de leurs priorités, à en apprendre plus sur les droits des enfants et des jeunes, et à mettre à profit leurs compétences en matière de défense et de promotion des droits.
QUAND? Le mercredi 20 novembre 2019
OÙ? Toronto (Ontario) (lieu à confirmer)
QUI?
JEUNES ACTIVISTES qui sont prêts à inspirer d'autres jeunes grâce à leurs compétences et expériences.

JEUNES ÂGÉS DE 12 À 24 ANS (la priorité sera accordée aux jeunes âgés de 12 à 18 ans) qui sont passionnés et déterminés à apporter des changements au sein de leur communauté, partout au Canada et dans le monde entier.

ADULTES ALLIÉS qui peuvent offrir leurs compétences et leurs points de vue sur les droits des enfants et des jeunes, sur la défense et la promotion des droits, et sur le changement.
INSCRIVEZ-VOUS Pour réserver votre place lors de cet événement palpitant, inscrivez-vous maintenant!