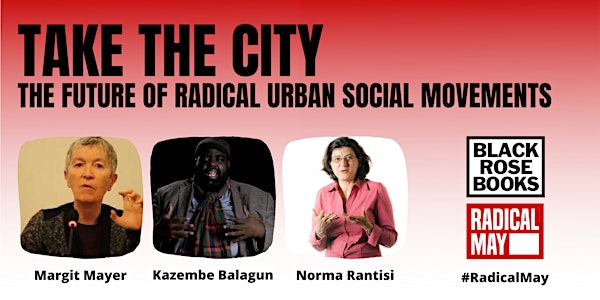 Take the City: The Future of Radical Urban Movements
A live-stream international discussion about the opportunities and aspirations facing urban social movements amid the global pandemic.
Refund Policy
Contact the organizer to request a refund.
Eventbrite's fee is nonrefundable.
About this event
Since the late 2000s, the majority of human beings have lived in cities. Across the world, a new wave of urban social movements is rising to fight against corporate control, social exclusion, hostile immigration policies, gender oppression, and ecological devastation. These movements are building economic, social, and political alternatives based on solidarity, equality, and participation—neighbourhood by neighbourhood, workplace by workplace.
In this livestream discussion we ask: what opportunities and challenges do these movements now face in the volatile context of the COVID-19 pandemic and beyond? Is this a moment for the rise of municipal socialism and a collective Right to the City, in which cities are democratically run at the grassroots level, prioritizing social justice rather than capitalist profit? Or will austerity measures and predatory neoliberal policy further destabilize these movements, exacerbating existing inequality and precarious conditions for the poor and working class? This discussion will bring together activist-intellectuals Kazembe Balagun (New York City) and Margit Mayer (Berlin), moderated by Norma Rantisi (Montreal).
*****
Black Rose Books is an independent, radical, non-profit publisher. Any contribution or share you can give directly supports our mission to spread the critical work of visionary thinkers. We are more than grateful for any solidarity donation you can give.
To get free and pay-what-you-can eBooks, or donate to help us during this difficult time, please visit: payhip.com/BlackRoseBooks
Register through Eventbrite to receive a link to the video conference on the day of the event and to make an optional donation.
SOME OF OUR BOOKS ON URBAN POLITICS AND MOVEMENTS:
Take the City!: Voices of Radical Municipalism (forthcoming) https://tinyurl.com/yc423u67
Urbanization Without Cities: The Rise and Decline of Citizenship https://tinyurl.com/y9yqbxb6
The Politics of Social Ecology: Libertarian Municipalism https://tinyurl.com/yd7fardb
*** The below titles are also available as a $1-7 PDF ebook at: https://payhip.com/blackrosebooks
Transformative Planning: Radical Alternatives to Neoliberal Urbanism, https://tinyurl.com/ycbmnfjq
Social Ecology and the Right to the City: Towards Ecological and Democratic Cities https://tinyurl.com/y7sl33ld
Free Public Transit: And Why We Don't Pay to Ride Elevators https://tinyurl.com/sbuedom,
Villages in Cities: Community Land Ownership, Cooperative Housing, and the Milton Parc Story https://tinyurl.com/ycoehu6p
The Rise of Cities: Montréal, Toronto, Vancouver and Other Cities https://tinyurl.com/y7au83sa
The livestream will begin Thursday, 1PM EST.
Click here to find the time of the event in your timezone.
Click here for the Youtube livestream. The link will also be emailed to you before the event if you register on this Eventbrite page.
Send in your questions and comments for the speakers in YouTube's livestream chat or by email to nathan@blackrosebooks.com
You can view our most recent livestream here: RENT STRIKE: Housing Activism in the Pandemic.
Margit Mayer currently is a Senior Fellow at the Centre for Metropolitan Studies in Berlin. Her research focuses on comparative, urban and social politics as well as urban social movements in the context of the neoliberal crisis. She co-edited Urban Movements in a Globalising World (2000), Cities for People not for Profit (2012), Neoliberal Urbanism and its Contestations (2012), Urban Uprisings: Challenging the Neoliberal City in Europe (2016), and has a lecture in the forthcoming book Take the City: Voices of Radical Municipalism (Black Rose Books, 2020).
Kazembe Balagun is a writer, critic ,and activist living in Co-Op City, the Bronx. His words can be found in the Indypendent, Metrograph: The Edition, and has been featured in the Guardian and the New York Times. He serves as a project manager with the Rosa Luxemburg Stiftung (New York City) focusing on racial justice and the right to the city. His essay "We Be Reading Marx Where We From: Socialism and the Black Freedom Struggle" was included in Imagine: Living in a Socialist USA (2014).
Norma Rantisi is Professor of Geography, Planning, and Environment at Concordia University. She recently co-founded the online magazine Progressive City: Radical Alternatives. She is an associate of the Centre de recherche sur les innovations sociales (CRISES) and the Karl Polanyi Institute of Political Economy, she is the Co-Chair of Planners Network International and a member of the Editorial Board at Black Rose Books. She co-edited (with C. Berndt and J. Peck) Market/place (2020) and was a contributor to Transformative Planning: Radical Alternatives to Neoliberal Urbanism (Black Rose Books).
*********
OUR OTHER DISCUSSIONS:
VIEW our recent discussion: "RENT STRIKE: Housing Activism in the Pandemic." https://www.youtube.com/watch?v=15v84...
UPCOMING:
Book discussion: "Social Ecology and the Right to the City": From the Middle East to the USA. With Federico Venturini, Havin Guneser, and Dan Chodorkoff. Sunday, May 17th. 8pm German/Italian time, 2pm MTL/Vermont time
Book discussion: "Transformative Planning: Radical Alternatives to Neoliberal Urbanism," Thursday, May 28. With Annette Koh, Edwin R. Quiles-Rodriguez, Silky Shah.