We challenge you to join us and Skydive from 13,000 feet above ground for Charity Week!
About this event
This year Islamic Relief Canada takes Charity Week to new heights!
On Saturday, October 23rd, we challenge you to join us and Skydive from 13,000 feet above ground all for a good cause.
We highly encourage all participants to fundraise a minimum of $500 for Orphans through LaunchGood! You may get ahead and either create a crowdfunding page on your own, or wait to receive an email from an Islamic Relief Canada representative with a link for your page.
About Our Work With Orphans
153 million. This number represents worldwide orphans without one or both parents. That's 153 million children without someone to give them a home, safety, or love.
Thousands of orphaned children remain vulnerable to poverty and sickness. Lack of proper shelter leaves many of them displaced, living in institutions or with inadequate housing.
Without an education and the tools to support themselves, they are often without security and stability. Dealing with constant life-threatening situations, there is only a small chance of a brighter future ahead.
Islamic Relief believes in protecting and fulfilling children's rights. Projects to support orphans include shelter constructions, food packs, access to education, availability of supplies, access to free health care, vaccinations and medications when they get ill. Access to clean water is also a main focus to provide for orphans around the world.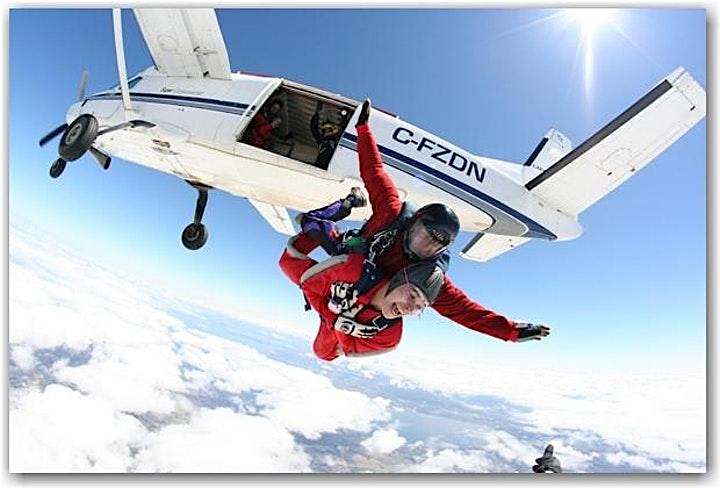 About Skydiving
All participants will do a Tandem Skydive. This means you will dive with an instructor and they will be with you at all times during your jump. *Please note, the instructors are all male, no female instructor is available during our visit.
The registration fee of $250 includes your Tandem Skydive Ticket only. Once you've registered and have completed the payment of $250, we will send you a form to complete (this is mandatory). In the meantime, if you would like to learn more about Skydive Toronto, or read the FAQs please visit:
https://www.skydivetoronto.com/
Location:
Skydive Toronto
Cookstown Airport
3065 4th Line, Innisfil, Ontario, Canada, L0L 1L0
Important Reminders
1) Participants must be 18 years of age or older.
2) Complete your ticket purchase through Eventbrite and keep a copy of your confirmation email.
3) Please arrive at Skydive Toronto at 10:00am.
4) We will be monitoring the weather and if there are strong winds or rain, we will move to reschedule it to the following week (Oct 30th). If that does not work, you will be issued a voucher to use at any time.
*Due to COVID-19, we will continue to practice physical-distancing and safety measures. Spots are limited!