Pre-order a take out meal prepared by the YOU Made It Cafe. Let YOU do the cooking and take YOU home!
About this Event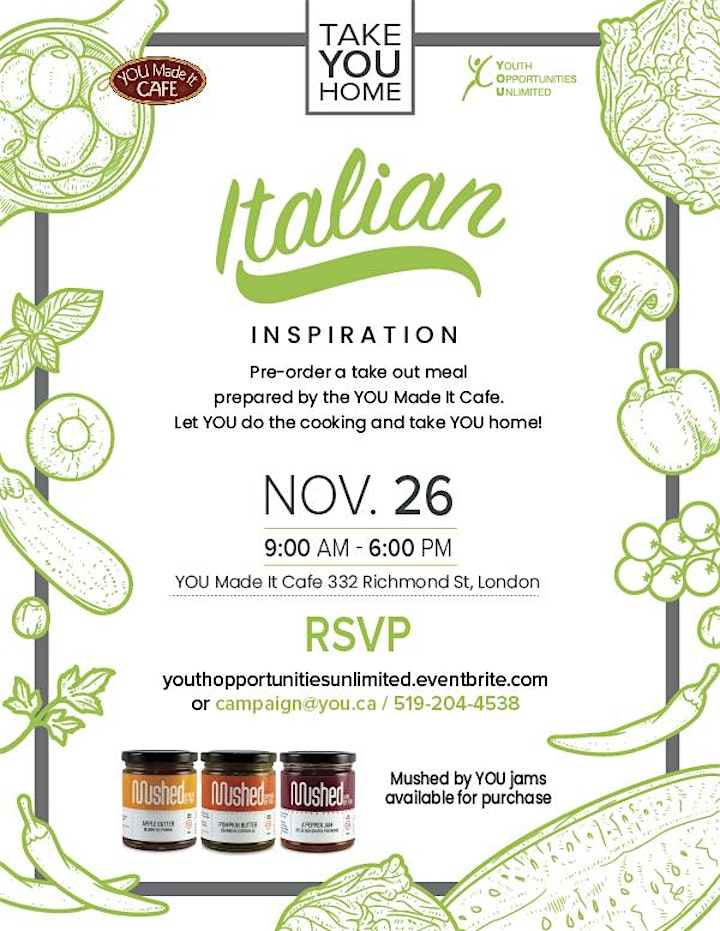 Take YOU Home: Italian Inspiration
By ordering a meal you are directly supporting youth in our community.
Event Details:
Thursday, November 26, 2020
Place your orders online by Tuesday, November 24 @ 4:00 PM.
Pick-up Times: November 26, 9:00 AM - 6:00 PM
Menu:
House-made Fettucine and Field Mushrooms [$17.00] with a trio of oyster, shiitake and brown mushroom with leeks and herbs in a garlic lemon cream sauce. YOU made focaccia bread with extra virgin olive oil and basil and almond pesto .
Additions:
Chopped Romaine [ $7.00] fresh romaine hearts, julienne of salami and shave parmesan Reggiano, seasoned with a pepperoncini picante vinaigrette
Antipasti [single $8 OR for 4 $32] shaved chorizo sausage and prosciutto with provolone cheese, YOU 4 pepper jam, and house pickled vegetables. Accompanied with sliced Portuguese bakery panini bread
Lemon Curd Tart [$4.00] fresh lemon curd baked in YOU made tart shell,what more do we need to say! YUM
Note: All meals will be prepared prior to pick-up, and are to be refrigerated until ready to heat and serve! Prior to serving, simply heat meals.
Mushed by YOU:
Pre-order a Mushed by YOU Jam Trio or individual YOU Apple Butter! See add-on option when purchasing your tickets.
Donate Now
YOU is looking for donations to help us sustain our youth based programming. Please consider making a donation at check-out or by clicking here.
What is the Take YOU Home dinner series? 
Youth Opportunities Unlimited (YOU) highlights the chefs from the YOU Made It Cafe with themed take-out dinners to enjoy in the comfort of your home! By pre-ordering a Take YOU Home dinner, you are supporting youth to gain the skills and confidence they need to obtain future employment in our community!  
For more information please contact our event manager:
E: campaign@you.ca
P: 519.204.4538