Description
Join us for an event that brings together a leading Labour Market Expert and a North American Employee Engagement professional to discuss current trends, best practices and emerging strategies for taking your workforce to the NEXT LEVEL!
Discover why developing purpose in your organization can enable growth, and improve performance and the work ethic of your employees. Find out what challenges and opportunities exist in the Peel Halton Labour Market according to the findings of the recently released 2016 Peel-Halton Employer Survey. We will explore employers' needs as they pertain to workforce development, including a range of HR practices, from reliance on temp agencies and contract workers to employer views about hard and soft skills

In this session you will learn:
How to manage your multi-generational workforce

How to create a meaningful work environment that will drive performance

Understand why engaged employees stay longer
Also, find out:

What factors influence employer hiring decisions

Which hard and soft skills are most in demand on the part of employers

What proportion of employers offer different kinds of experiential learning opportunities (such as co-op or intern placements)

How do employer HR practices differ by size of firm and by industry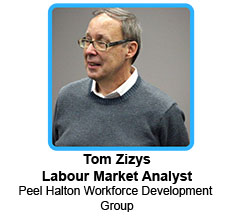 Tom Zizys has worked for over two decades as a consultant in the public, not-for-profit and international development fields. For the last 15 years he has specialized in employment programs and labour market analysis, particularly for economically marginalized communities. He is an Innovation Fellow of the Metcalf Foundation where his research focus has been the changing labour market and the working poor. He has taught public policy, program evaluation, international development and community economic development courses at York and Ryerson universities. Tom works regularly with numerous workforce planning boards across Ontario, including the Peel Halton Workforce Development Group.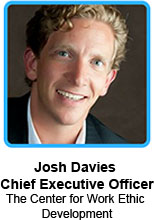 Josh Davies is the CEO of the Center for Work Ethic Development, an institution focused on research and advancement of work ethic for individuals and organizations. Through his work as an executive, speaker, and trainer Mr. Davies has given keynotes and training workshops to a wide variety of organizations across United States and other countries. He was named by Training Magazine as one of the top 10 trainers under 40 in North America. As a published author he is frequently cited in national publications, including the New York Times. He currently serves on the Board of Directors for the National Association of Workforce Development Professionals.
Mr. Davies recently presented at the Ottawa National Convention "CANNEXUS '17" Organized by CERIC (Canadian Education and Research Institute for Counselling) where he spoke to over 1000 Human Resource Professionals.
REGISTER NOW AS SPACE IS LIMITED!
PLEASE NOTE THAT THIS IS A BY INVITATION ONLY EVENT; YOUR EXCLUSIVE OFFER IS NON-TRANSFERRABLE.
FREE PARKING AND COMPLIMENTARY HOT BREAKFAST WILL BE SERVED. WE WILL PROVIDE A PARKING VOUCHER ONCE YOUR REGISTRATION IS COMPLETE. PLEASE BRING A BUSINESS CARD TO BE ELIGIBLE FOR ONE OF SEVERAL DRAWS FOR RAFFLE PRIZES.
Event Photo Disclaimer: Please be advised that we will be taking photos and videos at this events. By registering for and attending this event, you consent to having your image and/or video used for promotional purposes. Including but not limited to future event website, electronic communications, social media posts, marketing materials and all other publications.