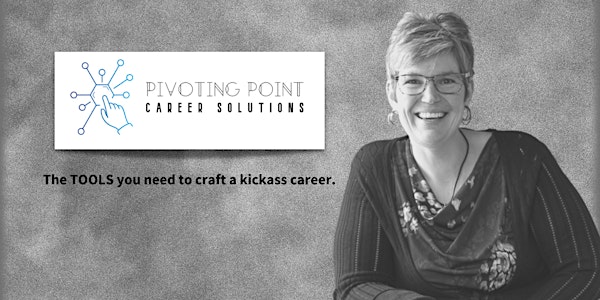 Taking Control of Your Career - How to Prepare a Confident Career Plan
You'll learn: -The 3 things you need for a successful plan -The action you need to take next, and -How to avoid making a "wrong" move
About this event
COST: SEE BELOW
Taking Control of Your Career - How to Prepare a Confident Career Plan
Wanna love Mondays again? When you have years building a career only to find out it isn't what you want at all, it can lead to a lot of doubt that there isn't anything different out there. Or, maybe you know what you want but have no idea how to make it happen. With so much change and uncertainty in the workplace right now, there is no better time to start planning your next career move. But you can't do that if you don't know what that is. What we do for a living is so much more than a paycheque, but you stay in a job that brings you stress and overwhelm, or doesn't light you up because you are stuck.If you …
• Are you struggling to get clear about what comes next for you?
• Have your priorities changed and what you do no longer fits or feels good?
• Do you want to be more engaged and less stressed by what you spend your time working on?
Come join us for an interactive workshop hosted by ICF Certified Career Coach Louise Neil as she talks about "Taking Control of Your Career"
What You Will Learn
In this 60-minute workshop, there will be no fluff and all actionable insights into what it takes to be successful at a mid-career power pivot.
We will cover:
• The 3 things you need to craft a successful plan
• The action you need to take next to get to the starting line
• How to lower the risk of making a "wrong" move
Hosted and Presented by – Louise Neil, B.SC, ACC Certified Career Engagement Coach, Pivoting Point Career Solutions.
Louise Neil is an ICF Certified Career and Leadership coach who has honed the craft of coaching for over 2 decades while working in continuous, business improvement and project management. The skills she acquired in her corporate career as well as coaching hundreds of clients through outplacement and transition coaching create a strong core in her style of practical and transformational coaching. With her unique approach to uncovering the gifts, talents, strengths and values each client brings to coaching, she co-creates a pivot plan of action and accountability. Her holistic approach to career engagement ensures that you are aligning you life with what you do for a living.
As a private coach, workshop facilitator, NLP practitioner and speaker, Louise Neil is a transformational coach helping midlife professionals breathe life back into their careers. Founder of Pivoting Point Career Solutions, co-host of The Best Parts Podcast, and co-founder of Your Kickass Career community, Louise is a living example of endless possibilities and what can happen when you get back in control of your career.
COST
Free for 1) MWAF members that paid the membership, and 2) for one time if you want to explore the experience. The membership is only $40/year and includes the monthly AgChat, 1-2 events each month and other benefits. That is less than $2/event, great value for the cost. Click here to see all benefits or to become a member.
Paid: $10/session if you prefer to pick and chose any MWAF session throughout the year. Please, pay by e-transfer at mbwomeninagandfood@gmail.com.
Questions? mbwomeninagnfood@outlook.com