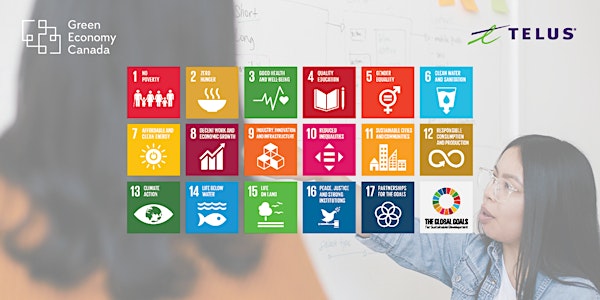 Taking Credible Action on the SDGs
Learn how you can set targets, measure progress, and report on your priority SDGs.
About this event

In this webinar designed to help businesses — and SMEs in particular — make credible progress towards the SDGs, we will:
Provide a brief recap of the steps to align your business with the SDGs (covered in our first SDG webinar);
Focus on how to select metrics to measure and track your progress on the SDGs; and
Discuss the importance of setting measurable targets and integrating the SDGs into your strategic priorities.
You will also hear directly from Geoff Pegg, the Head of Sustainability & Environment at TELUS. Recognized as 29th in the world overall on the Wall Street Journal's Top 100 Most Sustainably Managed Companies and on the Dow Jones Sustainability World Index, TELUS' leadership on sustainability and corporate citizenship has been recognized in Canada and globally.
Geoff will share:
How TELUS has embedded the SDGs into their strategic priorities;
How they selected, track and report on their targets; and
Insights that you can apply to your organization.
About Geoff Pegg
After ten years in various customer experience and operations roles with TELUS, both locally and internationally, Geoff has led TELUS' sustainability strategy for the past nine years. Geoff has established TELUS' long-term climate change and waste diversion goals, targets and action plans, initiated TELUS' leading practice of linking executive and team member pay to sustainability objectives and created TELUS' innovative National Sustainability Council.
In 2020, Geoff was elected to the CBSR and GCNC Board of Directors and has been honoured as a member of the Clean 16 for leadership in sustainable development and clean capitalism in Canada.
Register and receive an SDG guide.
Following the webinar, we will be sending all registered participants a short guide to help you operationalize what you've learned in the webinar to align with the SDGs. If you attended our first webinar and received the guide, note that this guide will be updated with additional resources following the second webinar.
--
This webinar is the second of a three-part series designed to help SMEs make progress towards the SDGs. In the first webinar, we provided an overview of the SDGs and why they matter for your business, and guidance on selecting the relevant SDGs for your business to take action and report on (watch the recording). In the final webinar, we will focus on how best to communicate your work on the SDGs to your stakeholders and maximize the brand benefits of SDG alignment. We will announce the date of the final webinar later in March.