Description
May not be suitable for children
Local rock band "Son of James" and the Vancouver Cantonese Opera proudly present: "Tale of The Eastside Lantern" - an innovative modern Chinese Rock Opera.
"Tale of The Eastside Lantern" tells the story of Jimmy, a man who struggles to survive in Vancouver's Chinatown while battling his personal demons. One night, a ghostly encounter ignites a mission into Jimmy that sends him all over Chinatown to solve a dire mystery. Desperately trying to find answers under the shadows of Chinatown's history and current state of affairs, Jimmy comes to grip with the shocking truth.
To bring you a unique soundtrack that compliments the classical theatrics of the Vancouver Cantonese Opera, Son of James will perform a blend of soulful southern rock sounds that incorporate the elegant haunting sounds of Asian instrumentation.
Local Vancouver artist Diana Lum will also be showcasing her paintings too.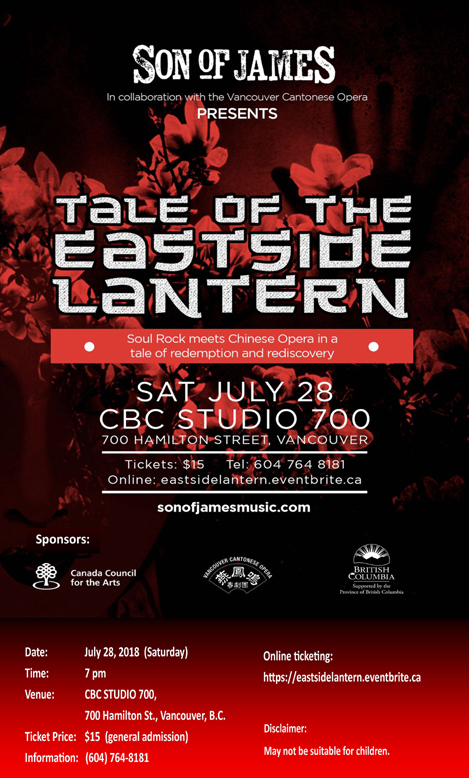 ---
---
Organizer of Tale of the Eastside Lantern
Vancouver Cantonese Opera is a non-profit and charitable society incorporated on June 30, 2000.  Its mission is to preserve and promote Cantonese Opera in Canada.  We endeavor to present the unique traditional art form of Cantonese opera at the highest level to both Chinese and non-Chinese audience.  We also strive to collaborate with our stakeholders to meet the fundamental need for spiritual and aesthetic satisfaction and richness in our lives.