Description
(The event will be in English)
Meet with Tom Waller, Senior Vice President of Whitespace™.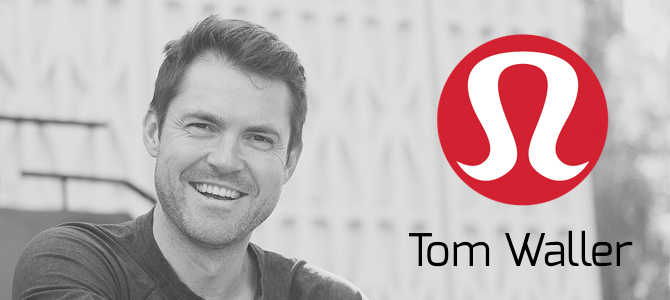 Tom Waller joined Lululemon Athletica in 2012 and is currently the Senior Vice President of Whitespace™, Lululemon's in-house innovation and R&D team.
As the head of Whitespace™, Tom leads a team of 30+ inventors, engineers, and scientists committed to building Lululemon's product future and guest experience through innovative, industry-disrupting activities and projects. This includes the development of a unique R&D lab at Lululemon's headquarters in Vancouver, BC.
Tom's combined commercial and academic experience, along with his expertise in the application of performance enhancing technology has inspired a novel methodology for innovation in the athletic apparel industry. This methodology has been regularly tested on the global athletic stage with projects for the Soccer and Rugby World Cup tournaments, the National Basketball Association (NBA) and also the British Triathlon, Cycling and Paralympic teams.
BC Talents from France , a French speaking team, is organizing the event . We want to create a place where we can share resources. We lead series of events to build a community and help people to connect and develop their professional relationships.
Our team is dedicated to meeting every French newcomer, providing advice and guiding their efforts to find a job that matches their skills and experience. Our personalized approach, our tools and our growing network of professionals are very appreciated. Our monthly event has become a rendezvous you can't miss! It is a great opportunity to learn and network at the same time.
BC Talents from France just launched in 2016 September the Mentoring Program to connect a Mentor with a strong knowledge of the Vancouver labor market and a Mentee with a specific professional project and a support need to achieve it.


---
Event Agenda:
7:00 PM to 7:30 PM | Networking, Drinks and Canapés
7:30 PM to 7:35 PM | Welcome and Introducing our guest
7:35 PM to 8:05 PM | Tom Waller Speech
8:05 PM to 8:20 PM | Questions / Answers
8:20 PM to 9:30 PM | Networking, Drinks and Canapés


Follow us on www.bctalents.ca, Linkedin and Facebook.
If you want to become a member, click here.


---
FAQs
How to get here by Bus?
We're just one stop from downtown! Plan your route on Translink.
Take the #22, #2, or #32.
Exit at Cornwall and Cypress.
Walk North-East (towards the water).
How to get here by Car from Downtown?
Cross the Burrard Street bridge heading south.
Turn right onto Cornwall Street (keep right as you come off the bridge).
Turn right at Chestnut Street (this will be the first street).
Park at the MOV!
How to Park at the MOV?
The parking is $3.00 per hour ($2.75 per hour with EasyPark App) with a maximum $7.25.
Cash, Visa, MasterCard, American Express & EasyPark tokens accepted.
Pay using the EasyPark App to receive reduced rates.
Organizer of TalentsTalk - What is the future of human performance?
Realize your potential in Canada
We welcome skilled immigrants and professionals, support and guide them to thrive in a challenging environment and grow their careers. We offer our growing community of skilled talents reliable support in their professional development and encourage them to reach their goals.
We are open and attentive to people's questions and struggles. We use what we have learned from our own experiences to point them to the right solutions. Our services and events support the needs we identify. We make sure they are always bringing an added value to our community.