Communicating climate change to motivate action has been a challenge. Recent research shows there is a better way.
About this Event
Communicating climate change to motivate action has been a challenge.
The scientific community has provided more and more evidence that action needs to happen now. But this approach has caused many in the broader society to feel paralyzed into inaction.
Recent research and focus group testing has shown that there is a better way.
Dr. Louise Comeau will join us in sharing what social science teaches us on how to talk about climate change. Values, ethics, and compassion, more than facts, are the key to success.
She says "One of the most important things we can do about climate change is to talk about it. It's not always easy to start a conversation on climate change or to know how best to do it."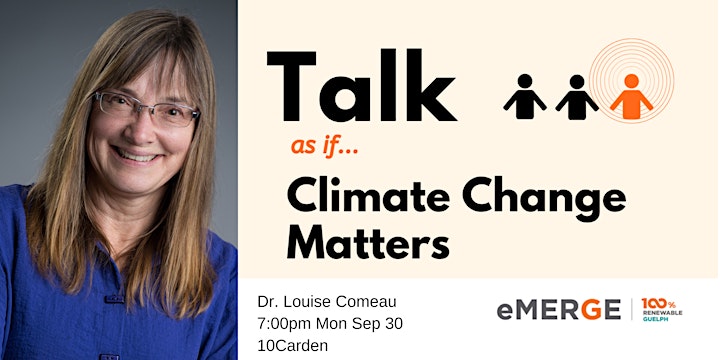 Louise is an independent researcher and communications specialist through Iris Communications and a Research Associate at the University of New Brunswick.
Her communication, policy and education recommendations are based on quantitative and qualitative research. She has almost 30 years' experience in analyzing and developing climate change policy, communications, and solutions-related programming. Louise lives in Keswick Ridge with her partner Tom where they homestead and engage with students through site visits, teaching and research at the University of New Brunswick. Louise completed a PhD in Environmental Management at the University of New Brunswick (UNB) in Fredericton in 2014. Her research explored the environmental ethics associated with environmental practices. She completed her master's in environmental education and communication at Royal Roads University in 2008. Dr. Comeau conducts research and evidence-based approaches in the fields of:
Environmental education and communications
Environmental ethics
Pro-environmental behaviors (citizenship and lifestyle)
Sociology of climate change, energy diversification, and energy literacy
-------------------------------------
Along with Dr. Comeau we have a stellar line up for you including panelists:
Tim Campbell is the chief strategist with Relation Media, a social media marketing consultancy. He's passionate about finding ways to communicate difficult topics with stakeholders and the general public.
Ida Chvostek's current research is within the field of cognitive linguistics, focusing on climate change discourse and the role framing and conceptual metaphors play in climate skepticism.
Michael Plater Findlay has a background in consumer science, design, and business. He has been working with Dialectic, a firm that specializes in learning and behaviour change. A recent project challenge in his work brought the importance of the invisible digital forces that shape public thought and can polarize people in different ways. He is also a member of the rock band the Kramdens and the eMERGE Board of Directors.
And our moderator:
Dr. Karen Farbridge went from grass roots organizing with her early work at OPIRG, to a PhD in Zoology and then became the first female Mayor in Guelph. All of that enabled her to become an urban connector helping communities and governments across the country fight climate change in practical and achievable ways.
Tickets:
$10 - in advance (this price includes HST and Eventbrite fees)
eMERGE wants these events to be accessible to all. If the cost is beyond your ability to pay, please contact evan@emergeguelph.ca for a complimentary ticket.
_______________
eMERGE fights climate change.
We do this by helping people reduce energy and water use. Promoting smart behaviour, policy and improved efficiency helps Guelph build a road map to beat climate change and achieve 100% renewable energy by 2050. This builds a more diversified local economy that can also save people money.