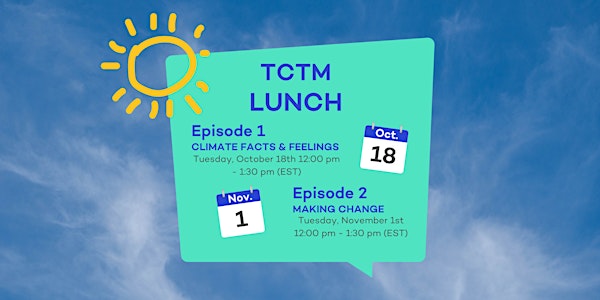 Talk Climate to Me - Lunch Cohort
Talk Climate to Me is a fun, free, unscary, online, team-based, LIVE climate education experience for women in Canada.
About this event
On the whole, women are more worried yet less certain about the facts of climate change.
This uncertainty comes at a cost.
Women want to make the choices that will protect their future and the future of their loved ones, but aren't being given the climate information to do so.
Climate coverage in women-friendly media outlets is next to nil. This needs to change!
Enter Talk Climate to Me (TCTM).
TCTM will take you on a journey through climate impacts and, most importantly, climate actions. This two part course is fun, informative and highly interactive. It's designed for anyone curious to learn more about climate change (and those who might need a boost of optimism/motivation).
The lunchtime cohort will run Tuesdays at noon EST :
Session 1: Tues Oct 18, 12-1pm EST + a 30 min optional breakout
Session 2: Tues Nov 1, 12-1pm EST + a 30 min optional breakout
Sharing session (optional): Nov 15, 12-1:30 pm EST or Nov 16, 8-9:30 pm EST
Find all the details on our website, www.TalkClimateToMe.ca!
* We recognize that gender is not a binary and our use of 'women' is open and inclusive of trans women, Two Spirit people, non-binary people and gender minorities.