Talk & Walk - Survivor France Edition - 2022 BIAYR Educational Talk Series
Join France Theriault for BIAYR's Talk & Walk Educational Series, incorporating our Educational Talks with the beauty of the Outdoors
When and where
Location
Oak Ridges Community Centre 12895 Bayview Avenue Richmond Hill, ON L4E 3G2 Canada
About this event
Join France Theriault for BIAYR's Talk and Walk Educational Series, incorporating our Educational Talks with the beauty of the Outdoors
--
During this outdoor talk, you can expect to learn about:
Some of the lessons France learned as well as some new meaningful words that are guiding her in her day to day life
Life is full of surprises, magic, challenges and beauty. She will be sharing with you some of her most amazing experiences
As a writer and blogger words are an interest in her life. France uses them to create new possibilities and opportunities to shape her dreams
--
**We will meet in the area around the information desk inside the Oak Ridges Community Centre**
Located at:
Oak Ridges Community Centre.
12895 Bayview Ave
Richmond Hill, ON
L4E 3G2
Please note there is paid parking for non-Richmond Hill Residents. Richmond Hill residents can receive a free parking permit online. If you are a non-Richmond Hill resident parking can be purchased at one of the pay stations for $4.00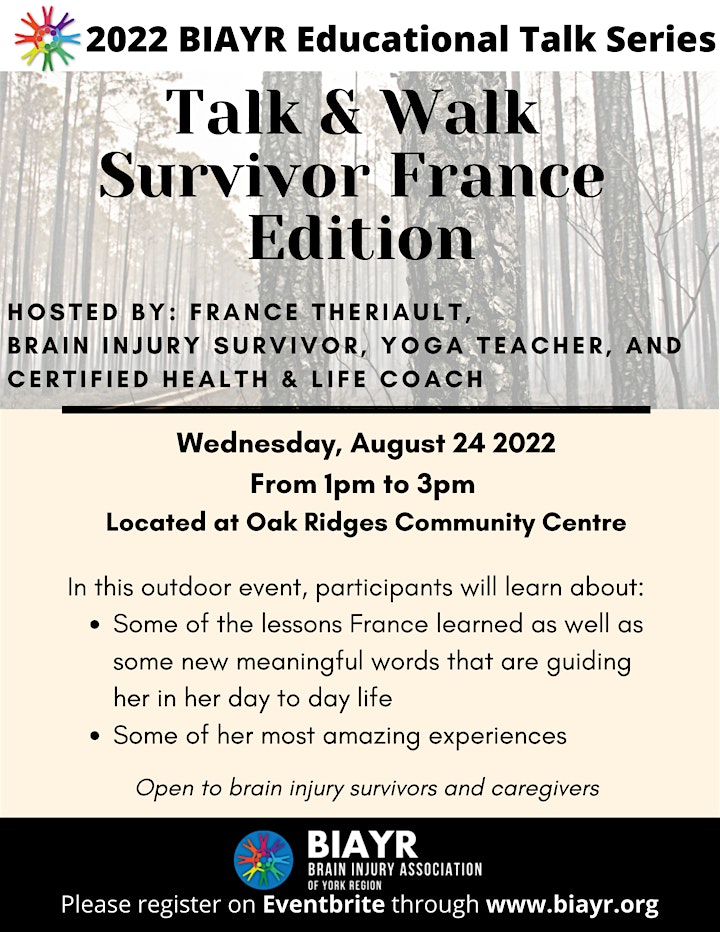 About France Theriault:
France Theriault is a passionate ambassador for those who have suffered from a Traumatic Brain Injury. As a person who has an Acquired Brain Injury, she uses her life experiences to help others cope and heal from their similar wounds. Built on her own recovery experiences, she launched Standing By Your Side, a concussion support group in 2017 and started her coaching services. The same year, she became a Yoga Teacher and a few months later, she pursued her training to acquire qualification as a Restorative Yoga Teacher. In August 2020, after one year of online education, she became a Certified Health & Life Coach. Her desire is to support people to create their best life. Creative Abstract explorer, writer, and inspirational speaker are some of the passions she is enthusiastically embracing on a regular basis. As a beauty seeker, she loves surrounding herself with original and one of a kind items. Spirituality is part of her life and you can find many inspirational quotes or maxims on her wall guiding her to stay on course with her dreams. When she is not working, you can find her hiking in the forest, doing creative explorations, reading, meeting with friends or cooking delicious, colourful, and nutritious dishes.