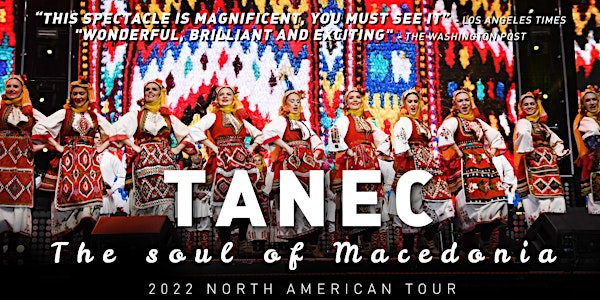 TANEC - "Soul of Macedonia"
ALL AGES
Presented by Old World Music Productions
7:00 PM Lobby Open| 7:30 PM Doors Open | 8:00 PM Event Starts
When and where
Location
Algonquin Commons Theatre 1385 Woodroffe Avenue, Building E Building E Ottawa, ON K2G 1V8 Canada
Performers
TANEC- National Ensemble for Dances and Songs of Macedonia
About this event
Vaccine Policy
Effective May 1st, 2022, Algonquin Commons Theatre will not require visitors to provide proof of full vaccination for this event. Masks will still be required. Details on our vaccine policy can be found here.
Ticket Details
The health and safety of our staff, patrons, and entire community remain our top priority. Due to the ongoing unprecedented pandemic of the Novel Coronavirus (COVID-19), The Algonquin Commons Theatre Box Office is closed for in person sales until further notice. Tickets will be available online for purchase.
$55.00 - $65.00 (plus applicable fees) - General Public
$45.00 - $55.00 (plus applicable fees) - 65 +
$45.00 - $55.00 (plus applicable fees) - AC Student
Reserved seating. Floor and Main Levels
Children aged 2 and under may attend the event at no cost (with no ticket), provided they sit on a parents' lap for the event.
All tickets are final sale. No exchanges, upgrades, or refunds.
Accessibility
The Algonquin Commons Theatre is committed to providing universal accessible seating for all patrons. Please contact the Box Office by phone at (613) 727-4723 x6442 or via email at boxoffice@algonquincollege.com to reserve these seats and to enquire about companion seating. Learn more about accessibility options.
Bar Service
Bar service will not be available for this event.
Coat & Bag Policy
There is no coat check available at this event. Bags (such as backpacks, large purses, and gym bags) are not permitted in the Theatre. Please make the necessary arrangements prior to your arrival at the venue
Parking
Paid parking is in effect at all times. Red Parking Lot 8 is the closest possible lot to our venue. Parking is a $5.00 flat rate on weekends and after 5pm on weekdays, (Lots 8, 9, 10, and 12). To view the parking lot map please click here. For a full list of parking rates please visit Algonquin College's Parking Website
Smoking
Algonquin College is a non-smoking campus. See the Algonquin College Smoke-Free Campus Policy for more details.
A Message From Algonquin Commons Theatre:
Due to changing Ontario government COVID-19 restrictions on physical distancing and the number of people permitted to gather together, the Algonquin Commons Theatre is unable to guarantee the full venue capacity will be available at the time of the event.If government regulations require the venue capacity to be decreased for an event, ticket holders will be notified in advance by email. Attendance priority will be given in the order that purchases were made, and once capacity is reached, all other purchases will be refunded.
About this Event
Experience a feast for your eyes, ears and soul.
A riveting spectacle with 40 performers will take you on mesmerizing journey through 2000 years of human history and culture.
Coming to North America. February 2022. Get your tickets on time.
TANEC – National Folklore Ensemble of North Macedonia, warmly regarded as cultural ambassadors of their country, are bringing a colorful and captivating spectacle to North America in February 2022. As part of an eight city USA and Canada tour, this national ensemble will treat you to an array of high energy dances telling the ancient stories of Macedonia and the Balkans. Your eyes, ears and soul will experience a journey through time, with a mesmerizing display of passionate music and dance. More than 40 performers, including a 10-piece orchestra of traditional Macedonian folk music, a choir, singers and more than 20 dancers will take you on a cultural journey like no other.
TANEC is a unique 'mobile museum' featuring the most beautiful, precious and ancient Macedonian costumes, with unique colorful embroidery, that represent the core of Macedonian identity. Founded in Skopje in 1949, its mission was to research, artistically interpret, and present on stage the rich traditions of Macedonian music and dance.
Press Reviews
"This spectacle is magnificent, you must see it" - Los Angeles Times
"Magnificent" - San Francisco Chronicle
"As vigorous a display of dancing as the U.S. has ever seen" - LIFE Magazine
"Wonderful, brilliant and exciting" - The Washington Post
"Lively, handsome, magnificently skilled" - New York Herald Tribune
"Besides dance alone, TANEC conveys drama, ritual, tradition, songs... a remarkable precision in both dancing and playing" - Philadelphia Inquirer
"Wonderful folk music, rich in temperament and wonderful rhythm" - New York Times
For sponsorship opportunities please contact +1 (347) 774-2444 (USA) or +1 (647) 409-8448 (Canada).
For complete tour info please visit www.Tanec2022tour.com