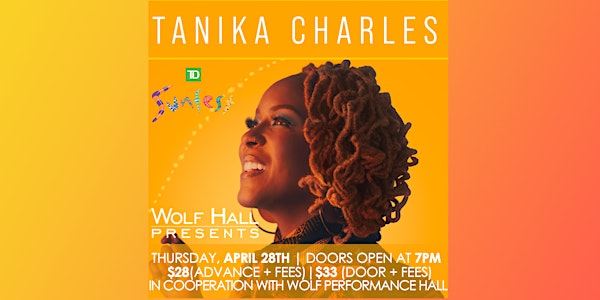 Tanika Charles in Concert
Presented by TD SUNFEST in partnership with the Wolf Performance Hall
Location
Wolf Performance Hall
251 Dundas Street
London, ON N6A 6H9
Canada
Formerly the best kept secret in soul music, Tanika Charles, live in concert at the Wolf!
About this event
As TD Sunfest World Music & Jazz patrons first discovered in January of 2019, Charles and her backing band, The Wonderfuls, are dynamite: in high energy live shows that oscillate between faithful recreations of their studio recordings and cross-genre nods to rock, gospel and country, the performers create infectious rhythms and hooks, reeling in listeners with unbridled instrumentation, modern production values, vocal prowess – and Tanika's immutable charm! In 2022, the 2x JUNO-nominated and 2x Polaris Prize Long Listed singer continues to win over fans one stream, one Shazam and one encore at a time.
Tickets:
Advanced: $28 + fees
At the Door: $33 + fees
Toronto-based Tanika Charles has become a true mover and shaker both at home and abroad. Her music revels in honesty and attitude, with songs that touch on heartbreak and vulnerability, but in the spirit of resiliency and overcoming adversity. Her art is inherently autobiographical. If Tanika is singing it, she's lived it!
Following on her first two recordings, Soul Run (2016) and The Gumption (2019), Tanika's third studio offering, Papillon de Nuit: The Night Butterfly (moth), is slated for an April 8th release through her own label Unique Applause (Canada) and Record Kicks (worldwide). Featuring rising Toronto rapper DijahSB and multi-disciplinary artist Khari McClelland, Charles' new album was composed and recorded while in and out of lockdowns. The inspiration for Papillon de Nuit came from an unlikely source – a creature that soars after the sun sets, but often goes unnoticed until the light shines on it.
Follow Sunfest: