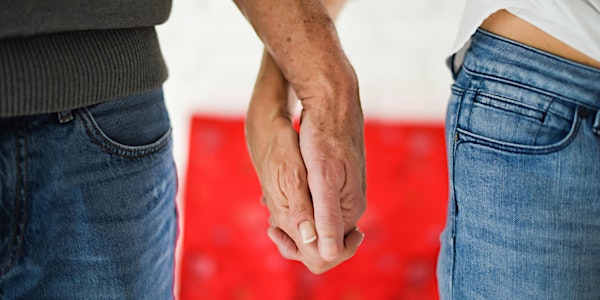 TANTRA FOR COUPLES- A New Way to Personal & Physical Intimacy
Event Information
Location
Private Location - Info Following Registration
Lover's Lane
Toronto, ON M8V 0A1
Canada
Refund policy
Contact the organizer to request a refund.
Eventbrite's fee is nonrefundable.
Bringing Tantra Into the Mainstream-Easy to Understand Language & Concepts to Broaden Your Intimacy Toolbox
About this event
This workshop is where it can all start…the guidebook to deeper connection, stronger bonds of love, or simply a greater understanding of the path to sexual bliss. Nothing is out of your reach and we are here to share with you the basics of finding greater satisfaction in your sex life.
Although greater satisfaction is desirable, it's not the finish line. We will go even further into helping you learning the nuances of touch. Conscious touch can unlock not only greater pleasure but, it can even be healing. Deep healing can happen in a very short amount of time; let us show you how. Pain during intercourse, numbness, ED, premature ejaculation are not stop signs for sexual exploration. On the contrary, they are the invitation to heal and to feel fully celebrated in your body. (No nudity in class.)
Have you noticed that you are stuck in the same programmed sexual activities with the goal of orgasm in mind? What if you were given the keys to enhance your orgasms by intensity, duration, or frequency? Men can learn to orgasm without ejaculation. Why you ask? Come find out. You'll be glad you did!
Space is limited, get your ticket today!
THE DETAILS:
Elite Advanced Certified Tantra Educators (ECTE) Deb and Tracy will share their expert knowledge of Tantra and sexual intimacy. Some of the topics to be covered are:
Spotting the G-Spot: (no binoculars necessary) We will assist you in being spot on if this exploration feels illusive. Different elements of touch will be discussed not only for the G-Spot but also several other key spots.
The Pleasure of Female Anatomy: Pleasuring a woman goes beyond the clitoris. With a multitude of erogenous zones, your focus can be expanded to a diverse landscape of pleasure zones, including the clit.
Ejaculatory Control for Men: Learning to be in charge of your ejaculate will not only please your partner, it will bring tremendous benefits to yourself. This is a foundational learning for your entire life!
Elusive Climax: Learn the body mind connection and unravel the path to climaxing. Side note: have you ever entered sexual play for the love of being with a partner without the expectation of a climax in mind?
Orgasms: Possibly you have a single go to zone that takes you over the edge. Let us help you in finding multiple nerve pathways to different styles of orgasms. They all have a different feel and a different intensity!
Arousal: Understanding ourselves and our partners allows us to be the best lovers. Having a repertoire of touch extends our arousal and facilitates greater pleasure.
Energetics in Lovemaking: Your energy is ever present. Learning the subtleties of your energies and how to wield it takes your lovemaking to a higher level.
Sensual Touch: A variety of touch ignites our passion and extends our pleasure. Touch comes in many forms, including energetic touch without the physical...yes, you read that right, physical touch is not necessary to "touch" someone.
Sexual Awareness: Often we are not aware of what is happening in our own bodies. Starting with ourselves, we can then move to awareness of our partners. Following the other persons desires, without words, unites you in ways you've only imagined.
BONUS:
10,000 hours makes an expert, included is a take-home guide and an intimacy goody bag to get you started!
CONTACT:
For more information, contact:
deb@loveflourishes.com
www.loveflourishes.com
905-380-1703
716-408-7522
SCHEDULE:
Class will start promptly at 10 am.
There will be a 90 minute lunch break roughly between 1:00 – 2:30 pm. ***Lunch is not provided***
Class will end at 6:00 pm. If you have young children at home, we recommend organizing child care for the evening so you can return home and have some special time for yourselves to practice what you have learned.
WHAT TO BRING:
• Bed pillow and blanket for comfort and to be used as props for some of the exercises.
• Packed lunch and snacks
• Your favorite personal refillable water bottle and/or insulated hot beverage mug, both with tight-fitting lids.
• Dress for comfort. Yoga type clothes seem to be the best with layers for cool and warm weather.
• Please refrain from smoking or wearing perfume during the workshop due to the prevalence of allergies/sensitivities.
CANCELLATION:
CANCELING LESS THAN 72 HOURS BEFORE THE WORKSHOP
If you cancel at or less than 72 hours of the workshop, or do not show up at the workshop, then you forfeit all tuition paid to date. (No call / no show = no refund)
If you need to cancel, it's best to let us know as soon as possible.
________________________________________
CANCELING MORE THAN 72 HOURS BEFORE THE WORKSHOP
If you cancel more than 72 hours before the seminar, you may choose one of two options:
Option 1: Receive a refund for your full payment amount, minus $50 nonrefundable deposit per person. From this deposit, you will be issued $25 per person Letter of Credit, which is valid for up to one year towards any future seminar. The remaining $25 per person is kept by Love Flourishes as a processing fee.
Option 2: Receive a letter of credit for your full payment amount, minus $25 nonrefundable deposit per person. This deposit is kept by Love Flourishes as a processing fee. The Letter of Credit is valid for up to one year towards any future workshop.
Date and time
Location
Private Location - Info Following Registration
Lover's Lane
Toronto, ON M8V 0A1
Canada
Refund policy
Contact the organizer to request a refund.
Eventbrite's fee is nonrefundable.