Description
Are you connecting with your audience at a personal level?… your brand is a personality and it is lacking emotional awareness. Now you're thinking this is going to be another "touchy-feely" seminar, not really. Do you know that adding an emotional touch to your brand can change the way you connect with your audience? Brands like Coke, McDonalds, Oil of Olay require no introduction, these are a few brands that have implemented key marketing strategies to ensure brand loyalty and trust, prompting customers to always return to that relationship.
Creating a customer – brand relationship is tough. Come and join us for a free talk with Monia Poncik from Mo&Co. and get insights on what it means to be emotionally aware and why your brand needs to think differently to gain a step up from the competition.
Monia will talk about topics such as
What is Branding with emotional intelligence

Why adding an empathetic touch is important to your brand

How to connect with your customers to increase repeat purchases and customer loyalty

What is Value Based marketing Creating values to your brand and increasing your brand following

Important resources to read and implement

What you are doign wrong and how to take a different approach
Join Monia in this Free seminar full of information and gain insights to topics others won't talk about
About the panelist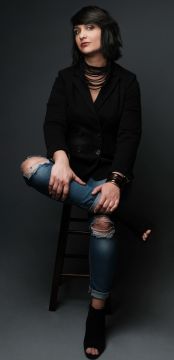 Monia Poncik is a Brand Marketing Specialist, working in the industry for over 15 years. Monia believes in empowering marketers, hustlers, idea makers, creators, startups, entrepreneurs and general badasses to Build Better Brands.
Monia believes that marketing needs a little more emotional intelligence and to allow for emotional information to be part of sustainable strategies. Monia's goal is to facilitate a global mind shift, and educate on a more human-centric approach to marketing.
Now Monia works with various brands to get them set up on a path for long term success with catered marketing strategies that encourage dialogue with the right audience by taking into the consideration the overlap between your brand, industry trends, and human elements, enabling brands to socialize
CHECK OUT MORE ABOUT MONIA HERE
Hosted by Women of Wonder