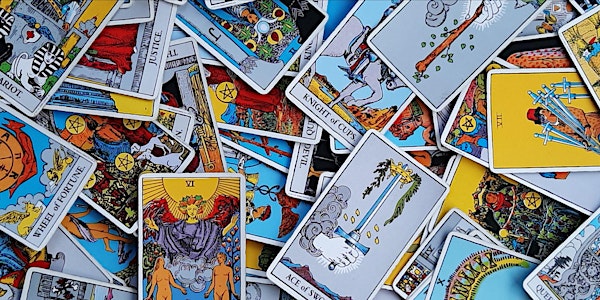 Tarology with Twitchy Witch: Symbolism in the Waite Smith Tarot
hey lightbeams! wanna read some symbols?
By Elianne the Twitchy Witch
Date and time
Sunday, April 23 · 12 - 3pm PDT
Refund Policy
Contact the organizer to request a refund.
Eventbrite's fee is nonrefundable.
About this event
in this two hour workshop, i'm going to teach you how to read occult symbolism, spanning from alchemical and numerological to religious and astrological, in the waite-smith tarot. the remaining hour will be dedicated to q&a.
tarot, as many of us know, can be read as a story of the fool's journey. it is a mandala, a cycle, a diffusion and reconstruction of source, the prima materia. the more we interact with the symbolism, and familiarize ourselves with the different faces of source and the stories it manifests in, the more we see when we come to the cards with questions about our own story.
in this workshop, you will learn:
how to identify key symbols and archetypes, be they alchemical, occult, religious, etc. in the cards and relate them to your life
numerology and how to incorporate it into your readings
how to imbue yourself, your deck and your every move with intention for every reading
how to release yourself from value judgements and binary thinking (i.e. good vs. bad outlook) and reframe every situation into one with transformative power
overall, this workshop is for anyone interested in symbolism or tarot in general, and is best suited for those already familiar with the tarot and have begun their journey as a reader. there is another workshop being hosted the day before this one for absolute beginners that will give you all the basics if you're just starting out <3
please bring a waite smith deck if you'd like to get the most out of the discussion and participate in readings/demonstrations, and a journal for taking notes.
About the organizer
hey! i'm elianne :) tiktok's shape shifting twitchy witch. i'm a writer, teacher, dream interpreter, tarot reader, and content creator who's been a student of spirituality and symbolism for as long as i can remember—my father is a freemason, who was always very intentional in his discussions with me about life and magic when i was growing up; my mother is a seer and dream reader, and i would often listen to her interpret dreams for friends and family. i ended up writing a master's thesis on jungian dream analysis and alchemical symbolism, and am currently finishing my doctorate degree at the university of waterloo.