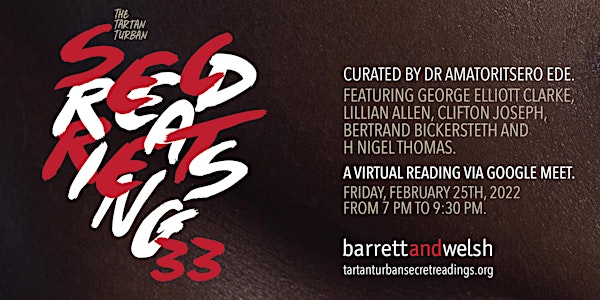 Tartan Turban Secret Readings #33
Curated by Dr Amatoritsero Ede, featuring George Elliott Clarke, Lillian Allen, Clifton Joseph, Bertrand Bickersteth and H Nigel Thomas
By Gavin Barrett/Barrett and Welsh,
Date and time
Starts on Friday, February 25, 2022 · 4pm PST
About this event
You are invited to the 33rd session of The Tartan Turban Secret Readings curated by Dr Amatoritsero Ede, featuring George Elliott Clarke, Lillian Allen, Clifton Joseph, Bertrand Bickersteth and H Nigel Thomas.
Writers will be participating via Google Meet. Attendees will be able to join the event by clicking [here] on the day of the reading during the hours scheduled.
Curator
Dr. Amatoritsero Ede is an internationally award-winning poet born in Nigeria. He has three poetry collections, A Writer's Pains & Caribbean Blues (1998), Globetrotter & Hitler's Children (2009) and recently, Teardrops on the Weser (2021). His debut won the prestigious All Africa Okigbo Prize for Literature in 1998, the second was nominated for the Nigerian Literature Prize in 2013. In 2004, he won second prize in the first May Ayim Award: International Black German Literary Prize. He appears in 14 poetry anthologies locally and internationally. Ede is also a literary scholar and Assistant Professor of English at Mount Allison University, New Brunswick. He is the Publisher and Managing Editor of the Maple Tree Literary Supplement, MTLS .
_____________________________________________________________________
Featured writers
George Elliott Clarke is the 4th Poet Laureate of Toronto (2012-15) and the 7th Parliamentary/Canadian Poet Laureate (2016-17). He was born in Windsor, Nova Scotia, in 1960. A professor of English at the University of Toronto, Clarke has also taught at Duke, McGill, UBC, and Harvard. His recognitions include the Rockefeller Foundation Bellagio Centre Fellowship (US), the Pierre Elliott Trudeau Fellows Prize, the Governor-General's Award for Poetry, the National Magazine Gold Award for Poetry, the Premiul Poesis (Romania), the Eric Hoffer Book Award for Poetry (US), and International Fellow Poet of the Year, Encyclopedic Poetry School [2019] (China). His acclaimed titles include Whylah Falls (1990, translated into Chinese), Beatrice Chancy (1999, translated into Italian), Execution Poems (2001), Blues and Bliss (selected poems, 2009), I & I (2008), Illicit Sonnets (U.K., 2013), Traverse (2015), and Canticles II (MMXX) (2020).
Lillian Allen is a professor of creative writing at Ontario College of Art and Design University (OCAD). Two-time JUNO Award winner and trailblazer in the field of spoken word and dub poetry, Allen artistically explores the aesthetics of old and new sounds in music to create her distinctive leading-edge brand of Canadian reggae with new world sounds in her poetry recordings, with her powerful reggae dub poetry/spoken word recordings including her latest single Woken & Unbroken (2018), album ANXIETY (2012), her groundbreaking first solo Juno award-winning album Revolutionary Tea Party, a Ms. Magazine Landmark Album, followed by another Juno winner, Conditions Critical. Her third album, Freedom & Dance and her recording for children and young people, Nothing But a Hero, were released to critical acclaim.
Dubzz/poet/at/large Clifton Joseph is a poet and journalist living in Toronto. A founding member of the dub poetry movement in Canada, he has performed widely across this country, the US, UK, Europe and the Caribbean; & released Metropolitan Blues, a book of poems, and the CD Oral Trans/Missions. He has written for the Toronto Star, the Globe and Mail, This, Toronto life and Canadian Geographic magazines; and at CIUT, CKLN and CBC radio; movie reviewer for CTV's Canada AM; at Imprint, TVOntario's literary talk show; national reporter for CBC TV's The National and investigative reporter for Undercurrents and Marketplace. Among his awards are two Gemini Awards; a Silver Fleece Award from the Chicago film festival; a Time-Warner Freddies Award for International health reporting; and the Peter Tosh Memorial Award from the Canadian Reggae Music Awards. his latest recordings are the single Where're the politicians and not poem.
Bertrand Bickersteth is a poet, playwright, essayist and educator who was born in Sierra Leone and raised in Alberta. His collection of poetry, The Response of Weeds, was a finalist for multiple awards and won both the League of Canadian Poets' Gerald Lampert Memorial Award and the Writers' Guild of Alberta's Stephan G. Stephansson Award for Poetry. His writing has appeared in many places including Geist, The Malahat Review, The Walrus, The Sprawl, and the CBC project Black on the Prairies. He lives in Calgary, teaches at Olds College, and writes about Black identity on the Prairies.
H. Nigel Thomas is a retired professor of United States literature and the author of thirteen books: six novels, three collections of short fiction, two collections of poems—Moving through Darkness (2000) and The Voyage (2021)— and two academic books. His novels Spirits in the Dark (1993) and Easily Fooled (2015) were shortlisted for the Hugh MacLennan Fiction Award. The French translation of Lives: Whole and Otherwise—Des vies cassées—was a finalist for the Carbet des lycéens award. He is the founder and English-language coordinator of Lectures Logos Readings and the editor of Kola. In 2000, he received the Montreal Association of Business Persons and Professionals' Jackie Robinson Award for Professional of the Year; in 2013, Université Laval's Hommage aux créateurs; in 2019, the Montreal Black Theatre Workshop's Martin Luther King Junior Achievement Award; and, in 2021, the Quebec Writers' Federation Judy Mappin Community Award.
_______________________
For updated information and author headshots, follow our Facebook group and our Facebook event page.  
Want to receive updates on the next reading? Follow our FB group for updates on and the link to the Eventbrite registration page for each reading. (we do ask that you register if you plan to attend). You can also sign up for our email list here.
Open mic
Anyone attending is welcome to read or perform (if you are a musician) in our open mic sessions.
If you are a writer or musician who would like to perform in the open mic session, we ask that you listen in to at least one session to get the flavour of the evening and join in on your next visit.
To participate in TTSR #33, please contact series curators Gavin or Mayank or TTSR33 curator Amatoritsero Ede. This allows them to line up readers and manage the evening in a way that respects each writer's work.
The ambience at our readings is intimate, extremely informal and very supportive. Open mic readers are given 4 minutes in total, including a brief introduction to themselves and their work. There are detailed open mic guidelines posted in our FB group.
Open mic readers who have published works they would like to offer for sale are free to mention it on finishing their readings.
Notes on attending a virtual reading
Please join the reading with your microphone muted and your camera turned off. (If you forget, you will be muted by a moderator.) We want to make sure all the bandwidth is being used by only those presenting and that there is no background noise as it causes noise interference for others attending/listening. If you experience technical difficulties and choose to leave the reading because of this, we understand and apologize in advance. Please be patient with us as we are doing our best to make it a pleasant experience for all.
Logging on: Please sign in no later than 7:00 pm.
Accessibility/Closed Captioning: Our Google Meet access allows for closed captioning for those who need it. Here's how: at the bottom of the Google Meet window, click Turn on Captions. You might have to first click the three vertical dots at the bottom right corner.
Tip: If the captions are covered by your call button controls, click anywhere else inside the Meet window to dismiss them and then click turn on captions.
Technical tips: For the best experience sign in on your computer and not on your phone. Find the spot in your home where the wifi connection is usually at its strongest. Use headphones for the best audio. If you are not one of our featured writers or open mic readers, please turn off your mic and camera when you join. We will invite you to turn on your camera in the break and at the end of the evening.
To make sure you see the speaker in your main view window, click the three vertical dots at the bottom right corner first, choose change layout and then choose "spotlight" or "sidebar" view. Google will automatically display the person speaking in the main window.
This option is only available on your computer and not via phone (sorry). Please do not use the text chat while a reading is in progress except to notify us if you are experiencing technical difficulties (if it's an issue we can fix at our end, we will do our best to do so.). Adding to the chat mid-reading, generates audio notifications that may be distracting to our readers.
However, please do use the text chat to compliment the writers after they finish their reading.
About The Tartan Turban Secret Readings 
In pre-COVID times, Barrett and Welsh hosted a (not so) "secret" reading series on its rather lovely open-air office rooftop deck or, in its large open concept studio space in Toronto. Since COVID, we have transformed our readings into an online/virtual reading format that accepts readers from across the country and can be attended from anywhere in the world.
The Tartan Turban Secret Readings feature poetry, drama and prose readings that celebrate Canadian multicultural writing created by multicultural, minority and BIPoC writers. The idea is to provide a platform for IBPoC writers who have very few such platforms. At the same time, all writers who want to celebrate Canada's multiculturalism, literary diversity and indigenous heritage, and have talent to share, are welcomed. 
Curators change from reading to reading. If you would like to read or curate, contact Gavin Barrett or Mayank Bhatt, who are co-curators for the series. 
The sessions are often photographed, filmed or streamed on FB/YouTube live and recordings will eventually be posted on YouTube and the series website. Please be aware that by attending this event, you agree to be photographed and/or filmed and give permission to use your likeness in promotional and/or marketing materials.
If you are in the audience and do not want to be seen or heard in the recording, simply keep your microphone and camera turned off.
About Barrett and Welsh
Barrett and Welsh is a minority-led, creativity-powered, change-making ad agency that puts ideas first to make ideas last. A certified B Corporation, it has specialty practices in inclusion communications (mainly multicultural/visible minority and persons with disabilities) and sustainable urban development (mostly transit and economic development).
About the series co-curators
Mayank Bhatt and Gavin Barrett curate the Tartan Turban Secret Readings.
Mayank Bhatt's first novel Belief was published in 2016 by MG Vassanji's Mawenzi House press. The novel explores youth radicalization and alienation, and the impact of terrorism on a family in the context of the failure of immigration and settlement framework in Canada. Mayank Bhatt immigrated to Toronto in 2008 from Mumbai (Bombay), where he worked as a journalist. His short stories have been published in TOK 5: Writing the New Toronto and Canadian Voices II. In Canada, he has worked as a security guard, as the Chief Administrative Officer of the Indo Canada Chamber of Commerce and as an organizer for the Festive of South Asian Literature and Art. He lives in Toronto with his family.
Gavin Barrett is a poet and creative entrepreneur, and the author of Understan, a new collection of poems published by Mawenzi House in June 2020 that is a CBC Books recommendation. He was born in Bombay and lived in Hong Kong for several years before immigrating to Canada. Gavin's poetry has been published in Reasons for Belonging (Viking Penguin India), an anthology of 14 Indian poets; The Joao Roque Literary Journal; the Pen India journal; The Folio; The Independent (Bombay); The Toronto Review of Contemporary Writing Abroad; and Poiesis, the Bombay Poetry Circle journal. He was a contributing writer to This|ability, a book on Canada's art brut and outsider artists. He is the host and the founder and series co-curator (with Mayank Bhatt) of the Tartan Turban Secret Readings, a series promoting IBPoC writers. He is co-founder and Chief Creative Officer of idea consultancy and brand advertising agency Barrett and Welsh. He is a member of the Advisory Board of the Canadian Authors Association (Toronto), PEN Canada and The League of Canadian Poets. You can read more about Gavin in the organizer note below.
About the organizer
Writer/creative director/creative entrepreneur, Gavin Barrett is co-founder of the idea consultancy and brand advertising agency barrettandwelsh.
Gavin's poetry has been published in Penguin India's anthology of 14 contemporary Indian poets, Reasons for Belonging, The Joao Roque Literary Journal, the journal of Pen India, The Folio, The Independent, The Toronto South Asian Review, and Poeisis - the journal of the Bombay Poetry Circle.
Gavin's first jobs were: door-to-door market researcher, poet, pharmaceutical sales manager (not a euphemism) and musical production manager. His work has: run in 35 countries; helped elect prime ministers; attracted the ire of the lawyers for Dolly the clone sheep; drawn angry crowds in Lagos; been studied in business texts in Canada and India; attracted criticism from a fictional character in a John Irving novel. 
He has been raised by several notable feminists including his mother, his wife, his two daughters and his scruffy cocker spaniel poodle Aly. If asked they will confirm that his education, at this time, is incomplete.