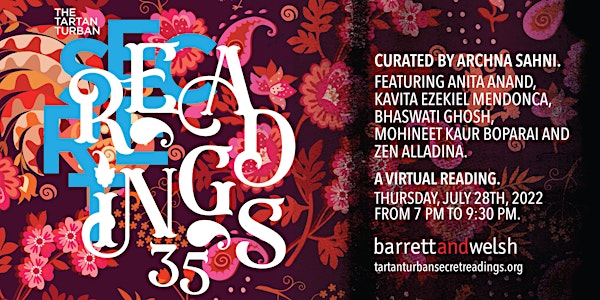 Tartan Turban Secret Readings #35
Curated by Archna Sahni. Featuring Anita Anand, Kavita Ezekiel Mendonca, Bhaswati Ghosh, Mohineet Kaur Boparai and Zen Alladina.
About this event
You are invited to the 35th session of The Tartan Turban Secret Readings curated by Archna Sahni and featuring Anita Anand, Kavita Ezekiel Mendonca, Bhaswati Ghosh, Mohineet Kaur Boparai and Zen Alladina.
Writers will be participating virtually. Attendees will be able to join the event by clicking [here] on the day of the reading during the hours scheduled.
Curator
Archna Sahni identifies herself as a Toronto poet who lives between India and Canada. She was born in India and raised in the cities of Delhi, Chandigarh, Kuala Lumpur, and Bombay. She immigrated to Canada in 1991 to make Toronto home, but karma keeps taking her back to India for long periods. She is the author of First Fire (Calicut, India: Yeti, 2005) and Another Nirvana (Toronto: Mawenzi, 2018). Archna has published her work in literary magazines across the world and performed her work in Canada, India, and USA. In her other avatar as life coach Archna empowers persons by helping them shift from self-doubt to self-trust.
_____________________________________________________________________
Featured writers
Anita Anand is the author of a newly released novel named A Convergence of Solitudes. Her 2015 short story collection entitled Swing in the House and Other Stories won the QWF Concordia University First Book Prize and was shortlisted for the Relit Prize and the Montreal Literary Diversity Prize. Anita is also a literary translator and language teacher—but she is not the Minister of Defence, merely her namesake!
Bhaswati Ghosh writes and translates fiction, non-fiction and poetry. Her first book of fiction is Victory Colony, 1950. Her first work of translation from Bengali into English is My Days with Ramkinkar Baij, for which she received the Charles Wallace (India) Trust Fellowship at the British Centre for Literary Translation in the University of East Anglia. Bhaswati's writing has appeared in several literary journals, including Literary Shanghai, HELD, Cargo Literary, Pithead Chapel, Warscapes, The Maynard as well as in Indian Express, Scroll, The Wire, and Dhaka Tribune. Bhaswati lives in Ontario, Canada and is currently working on a nonfiction book on New Delhi, India.
Mohineet Kaur Boparai is a poet, teacher, and academic. She has published five books of poetry and a book of criticism. Her most recent work, The Fiction of Abdulrazak Gurnah: Journeys Through Subalternity and Agency (2021), was published by Cambridge Scholars Publishing, U.K. Her most recent poetry collection titled, Polychromasia (2019), was published by Mawenzi House Publishers, Toronto. Her poetry has been twice nominated for the Pushcart Prize and has been published widely in journals in the US and India. Zymbol Magazine named her "India's Rising Star" in a 2014 interview. Mohineet moved to Canada in 2018 and currently lives with her family in Brampton.
Kavita Ezekiel Mendonca is a published poet. Her poems have appeared in numerous anthologies and Journals. Her first book of poems, Family Sunday and other poems, was published in 1989, and her chapbook Light of The Sabbath, in September 2021. Her poem, How to Light up a Poem, was nominated for a Pushcart Prize. She was born and raised in a Bene- Israeli Jewish family in Bombay and writes many poems dedicated to her love for the city of her birth, among other subjects like memories of her ancestors, nature, and light. Her teaching career spanned over four decades, and she has taught English in Indian colleges and international schools in India, and English French and Spanish in Canada. She was educated in both Bombay and England. Kavita is the daughter of the late poet Nissim Ezekiel.
Zen Alladina is a South Asian writer, poet, and tea sommelier, living on the land known as t'karonto|Toronto, Canada. Her work draws from (yet dreams beyond) history, re-imagining the ancestral to contextualize the speculative. She is the 2022 winner of Art Bar Poetry's Discovery Night, and her writing is featured (or forthcoming) in projects from Solarpunk Magazine, Asian American Writers' Workshop, UKAI Projects, Soap Box Press, and more. Her current explorations include co-developing a series of poems viewed in Virtual/Augmented Reality, and facilitating arts workshops that prompt pre-colonial (re)imagination while communally drinking tea and sharing stories. When she isn't lost in words, she's likely lost in the woods.
_______________________
Want to receive updates on the next reading? Follow our FB group for updates on and the link to the Eventbrite registration page for each reading. (we do ask that you register if you plan to attend). You can also sign up for our email list here.
Open mic
Anyone attending is welcome to read or perform (if you are a musician) in our open mic sessions.
If you are a writer or musician who would like to perform in the open mic session, we ask that you listen in to at least one session to get the flavour of the evening and join in on your next visit.
To participate in TTSR #35, please contact series curators Gavin or Mayank or TTSR35 curator Archna Sahni. This allows them to line up readers and manage the evening in a way that respects each writer's work.
The ambience at our readings is intimate, extremely informal and very supportive. Open mic readers are given 4 minutes in total, including a brief introduction to themselves and their work. There are detailed open mic guidelines posted in our FB group.
Open mic readers who have published works they would like to offer for sale are free to mention them after finishing their readings.
Notes on attending a virtual reading
Please join the reading with your microphone muted and your camera turned off. (If you forget, you will be muted by a moderator.) We want to make sure all the bandwidth is being used by only those presenting and that there is no background noise as it causes noise interference for others attending/listening. If you experience technical difficulties and choose to leave the reading because of this, we understand and apologize in advance. Please be patient with us as we are doing our best to make it a pleasant experience for all.
Logging on: Please sign in no later than 7:00 pm.
Accessibility/Closed Captioning: Our virtual meeting platform access allows for closed captioning. Click on the CC symbol at the bottom of your window.
Technical tips: For the best experience sign in on your computer and not on your phone. Find the spot in your home where the wifi connection is usually at its strongest. Use headphones for the best audio. If you are not one of our featured writers or open mic readers, please turn off your mic and camera when you join. We will invite you to turn on your camera in the break and at the end of the evening.
To make sure you see the speaker in your main view window, choose Speaker View to spotlight the person speaking in the main window.
This option is only available on your computer and not via phone (sorry). Please do not use the text chat while a reading is in progress except to notify us if you are experiencing technical difficulties (if it's an issue we can fix at our end, we will do our best to do so.). Adding to the chat mid-reading, generates audio notifications that may be distracting to our readers.
However, please do use the text chat to compliment the writers after they finish their reading.
About The Tartan Turban Secret Readings 
In pre-COVID times, Barrett and Welsh hosted this (not so) "secret" reading series on its lovely open-air office rooftop deck or in its large open concept studio space. Since COVID, we have transformed our readings into an online/virtual reading format that accepts readers from across the country and can be attended from anywhere in the world.
The Tartan Turban Secret Readings feature poetry, drama and prose readings that celebrate Canadian multicultural writing created by multicultural, minority and IBPoC writers. The idea is to provide a platform for IBPoC writers who have very few such platforms. At the same time, all writers who want to celebrate Canada's multiculturalism, literary diversity and indigenous heritage, and have talent to share, are welcomed. 
Curators change from reading to reading. If you would like to read or curate, contact Gavin Barrett or Mayank Bhatt, who are co-curators for the series. 
The sessions are often photographed, filmed or streamed on FB/YouTube live and recordings will eventually be posted on YouTube and the series website. Please be aware that by attending this event, you agree to be photographed and/or filmed and give permission to use your likeness in promotional and/or marketing materials.
If you are in the audience and do not want to be seen or heard in the recording, simply keep your microphone and camera turned off.
About Barrett and Welsh
Barrett and Welsh is a minority-led, creativity-powered, change-making ad agency that puts ideas first to make ideas last. A certified B Corporation, it has specialty practices in inclusion communications (mainly multicultural/visible minority and persons with disabilities) and sustainable urban development (mostly transit and economic development).
About the series co-curators
Mayank Bhatt and Gavin Barrett curate the Tartan Turban Secret Readings.
Mayank Bhatt's first novel Belief was published in 2016 by MG Vassanji's Mawenzi House press. The novel explores youth radicalization and alienation, and the impact of terrorism on a family in the context of the failure of the immigration and settlement framework in Canada. Mayank Bhatt immigrated to Toronto in 2008 from Mumbai (Bombay), where he worked as a journalist. His short stories have been published in TOK 5: Writing the New Toronto and Canadian Voices II. In Canada, he has worked as a security guard, as the Chief Administrative Officer of the Indo-Canada Chamber of Commerce and as an organizer for the Festive of South Asian Literature and Art. He lives in Toronto with his family.
Gavin Barrett is a poet and creative entrepreneur, and the author of Understan, a collection of poems published by Mawenzi House in June 2020 that is a CBC Books recommendation. He was born in Bombay and lived in Hong Kong for several years before immigrating to Canada. Gavin's poetry has been published in Reasons for Belonging (Viking Penguin India), an anthology of 14 Indian poets; The Joao Roque Literary Journal; the Pen India journal; The Folio; The Independent (Bombay); The Toronto Review of Contemporary Writing Abroad; and Poiesis, the Bombay Poetry Circle journal. He was a contributing writer to This|ability, a book on Canada's art brut and outsider artists. He is the host and the founder and series co-curator (with Mayank Bhatt) of the Tartan Turban Secret Readings, a series promoting IBPoC writers. He is co-founder and Chief Creative Officer of idea consultancy and brand advertising agency Barrett and Welsh. He is a member of PEN Canada, The League of Canadian Poets and of the Advisory Board of the Canadian Authors Association (Toronto). You can read more about Gavin in the organizer note below.