Location
Barrett and Welsh
577 Kingston Road
#301
Toronto, ON M4E 1R3
Canada
Description
You are invited to the 5th session of The Tartan Turban Secret Readings curated by Koom Kankesan, at Barrett and Welsh on October 26th, 2017.

You can follow along via this FB event page which will continue to be updated with details.
We hope you will come, read, share and listen, but if life/the evening/your acrobatic gerbil has other plans for you, we completely understand.
Featured Readers:
Koom Kankesan (curator), Rebecca Fisseha, Michelle Alfano, JF Garrard and Mark Sampson will be reading on the theme of Toronto neighbourhoods.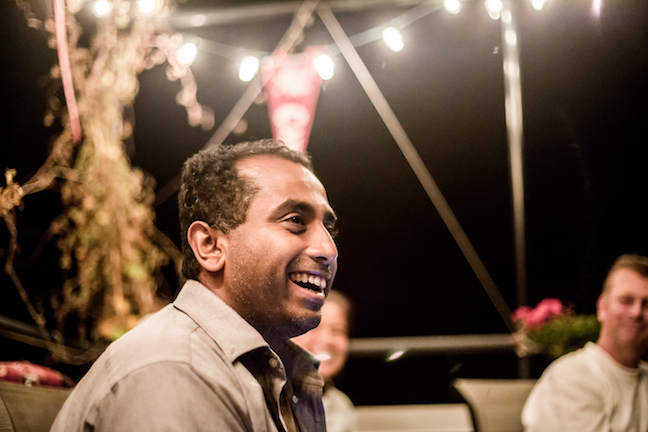 Koom Kankesan was born in Sri Lanka and immigrated to Canada with his family in 1987. Kankesan teaches English to secondary school students, sometimes teaches adults and engages in freelance writing. He lives in Toronto. He is the writer of Panic Button (Quattro Books), The Rajapaksa Stories (Lyricalmyrical Press) and The Tamil Dream (Quattro Books).
Rebecca Fisseha's short fiction has been published in The Maple Tree Literary Supplement, Room Magazine, the Aesthetica Magazine Creative Writing Anthology, and Joyland Magazine. She is a Chalmers Fellow and a graduate of Humber College's program in Creative Writing by Correspondence. Look for her upcoming work in Addis Ababa Noir (Akashic Books). https://rebeccafisseha.com
JF Garrard is the President of Dark Helix Press, an Indie publisher of Fantasy, Science Fiction, and Raw Non-Fiction. She is an editor and writer of speculative fiction (The Undead Sorceress, Trump Utopia or Dystopia Anthology, Ricepaper Issue 19.3), non-fiction (The Literary Elephant), as well as children's books (Feeding The Kraken!, 3x Bilingual Series). https://jfgarrard.com/
Michelle Alfano's personal memoir, The Unfinished Dollhouse (Cormorant Books) was published this fall. Her novella, Made Up Of Arias, was the 2010 winner of the Bressani Award for Short Fiction. Her short story "Opera", on which the novella was based, was a finalist for a Journey Prize anthology. Her fiction and non-fiction work has been widely published in Canada in major literary publications and in six anthologies. She is currently at work on her novel Destiny, think of me while you sleep. https://www.michellealfano.com/
Mark Sampson is the author of five books: the novels The Slip (Dundurn Press, 2017), Sad Peninsula (Dundurn Press, 2014), and Off Book (Norwood Publishing, 2007), the short story collection The Secrets Men Keep (Now or Never Publishing, 2015), and the poetry collection Weathervane, (Palimpsest Press, 2016). Born and raised on Prince Edward Island, he currently lives and writes in Toronto. Check out Mark's blog Free Range Reading.
We encourage you to support these writers by buying signed copies of their works at the reading. (Cash only please).

------

Open mic sessions:
Anyone attending is welcome to read or perform (if you are a musician) in our 3 open mic sessions.

If you are a writer or musician who would like to perform in the open mic session, we ask that you listen in to at least one session to get the flavour of the evening and join in on your next visit.

To participate, in TTSR #5 please contact Koom Kankesan beforehand. Koom is curating this session and this will allow him to line up the readers and manage the evening efficiently.

Open mic readers are given 4 minutes in total - you may read a work of creative writing (fiction/poetry/drama/screenplay) - or a work of reportage or creative non-fiction.
Your reading doesn't have to fit into the evening's theme and it doesn't matter if it's not in English or French - one of our open mic readers read a stunning series of poems in Spanish based on interviews with jailed murderers in Mexico. Simply accompany your readings with an explanation of the context and a brief translation in English.

If you are reading at an open mic please read no more than:
4 pages of poetry or,
2 single pages of double-spaced prose, or
3 pages of a screenplay or play,
- up to a 4 minute maximum for any creative material, including a brief introduction to yourself and your work.
At the end of 4 minutes, there will be a simple buzzer to let you know your time is up, to save any reader the embarrassment of being stopped by a curator.

Don't let yourself be intimidated by these guidelines. They are designed to make sure the evening is enjoyable for all. The ambience at our readings is intimate, extremely informal and very supportive.

If you have published works that you would like to offer for sale, feel free to mention it when you finish your reading.

----

About The Tartan Turban Secret Summer Readings:
Barrett and Welsh hosts a (not so) "secret" reading series on its rather lovely open air office rooftop deck (while weather permits).

The Tartan Turban Secret Readings features poetry, drama and prose readings that celebrate Canadian multicultural writing created by multicultural, minority and BIPOC writers. The idea is to provide a platform for minority writers who have very few such platforms while welcoming all writers who want to celebrate Canada's multiculturalism, diversity and indigenous heritage, and have talent to share.

Curators will change from reading to reading. If you would like to read or curate, contact Gavin Barrett or Mayank Bhatt who are co-curators for the series.

Readings ideally take place every 3rd or 4th Thursday in the month, but this varies depending on what is convenient for featured readers and curators. This event posting will be updated with the next date once it is confirmed. Ideally, the series will carry on for as long as the seasons allow such an outdoor gathering. (We may move it indoors in the cold weather, if there is an appetite.)

The hope is to also intersperse the readings with musical performances from multicultural/minority/BIPOC musicians eventually. Maybe a tabla or bongo player may pop in to accompany the readers or to play between readings. Maybe one of you will invite a Metis fiddle maestro.

Please feel free to bring any of your friends of every minority whether "visible" or otherwise - non-minorities are warmly welcomed too. Feel free to suggest others you think might be ideal as curators, participants or happy listeners.

The sessions may be photographed, filmed and possibly streamed on FB/YouTube live. (if we can arrange for a production partner to organise this.)

Readings may be collected for a book for publication at the end of the year, so ideally everyone will be reading unpublished work.
----

Seating:
For those wishing to attend, please note that our space can safely accommodate no more than 30 people, with seating provided for 25. Please bring your own folding chairs, mats, cushions.

Refreshments:
Everyone is requested to bring their own beverages and/or snacks. Bring your own drinking cups/glasses too.

Entry:
We'll have someone posted at street level until 7 pm to get people in. (Ground level entrance is locked by security after that.) Please arrive before 7 and encourage your guests to do same. if they arrive later, they'll need to text one of us to let them in and we'll swing by in 10 min intervals (sorry!)

Accessibility:
Barrett and Welsh's offices are at the top of a large converted townhouse, so there are a couple of steep flights of stairs to get in. If you (or any guests) have mobility challenges, please be aware that you may need a helping hand up the stairs, as there is no elevator. Please let us know if we can be of assistance.

----

About Barrett and Welsh:
Barrett and Welsh is a minority-led, creativity-powered change making ad agency that puts ideas first to make ideas last. A certified B-Corp, it has speciality practices in inclusion communications (mainly multicultural/minority and persons with disabilities) and urban sustainable development (mainly transit).
About the series co-curators
Mayank Bhatt's first novel Belief was published late last year by M G Vassanji's Mawenzi House press.
Mayank co-curates the Tartan Turban Secret Readings with Gavin Barrett. (see organizer description below for a brief bio on Gavin).