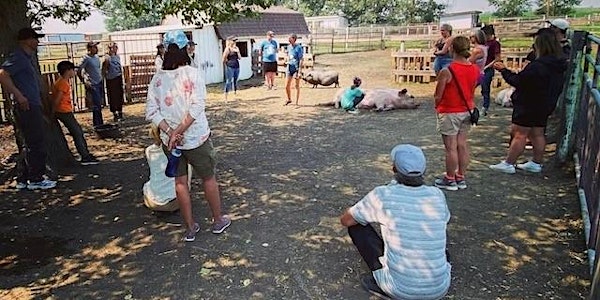 Tas 2022 Public Tours
Please read below! Grab your tickets asap for Tas 2022 tours!
When and where
Location
The Alice Sanctuary 6GCJ + JQ Gayford Wheatland County, AB T0M 1G0 Canada
Refund Policy
Contact the organizer to request a refund.
Eventbrite's fee is nonrefundable.
About this event
Thank you for your interest in Tours At TAS 2022! The information below is a must read!
July tickets are on sale now - August tickets will be released in July for purchase.
Tours will begin at 11am, and you must arrive at 10:45 to get signed in. Our entrance/gate is on the left side of the roadway. If you arrive earlier than this, please remain in your vehicle, parked on the left shoulder of the road.
Tour agenda: Tour runs from 11 - 1pm. Fully served, plant based lunch break is from 1 - 2pm. Tour resumes 2 - 4pm.
Due to complications and length of our tours we have we have implemented an age limit - tours - we will only be open to children 5 and up. There will be no exceptions on this. ALL individuals in attendance must have a ticket - adults and children. Tours are a large part of our fundraising this summer which helps us with our winter costs - Tickets are $30 a person and all proceeds go directly to the sanctuary. This includes your lunch, and 5 hours of a complete and interactive tour.
** PRIVATE TOURS** Private tours will run Thursdays ONLY - 11 am - 3pm. Lunch will be served and provided - you can email tour coordinator at tours@thealicesanctuary.org to book a private tour – to reserve this private tour is $300.00. Your private group can be for 1 person and up to 10 people. – please contact for more details before making a reservation.
Basic Tour Info:
• The Alice Sanctuary is not a petting zoo. We encourage respectful interactions based on what our residents choose, the Alice Sanctuary is a safe and secure space for our residents, and all interaction is done at their discretion. This is their home, and we are welcoming visitors into it.
• Lunch will be provided by TAS.
- Please bring your own plates and cutlery. Gluten Free options will be available – please make sure you let us know in advance. ( by emailing the tours address below ) We have zero tolerance for outside food brought in with animal products. Fully plant based snacks are ok to bring along with you.
• No personal belongings/strollers/bags/umbrellas/toys in the residents area. We have a safe space where you can keep all your things while we tour. Yes you can bring your water bottle with you into the paddocks.
IMPORTANT NOTE: TAS and staff reserves the right to remove persons immediately if displaying inappropriate behavior, not listening to our guides, being a disturbance to our residents and/or other attendees. We welcome conversations, we are inclusive to all, however we do not accept mean, rude, racially charged, homophobic, or hateful language of any kind that offends or harms our residents, attendees, volunteers and our founder. Our founder and TAS has ZERO tolerance for abusive conduct and your dismissal will be immediate.
Tour MUST HAVES! ** PLEASE READ**
- ***CLOSED TOED SHOES*** - Please make sure to wear appropriate footwear. If you do not have closed toed shoes you won't be able to enter the animal enclosures.
- Sunscreen/cap/weather appropriate clothing. Please, this is not a fashion show, sun/heat stroke are real things. We are exposed to the weather all day long. Please dress for weather.
- Please bring A LOT of water in non-glass containers (we do not have drinking water available on site), most people go through 2-3 bottles a day here in a tour.
- Please bring your own plates, napkins/wipes and cutlery for lunch– we can be as environmentally friendly as possible. Please do not bring in any outside food- lunch will be provided by TAS. If you have dietary concerns - please email our tour coordinator prior to your tour . ( tours@thealicesanctuary.org ) Plant based snacks are fine to bring as listed above.
- Please remember to either print your tickets or have them accessible on your phone when you arrive. Eventbrite will email them directly to you once you purchase online.
- Directions and instructions will all be emailed to you as well once you purchase your ticket -and if more help is needed please email tours@thealicesanctuary.org .
- Your safety coming to visit TAS is of the utmost importance to us – please ensure all instructions above are followed. If you have a fever, cold, cough or any covid symptoms please do not come the sanctuary and let our tour coordinator know ASAP you will not be able to make it that day. Email info - tours@thealicesanctuary.org .
Tour tickets are non refundable and not exchangeable for other dates.
- They will be refunded only if we had to cancel due to weather.
- A new date will have to be arranged by you through the Tour Coordinator.
We are excited for this summer – we can't wait to see you at one of our tours! Please book your spot ASAP they will fill up quickly!
- Please email tours@thealicesanctuary.org for questions or information that cannot be found here. Thank you! Thank you so much for your support for TAS and its residents!