Tastefully Speaking - Fearless Voices Speaker Series - The stage where the Community shares their stories

Tuesday, 29 May 2018 from 6:00 PM to 9:00 PM (EDT)
Event Details
Fearless Voices brings the people of Vaughan together through shared stories that inspire, connect and empower. To get a feel for Fearless Voices, check out our short trailer.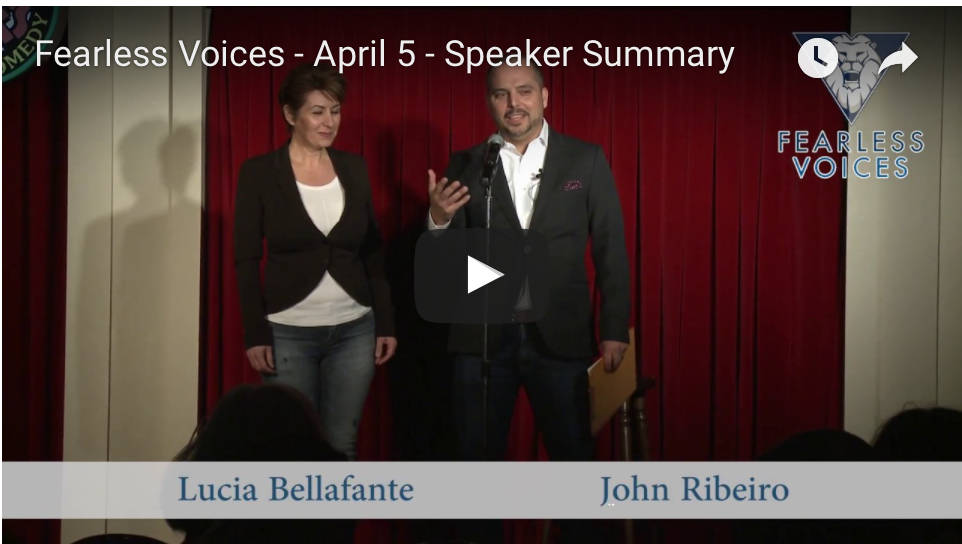 Hosts:


Sandro Parisotto - Speaker, Artist and
Marketing Manager and Co-Founder
for Fearless Voices


John Ribeiro - Vlogger, Speaker, Coach,
Author, 

and Co-Founder of Fearless Voices 
Speakers:
Brian Almedia

I am Brian Almeida, I spent far too many years chasing things like titles, and salaries thinking they would make me happy, only to find out they had nothing to do with my purpose. I want to help more people figure out what their exact definition of success is by getting them to think about what they would do if money weren't an issue, and then how to get started moving towards it. For me, it is all about sharing my story, in hopes that it can help and inspire others to avoid going down the same road I did to get here. Through some insightful questions and tasks, I help people figure out what they truly enjoy in life, and how to "Just Start" their journey towards success.

Brett Mitsubata

"In a time of alternative facts and fake news, Brett Mitsubata is a 15 year veteran in the Health & Wellness space and to expand his work he has become a motivational speaker that disrupts conventional beliefs set by the health and wellness industry. Through logical thinking and scientific facts Brett doesn't 'sugar coat,' his information as his primary focus is to help others become more physically and mentally healthier by creating better lifestyle habits."

Kara Fereira

Kara is a results-oriented team leader who thrives on making things happen!  She is a bit of data-junkie who loves to let data tell the story, but make no mistake; she also lets her intuition guide her.  

At the onset of her career, Kara found her passion in Project Manager. After a few bold career moves, Kara now holds the position as Division Chief of Administrative Services for Brampton Fire and Emergency Services.  

Kara thrives on learning and has made continuous education a part-time hobby.  When Kara is not at school or work, she enjoys adventures with her husband and three children and working on home renovations.

Shelly Elsliger

Shelly Elsliger is an engaging LinkedIn Trainer and President of Linked-Express. She coaches executives, leaders, women leaders, diverse students and job seekers, as well as corporate teams; inspiring them to maximize their professional branding potential, their voice, and their social influence online.

Shelly's diverse experience as a professional LinkedIn Trainer and Coach allows her to bring a unique breadth of knowledge, as well as an aspect of fun and passion,  to all her workshops and speaking engagements. Shelly's signature workshop is "LinkedIn in High Heels: Rise Up and Lead Online solely dedicated to empowering women, and young aspiring female leaders, to have a voice and own their space.

 

Eleonora Andretta

Eleonora Andretta has been a Motivational Coach and Business Trainer for over 12 years, and is the CEO and Founder of Business Evolution, a company that focuses on helping entrepreneurs and corporate teams make progress in the field of Emotional Intelligence, Communication Skills, and Change Management, among others. The core of her training model lies in the principles of Neuro Training®, Applied Kinesiology, Cognitive Reflex Conditioning®, and Hypnolinguistics®. She is a member of Certified Coaches Federation® here in Canada.  Her expertise is sought after by those desiring to push themselves and their businesses to new heights.

 

Joze Piranian

Joze Piranian is a lifelong stutterer on the quest to confront his ears one stage at a time. He's a TEDx speaker, the winner of the Grand Slam competition at inspirational speaking competition Speaker Slam, and a stand-up comedian who's performed in Toronto, Montreal and New York.

Joze shares his tale of overcoming adversity in order to motivate people to face their fears, overcome their obstacles (their "inner stutter") and fulfill their potential.

Joze is passionate about motivational psychology, stoicism, travelling and languages –he stutters in six of them.
When & Where

Siamese Thai Cuisine
200 Whitmore Road, Unit 11-12 Vaughan
Vaughan, ON L4L 7K4
Canada

Tuesday, 29 May 2018 from 6:00 PM to 9:00 PM (EDT)
Add to my calendar