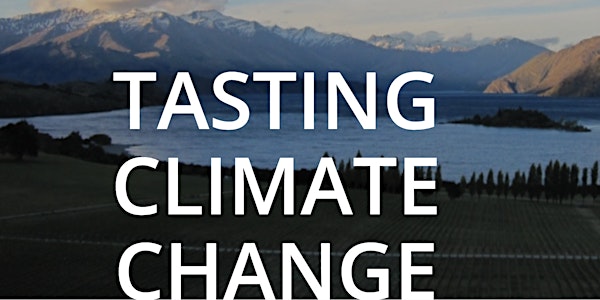 TASTING CLIMATE CHANGE | NOV. 8-30, 2021
Refund policy
Contact the organizer to request a refund.
Eventbrite's fee is nonrefundable.
The conference gathers the finest international experts who share their good practices on climate change effects in the wine world.
About this event
PROGRAMMING 2021
The ticket gives access to ALL seminars throughout the month of November. The seminars will be recorded; the ticket also gives access to all seminars during 30 days after the Conference.
Please note that all conferences will be presented ONLINE and in English.
THE COLLECTIVE GOAL OF REGENERATIVE AGRICULTURE
November 8th / 2pm-3:30pm EST
Regenerative agriculture encourages biodiversity and contributes to healthy soils which in return, can facilitate the soil's capacity to sequester CO2. The wine industry could play a very powerful role in agriculture if all producers were inspired to work towards this collective goal. Together, we can set new standards for a more sustainable industry.
WATER MANAGEMENT
November 9th / 2pm-3:30pm EST
As water becomes a rare commodity, we must adopt practices to best preserve it. What are the resources available to minimise water usage in the vineyard and the winery? Producers from different corners of the world share their story about water preservation. Join the conversation.
INDIGENOUS GRAPE - LOOKING BACK TO LOOK FORWARD
November 15th / 2pm-3:30pm EST
What can we learn from indigenous grape varieties that have stood the test of time? One of the solutions towards adapting to climate change is exploring the diversity within the 3000 vinifera grapes that already exist.
THE FUTURE OF ROSÉ
November 16th / 2pm-3:30pm EST
From grape varieties to vinification methods, what are the tools available to preserve the integrity of the most beloved style of rosé and their world-wide demand? Provence's answers to the impact of climate change on the style of wines.
THE ROAD TO CARBON ZERO
November 22nd / 2pm-3:30pm EST
From large international wine companies to small family producers, we all have a responsibility in reducing our carbon footprint. But where do you start? We talk to industry pioneers to find out the necessary strategies to get to Carbon Zero.
LOOKING AT HYBRIDS FOR SOLUTIONS
November 23rd / 2pm-3:30pm EST
What if hybrids were a sustainable solution to some of the viticultural challenges we are facing today? From combating mildew to surviving drought, hybrids are a tool producers can consider to better adapt to the growing challenges. We talk to well established winemakers who championed these grapes.
SMART PACKAGING
November 29th / 2pm-3:30pm EST
As an industry relying heavily on packaging, we have the responsibility to analyse their environmental impact. Should traditions be prioritized over sustainability? We explore the advantages and challenges of different types of packaging including closures, bottles, cans, kegs, bag-in-box and latest innovations.
TOMORROW'S CONSUMER CHOICE: OUR RESPONSIBILITY
November 30th / 2pm-3:30pm EST
As wine professionals, we have a responsibility to pass on our knowledge to consumers to help them make informed decisions. We discuss with journalist, magazine editor, sommelier and wine school director about everyone's role and the best ways to communicate the message. Together, we can be the change.
Please note that tickets are not refundable.