Tax Preparation Clinic for Newcomers To Ottawa

Sunday, 21 April 2019 from 9:00 AM to 12:00 PM (EDT)
Event Details
Exclusively for those who are new to Ottawa and filing their tax returns for the first time
if you are not sure where to go to complete your tax return, we are here to give you a hand.
This workshop is delivered in Farsi Language 
Space is limited, sign up today to secure your Tax filing appointment with Alireza Mansouri.
PLEASE READ CAREFULLY
The goal is to educate and assist eligible students and newcomers in filing their 2018 Canadian income tax and benefit returns. (Simple tax situation as outlined below)
·         Must not be self-employed, a consultant or have employment expenses
·         Must not be filing for someone deceased within the taxation year 2017
·         Must not have filed for bankruptcy
·         Must not have business or rental income and expenses
·         Must not have capital gains or losses
 WHAT YOU NEED TO BRING TO YOUR TAX APPOINTMENT

Everyone:
1. Wi-Fi enabled laptop
2. Social Insurance Number (SIN), and spouse's SIN if you are married/common-law

If married/common-law, you AND your spouse MUST attend the appointment if you both plan to file your tax return. We can only file tax returns for people who are not present if you have proof that you have Power of Attorney for the other person.

3. Your income slips from all your income sources (e.g. T4 slip for employment, T5007 slip for OW or ODSP)

4. Government Issued ID required

If you rent your residence:
you must bring a letter or receipt from your landlord that states 
- Your name
- The landlord's name and contact information
- The address of the place you are renting
-  The number of months you have lived at this address
- The amount of rent you paid to the landlord during the year
If you own your own home,
you must bring your property tax bill from the City of Ottawa
If you were new to Ottawa in tax year we are filing:
-  Exact date of arrival in Canada
- The total amount of money that you earned in 2018 before you arrived in Canada

If you have children in your custody: 
- Names and dates of birth for any children under age 19
- Receipts for childcare expenses (must include caregiver's SIN)
- (2016 only) RC-62 information slip if receive the Universal Child Care Benefit, receipts for any children's fitness or arts classes

If you are a Student (post-secondary): 
- Receipt for tuition fees (T2202A form – usually accessed through your online student account)
- If you received OSAP loans, this does not count as income and does not need to be claimed in the tax return
- If you have started repaying any OSAP loans, bring your interest slip (receipt showing how much you paid).

If you have any deductions to claim: 

- Medical expense receipts (prescription medicine, dentist, glasses, private health insurance) 
- Receipts of donations paid to Canadian charities or Canadian political parties
- Receipts for children sports and activities, childcare costs)
Additional documents:
- Tuition receipts
- Proof of first-time home buyer
- Qualified home renovation receipts
- Other
This is not an inclusive list but gives you an idea of the kinds of documents that you should be gathering and have in your possession before you schedule an appointment.
****We can only help you file your taxes properly if you bring all the necessary documentation with you to our Clinic.****
Should you have any question or need more information, please contact Mehrshad Golesorkhi at 613-255-2704 or Kaveh Shakouri at 613-897-3172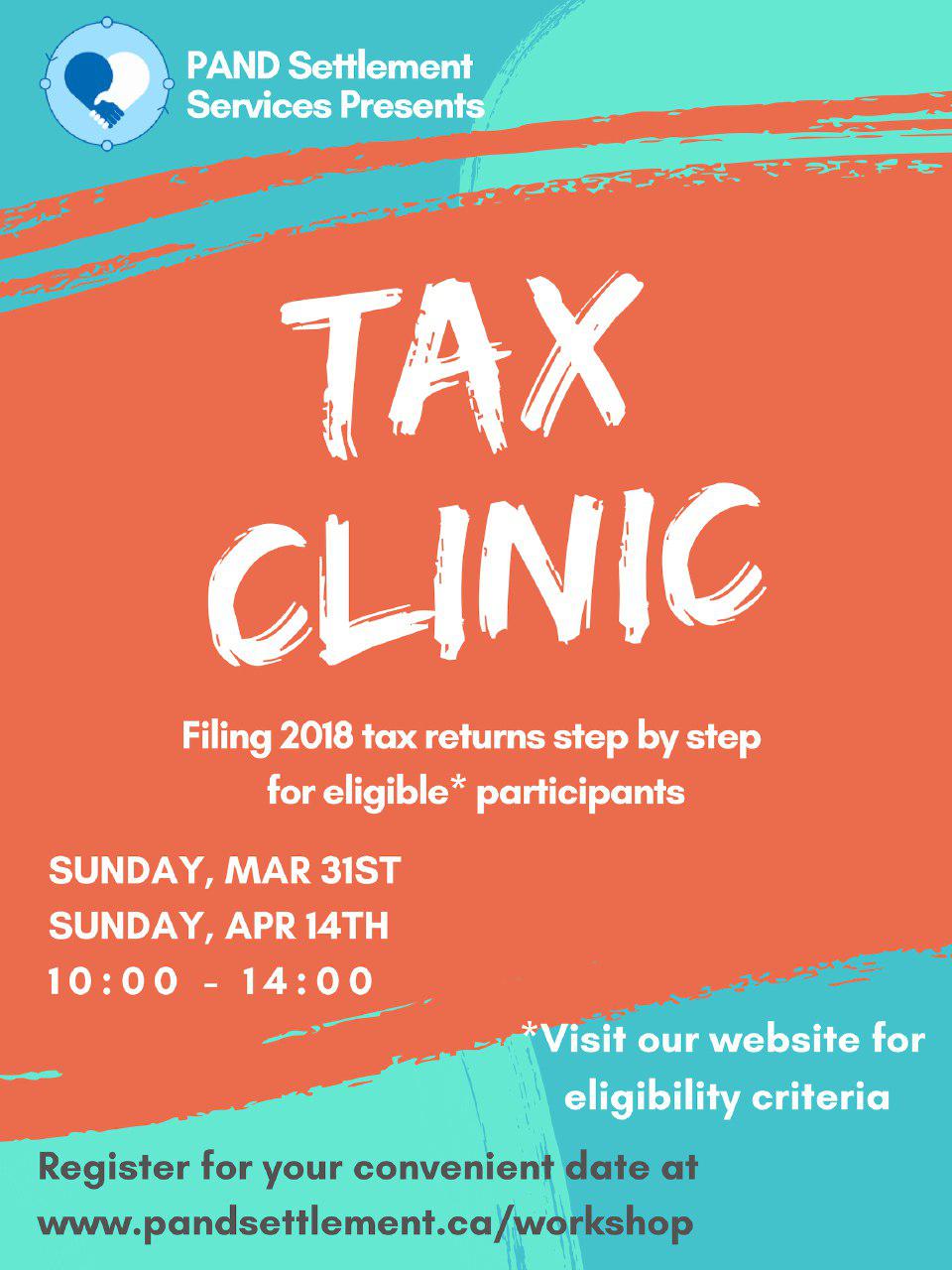 When & Where

STE 5084
STE 5084, 800 King Edward Ave. University of Ottawa
Ottawa, Ontario K1N6N5
Canada

Sunday, 21 April 2019 from 9:00 AM to 12:00 PM (EDT)
Add to my calendar
Organizer
PAND Settlement Services 
Prosperity, Advancement, Networking and Direction for Newcomers to Ottawa
at PAND; our mission is to provide education, counselling, settlement and other support services for immigrants and refugees in need, including language instruction, employment training, job search programs, interview preparation workshops, drafting resumes, translation services and information programs on Canadian culture and life.