TC Business Social

Sunday, 6 May 2018 from 10:00 AM to 7:00 PM (EDT)
Event Details
FEEL LIKE LIFE IS PASSING YOU BY? 
It's time to make a change and take your life, career or business to THE NEXT LEVEL!
Connect with business professionals and entrepreneurs who have years of experience in the field to learn skills and techniques to help optimize your business potential! Hear from some of the best in the business, providing information and strategies on how to get to the next level in your career. 
This event offers something for everyone and is an opportunity to bring together the patrons and business owners of the community to network and educate others about their individual products and services they offer while also educating them on innovative and unique ways that they can further grow and expand their brand to bring more business their way.
This expo and conference are designed to educate, inspire and empower, new and existing business owners to take their unique ideas, and passions to develop a business plan to run a profitable and successful business.
WHY YOU NEED TO BE THERE!
➔ Great opportunity to learn from successful experts and thriving business professionals
➔ Network and connect with exhibitors that provide products and services that can support
you in achieving your business goals, including financial management, business planning  
➔ Build your network and increase your awareness of new trends happening in your area of interest
➔ Is your business stuck in a rut? Break out of your comfort zone take action and out of old ways of thinking.
➔ Meet potential employers and business owners, like-minded individuals focused on building success.
➔ Join in on Q & A panel discussions, discover the missing piece in your business plan
➔ Access to over 80+ business vendors and entrepreneurs

Date: Sunday, May 6th, 2018
Time: 10:00am to 7:00pm
Location: Pearson Convention Center
2638 Steeles Ave E, Brampton, ON

***Vendor/Exhibitor Space NOW AVAILABLE FOR BOOKING - Please contact the organizer at info@torontocaribbean.com for more information.
For more information or any inquiries, please contact Trish Browning at trish@carib101.com or call (647) 722 - 6298.
CONFERENCE SPEAKER INFO:
Keynote Speaker - Simone Denny
Singer, Performer, 5 Time June Winner, 4 Time Much Music Winner, Socan Award Winner, CRMA Award Winner, TEDx Speaker, Originally from the popular international groups BKS and LOVE INC.
Keynote Speaker - Armin Shafee
Founder and Owner at REBORN, Co-Founder and CEO at SalesIn Inc., Founder and Lead Instructor at the Elite Speakers Academy
Keynote Speaker - Michie Mee
Canada's Award Winning Hip Hop Pioneer, Rapper, Actor and Entrepreneur
Guest Sponsor Speaker: Samuel Starion Anyanwu 
Broker of Record/President at Starion Realty Inc., Brokerage
*********************************************************************************
Panel 1: An interactive panel discussing Goal Setting, The Power Of The Universe, and Doing Whatever It Takes
Simone Jennifer Smith: is an expert in goal setting and doing whatever it takes. She comes with a wealth of knowledge, Simone has a B.A. Honours in Psychology, Masters in Humanistic and Clinical Psychology, is the Mental Health Program Director, Canadian Human Rights International Organization, Completed Training for S.E.U.S (Self and Use of Self in Psychotherapy), and 8 Years Meaning Centered Psychology Internship (Dr. Paul and Lilian Wong)
Hugh Anthony: is a Certified Lifestyle Speaker, Author, Lifestyle Coach, and Professional Storyteller.
Sheila Trecartin: is internationally renowned spiritualist, business intuitive coach for professionals, animal communicator, entrepreneur and a master in the Law Of Attraction. She is the founder of Sheila Trecartin - Ultimate Healing Concepts
Grant Browning: is an expert in the Branding and Marketing space for 20 years and the founder of Carib101 Media Group, Umbrella corporation for the Toronto Caribbean Newspaper, Carib101Radio and the TCN Network. He is an expert at getting clients results!
Jamelle Lindo: is a Leadership Coach, Speaker, Trainer and host of the popular show "The Visionary Show" on the TCN Network
*********************************************************************************
Panel 2: An interactive panel discussing Customer Service, Relationships in Business and Business Transparency
Balbir Kaur Sohi - is the CEO/Founder of Smiles On Wheels Mobile Dental Hygiene care, As Seen On Dragons Den, Business Entrepreneur, Mentor, TV host, Philanthropist, Motivational speaker
Jay Brijpaul- is a Realtor and Founder of The Brij Team and also host of the popular Real Estate show "Let's Talk Real Estate" on TCN Network. Jay has earned over $20 Million Dollars in his industry and has bought and sold almost $2 BILLION DOLLARS in Real Estate and is a specialist with people
Jerrold Johnson - is the Chief Representative Officer for Jamaica National Canada Representative Office. Jerrold is a expert on Building Relationships and Customer Service
Kevin V. Huhn - is an Author of 4 Books, Founder and Chief Inspirational Officer at Be Your Best Today, As Seen On Fox Sports, Global News Montreal, CBC Radio, TSN, Huffington Post, and Rogers TV
Sherine Allison - is the CEO and Founder of Sher's 5 Star Catering. She is an expert on Customer Service and Relationship Building.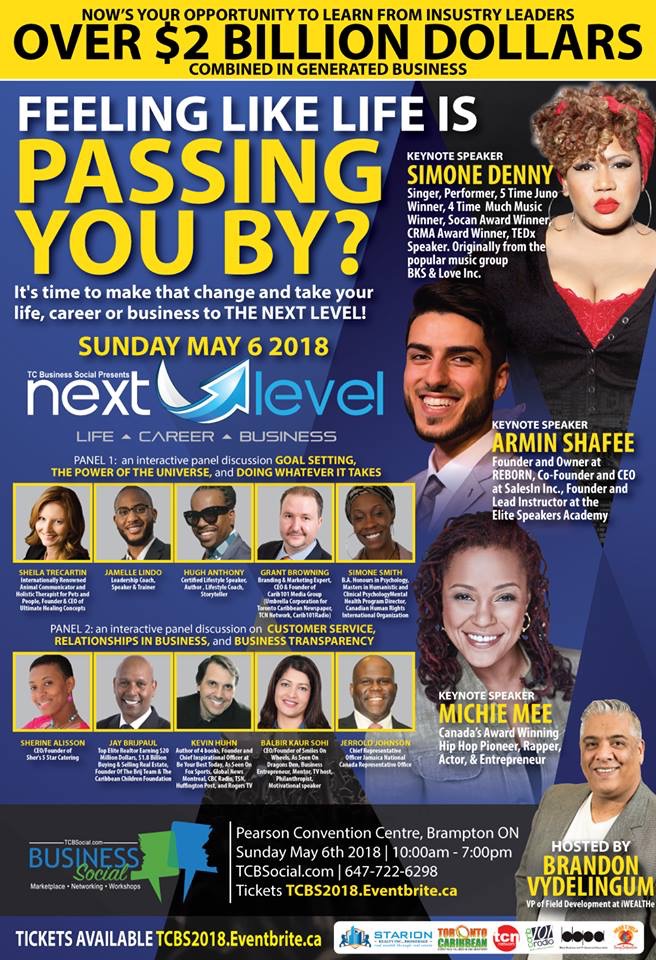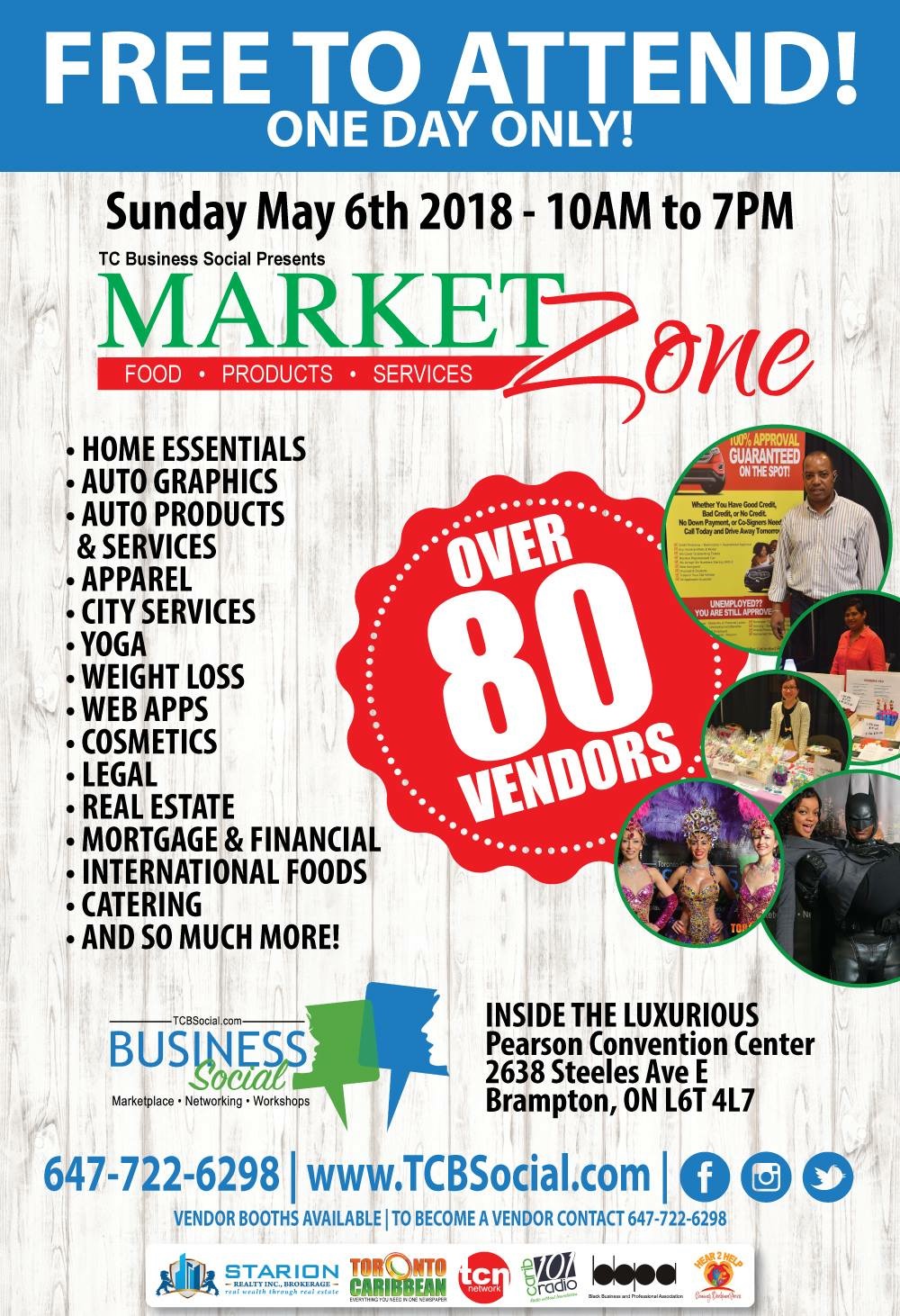 Save This Event
When & Where

Pearson Convention Center
2638 Steeles Avenue East
Brampton, ON L6T 4L7
Canada

Sunday, 6 May 2018 from 10:00 AM to 7:00 PM (EDT)
Add to my calendar
Organizer
The Toronto Caribbean Newspaper is recognized as one of the leading Caribbean Newspapers in the Greater Toronto Area. We are results driven, fueled by the needs of the community, and our readers are a reflection of the diverse cultures, and ethnicities that span throughout Toronto and the surrounding areas.