Description
What: Tanya Chung-Tiam-Fook, an environmental research and education specialist, will introduce youth participants to watersheds and help them to develop a greater awareness of water issues and water stewardship practices. Participants will learn about the challenges facing watersheds in Southern Ontario such as climate change, agriculture and industry – as well as opportunities to protect and restore watersheds. The workshop will be hands-on and interactive and held outdoors at Terra Cotta Conservation Area.
When: July 16th from 10am-4pm

Where: Terra Cotta Conservation Area
Cost: FREE
Meeting Place: Ecosource
Meadowvale South Recreation Centre
2nd floor
6600 Falconer Drive
Mississauga, ON
We will be meeting at the Ecosource office at 10am, taking a bus to Terra Cotta Conservation Area and arriving back at Ecosource to finish off the day at 4pm.

In need of transportation? Contact us for public transit tickets!
Because we will be outside for the majority of this event, we recommend all participants bring a backpack equipped with a waterbottle, lunch, and nutritious snacks. Further reminders for attendees include to dress appropriately for the weather, pack sunscreen and bugspray, and wear close-toed shoes that are comfortable to walk around in for a couple hours during the active portion of the workshop.
**You must be 12 to 24 years of age to participate**
For more information regarding this workshop or the Travelling the Credit River program in general, please contact Sarah Bale at: sbale@ecosource.ca or (905) 274-6222 ext. 314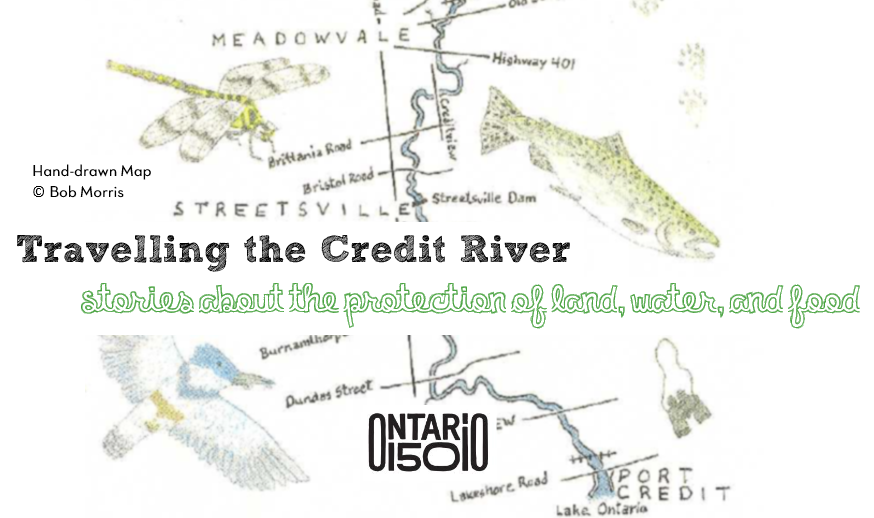 'Travelling the Credit' is a program brought to you by Ecosource to engage Indigenous and non-Indigenous youth (12-24 years old) in a series of educational workshops about the history and ecology of the Credit River. The program will provide place-based learning opportunities to increase the interest, skill and capacity of youth as protectors of the environment, while centring Indigenous perspectives on the history of the area as well as environmental stewardship. In the fall, participants will have the opportunity to lead their own tour of the Credit River for the public using the workshops as means to research and plan. Attendance is not mandatory for all the workshops, but participation in as many workshops as possible is encouraged.
"Travelling the Credit" is generously supported by the Province of Ontario through the Ontario150 program. Le programme, "Travelling the Credit" est possible grâce au soutien de la province de l'Ontario, par le biais du programme Ontario150.