Description
What: Workshop for Indigenous and non-Indigenous Youth
Joe Pitawanakwat is the Founder & Director of Creators Garden, a 365 days-a-year, Indigenous outdoor-education organization. He is a recognized community knowledge-holder of plant-based medicine who will introduce participants to the cultural, historical, ecological, edible, linguistic, and medicinal significance of plants along the Credit River. In the words of Joe Pitawanakwat, "Medicine is the Anishnaabe contribution to the world, it is our belonging".
Joe will focus heavily on experiential learning by incorporating various activities, including medicinal preparations into the workshop. Youth will have the opportunity to discover the extensive medicinal applications of plants to re-establish this important knowledge and connect with the natural world.
When: Sunday, July 23rd, 2017
10:00 AM - 4:15 PM (please be at the meeting spot at 9:45am so we can start on-time!)
Where: Riverwood Conservancy
4300 Riverwood Park Lane
Lower Parking Lot
Mississauga, ON
To get to the meeting spot, follow signs for Culham Trail and Credit River (your first left) after turning into the Riverwood Conservancy. Please see the following link for a map of the park: http://www.theriverwoodconservancy.org/images/TrailsPDF/Riverwood_maplegend.pdf
In need of transportation to Riverwood? Contact us for free public transit tickets!
What to Bring: comfortable walking shoes, a notebook, a hat for the sun, sunscreen, weather-appropriate clothing, a backpack, a water bottle, snacks, a lunch, a travel mug for tea, and an umbrella and a rain jacket (just in case!).
The Travelling the Credit program is open to all Indigenous and non-Indigenous youth
For more information regarding this workshop or the Travelling the Credit River program in general, please contact Sarah Bale at: sbale@ecosource.ca or (905) 274-6222 ext. 314. http://www.ecosource.ca/travelling-the-credit or http://www.facebook.com/Missinnihe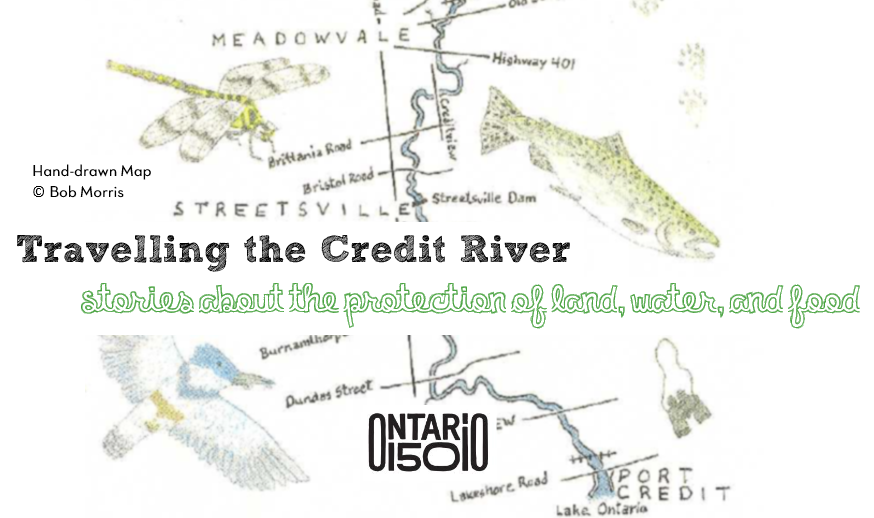 'Travelling the Credit' is a program brought to you by Ecosource to engage Indigenous and non-Indigenous youth (12-24 years old) in a series of educational workshops about the history and ecology of the Credit River. The program will provide place-based learning opportunities to increase the interest, skill and capacity of youth as protectors of the environment, while centring Indigenous perspectives on the history of the area as well as environmental stewardship. In the fall, participants will have the opportunity to lead their own tour of the Credit River for the public using the workshops as means to research and plan. Attendance is not mandatory for all the workshops, but participation in multiple workshops is encouraged.
"Travelling the Credit" is generously supported by the Province of Ontario through the Ontario150 program. Le programme, "Travelling the Credit" est possible grâce au soutien de la province de l'Ontario, par le biais du programme Ontario150.