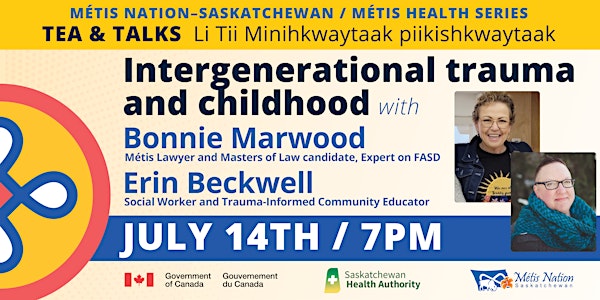 Tea and Talks / Li Tii Minihkwaytaak Piikishkwaytaak: A Métis Health Series
Grab some tea and learn about intergenerational trauma and childhood experiences with Bonnie Marwood and Erin Beckwell.
About this event
Welcome to the MN–S Monthly Métis Health Series!
Each month a new topic will be discussed with guest speakers who are experts in their fields. There will be an opportunity to ask questions that are most important to you. Topics include the COVID-19 vaccination in adults and children, mental wellness, addictions and substance abuse, diabetes, cancer, tobacco and vaping. Each culturally sensitive session will be live streamed on Facebook and hosted on Zoom.
The seventh Métis Nation–Saskatchewan's (MN–S) online Tea and Talks / Li Tii Minihkwaytaak Piikishkwaytaak: A Métis Health Series features Bonnie Marwood (Métis lawyer and Masters of Law candidate) and Erin Beckwell (a social worker and trauma-informed community educator) discussing intergenerational trauma and childhood experiences.
Bonnie Marwood: Bonnie is a citizen of MN-S , a retired lawyer and currently completing her Masters in Law. She is involved with the Fetal Alcohol Spectrum Disorder (FASD) network, CUMFI, and with the Forensic psychology department at the University of Saskatchewan for her work with FASD. She works with Indigenous offenders in the criminal justice system to help navigate their rights under the Supreme Court decision.
Erin Beckwell: A life-long "pot-stirrer" and "boat rocker", Erin is a social worker, consultant, and educator who is passionate about helping create communities and organizations where all people can feel safe and connected and be as well as possible. She loves the challenge of finding creative ways to share information and stories, support one another, and provide compassionate care.
Join the conversation Thursday, July 14th at 7pm!
Please note: This webinar will be recorded and may be shared publicly by MN–S following the event. Participating in or attending this online video conference grants MN–S the right to record and use your voice, likeness and live video feed. A participant's attendance and/or participation in the session constitutes agreement that the session may be recorded and distributed by MN–S and waives any claim to remuneration for use of the participant's image, voice, or written comments.